Gut-Busting Reno 911! Facts You'll Want To Warn The Deputies About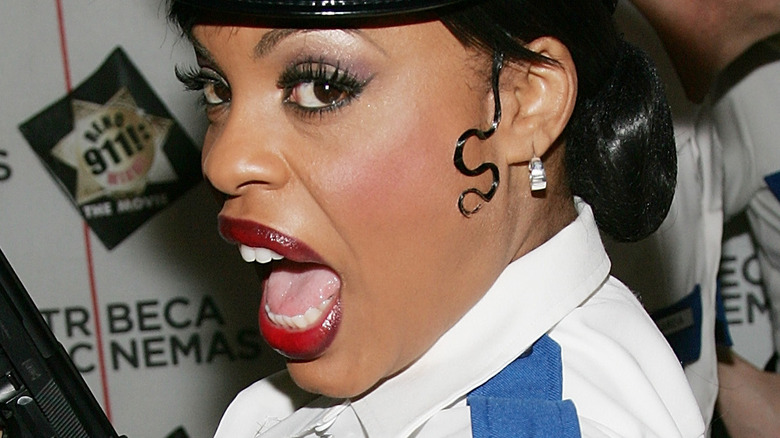 Evan Agostini/Getty Images
It's been quite a while since the TV series "COPS" had cultural relevance through the 1990s, but the reality show following the misadventures of police on the job is still producing episodes today and has run for no less than 34 seasons as of 2023. Indeed, it has inspired a number of skits and parodies over the years, but perhaps none so well-known as the mockumentary-style comedy series, "Reno 911!" Launching in 2003 and occasionally still producing episodes in 2023, "Reno 911!" is the rare send-off whose shelf-life has outlasted much of the cultural momentum of its premise, making it one of the most culturally-relevant parody series of the last several decades.
Beyond all that, "Reno 911!" is just flat-out hilarious, and leans into its cast of highly flawed characters with infectious delight. Created by Thomas Lennon, Robert Ben Garant, and Kerri Kenney-Silver, the format is similar to "COPS" in that the deputies of Reno attend to their daily tasks and often speak directly to the camera as if being interviewed for television, but the show takes extra joy in playing up the sheer incompetence of these officers. Regularly biased and dissatisfied in their own lives, these police officers make potentially career-ending mistakes on the regular, but that's all part of the charm of the show. There are plenty of wild behind-the-scenes facts about this show, and we've gathered up a few of our favorites.
We go way back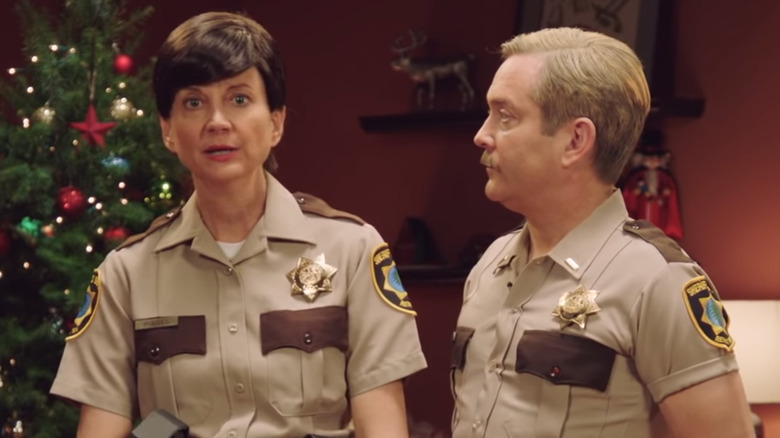 Comedy Central
While much of the "Reno 911!" cast has worked together in various capacities over decades, creators Thomas Lennon and Kerri Kenney-Silver are friends going back to their teen years. According to Lennon in Corey Stulce's oral history, "The Union of The State," the pair met when they were around 16 at a Northwestern University summer camp for theater kids called Cherubs. Lennon reflects that "We were very, very serious actors back then," noting that they've been more or less stuck with one another ever since. The two finished out high school and ultimately attended NYU at the same time, living in the dorms a few doors down from one another.
Though the two ended up being a part of a much larger network of improv comedians, actors, and writers, those early days seem to have held a special impact for them. According to Kenney-Silver, "It was very feel-good emotionally. It's the first time when you're an outcast of the school as a young, pimply teenager that you find your people at these theater camps. There's other people like me out there! It was exhilarating." She notes that Lennon's low-key sense of humor was especially compelling, referring to him as "a genius." The two have been working together off and on ever since, making for one of comedy's most underrated but long-lasting and successful duos.
The State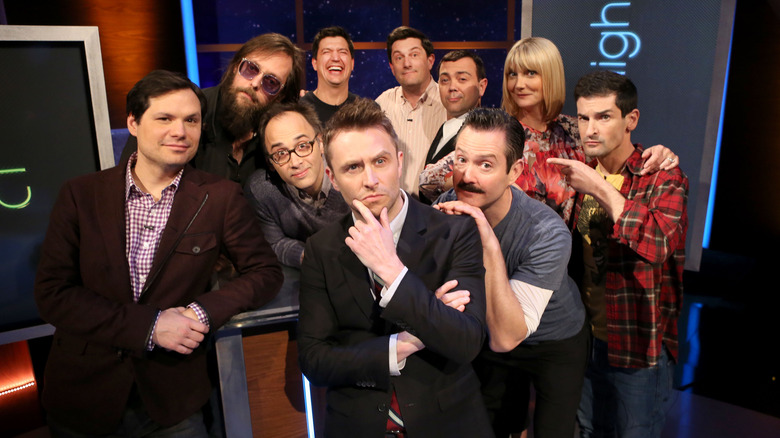 Jesse Grant/Getty Images
In the wild world of sketch comedy history, "The State" remains an odd entry even to this day, with its 11-member cast sporting an impressive list of up-and-comers, many of which would go on to work in comedy throughout their lives. Yet, it only ran from early 1994 to late 1995, and rather than seeing cancellation, it appears to have simply outlived its creative purpose for its cast, who all quickly went in different directions across the comedy landscape. Still, even with its brief time on the air, it underwent a network change, moving away from MTV after its 24-episode run to air a single Halloween special on CBS before ultimately going the way of the dodo.
It may go without saying that due to the many recurring cast members, there was a definite "Reno 911!" vibe in this short-lived MTV sketch comedy. Though there was still a way to go before the finesse of that series, Lennon, Garant, and Kenney-Silver all radiate a sort of instant comedic chemistry that helps each of them shine in "The State." Garant and Lennon's love for humor that eschews the politically correct was very present in their recurring "Inbred Brothers" sketches, while Kinney-Silver, the only female cast member, played everything from rock icons gone wrong to disaffected teen girls and beyond.
The Danny DeVito connection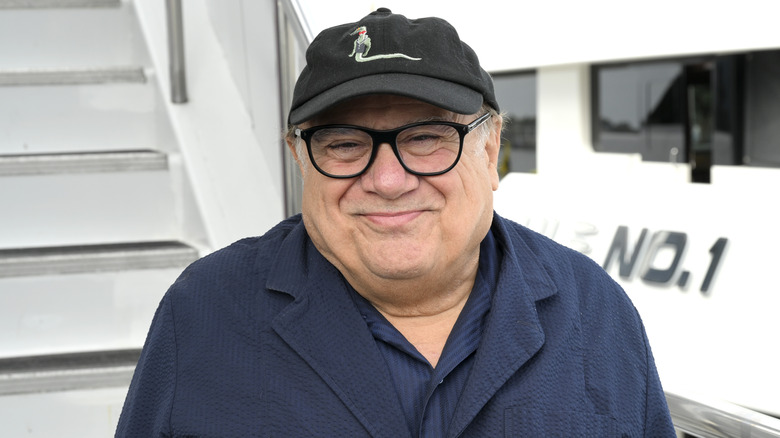 Michael Kovac/Getty Images
Outside of being one of Hollywood's best-known actors since the early days of "Taxi," comedy legend Danny DeVito deserves a lot of credit for his work behind the scenes. After making it big as a comedy star in the 1980s, he continues to challenge himself to this day, having portrayed everything from morally-complicated antiheroes to the absolute scum of the Earth at different points in his career. Likewise, he's never stopped just at acting, and has been actively involved in producing some of the most influential films of the last several decades, including "Pulp Fiction," "Man on the Moon," "Erin Brockovich," "Get Shorty," and, of course, a little TV series called "Reno 911!"
Normally, this wouldn't be of extra note, but it's next to impossible to find any information on DeVito's involvement in the series beyond his hilarious onscreen appearances in the second season as himself and his return in the "Reno 911!: Miami" film. However, he's been with the series as executive producer since the beginning, sharing the title with a revolving cast including Michael Shamberg, Stacey Sher, John Landgraf, Peter Principato, and Paul Young.
Even as recently as the Quibi relaunch, DeVito has been working behind the scenes to bring the series to audiences. Though far better known for his work elsewhere, including the long-running "It's Always Sunny In Philadelphia," DeVito's eye for great comedy remains unmatched.
Names have been changed to protect the innocent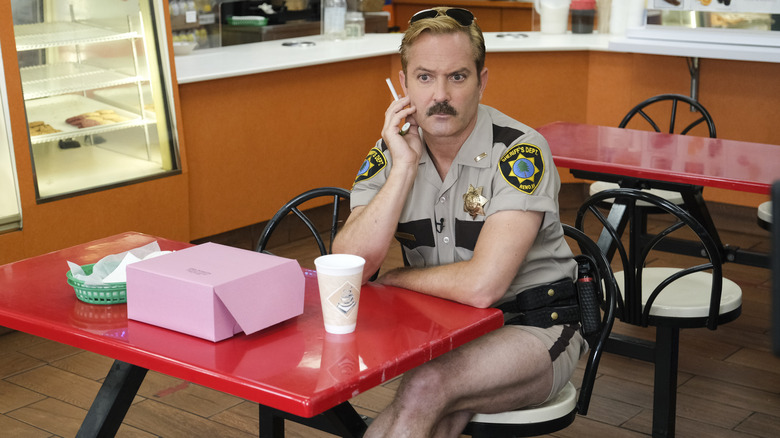 Roku Channel
One of the biggest questions around the series for fans has been how much of the series is planned versus how much is improvised, considering the vibes indicate that the series is not so much a scripted comedy as it is a bunch of friends hanging out and playing on a theme until the scene comes together. Yet, there's nothing to say it can't be both, and according to Garant and Lennon in a 2014 interview with Entertainment Weekly, the scenes were created with a plan but also strongly relied on off-the-cuff one-liners from its cast. "We really had a planned punchline for every scene. We were much more organized than you would ever think by watching the show," said Garant.
Another recurring theme of the series is that many perpetrators appear with their faces blurred, which is a tribute to "COPS" where people regularly disputed being filmed for public consumption during some of the worst moments of their lives. This freed up main cast members as well as friends of the show to make appearances in which they could act belligerently and swear to their hearts' content while the officers attempted to arrest them.
Perhaps the most notable among these is Kinney-Silver's double role as a main character with Trudy while also regularly appearing as the inebriated sex worker Jackie with her face blurred. This was ultimately acknowledged in the series as they are revealed to be estranged twin sisters.
Repeat offenders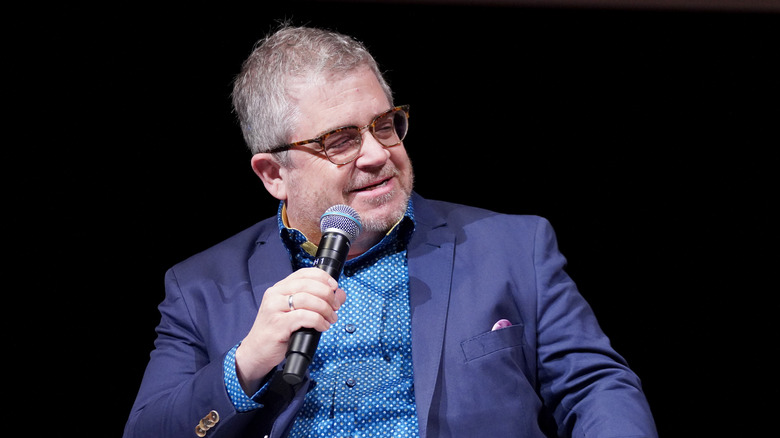 Presley Ann/Getty Images
The "Reno 911!" timeline is surprisingly complex, with plenty of references to the pre-show history for the officers to flesh out their backstories. Likewise, while recurring cast members like Garcia, Johnson, and Kimball all met their makers in the controversial finale of the fifth season and were absent in the sixth, they all made miraculous returns for the 2020 reboot, their apparent respective demises unmentioned.
Even with major changeups like those under its belt, "Reno 911!" also regularly recast actors in different recurring roles, making some audience members do a double take as various guest stars stepped in to play completely different characters than the last time they were seen on the show. There are so many cameos on this show that it would take a whole separate article to list them all, but plenty showed up more than once. For instance, Jack Plotnick appeared both as Steve Marmella, a sex fiend, and Deputy Patrick Bates, an officer with a great future ahead of him until Dangle accidentally shoots him.
Evan Paul Rudd appears as Guy Gerricault, the weirdly cheerful and touchy Lamaze instructor, and then returns in "Reno 911!: Miami" to portray Ethan the Drug Lord. Patton Oswalt stands out for playing at least four different characters, including a D&D Dungeon Master named Boozehammer of Galen, a right-wing conspiracy theorist named Max Logan, the would-be assassin of country singer Kenny Rogers, Jillet-Ben Coe, and, finally, Jeff Spoder, the antagonist of "Miami."
A Night at the Museum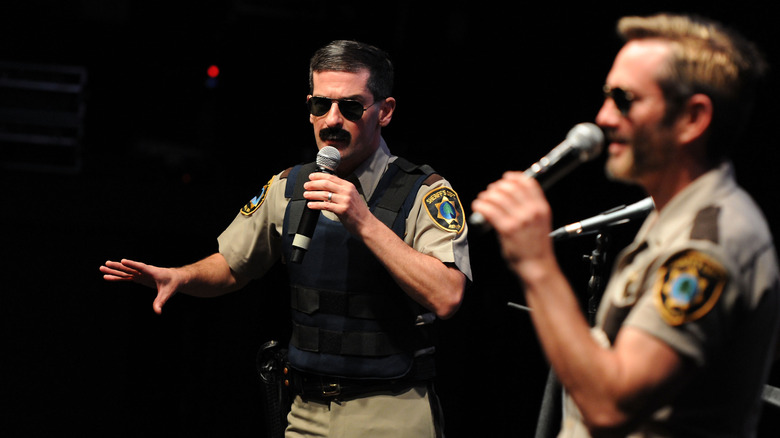 Joshua Blanchard/Getty Images
As noted, Lennon and Garant sure like working together, and fans of "Reno 911!" know that they've produced a whole lot of comedic gold over the course of the series, both behind the camera and in front of it. However, even longtime viewers may be surprised to learn the full extent of their collaboration, which features some of the most famous comedies of the last several years. Not only did the pair script a number of comedy pilots that either never fully took off or were short-lived in the case of Comedy Central's "Viva Variety," a "Reno 911!" precursor, but they also teamed up on screenplays like, "Let's Go To Prison," "The Pacifier," "Hell Baby," "Baywatch," and the "Night at the Museum" franchise.
On top of this impressive list of credits, Garant and Lennon wrote a book together about their experiences as screenwriters in Hollywood called, "Writing Movies for Fun and Profit: How We Made a Billion Dollars at the Box Office and You Can Too!" Keeping their sense of humor while relaying some serious insight along the way, the tongue-in-cheek approach to the business will interest anyone who followed the careers of these two. Individually, the list of credits just keeps going, with Lennon having penned the best-selling "Ronan Boyle" YA series. Kind of wild that the deputies moonlight as two of the most influential screenwriters of our times, but that's all in a day's work.
It was filmed at a real-life police station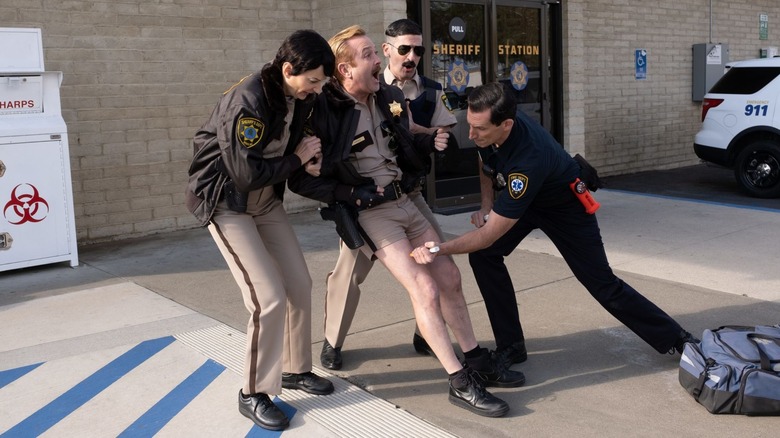 Roku Channel
One of the most surprising behind-the-scenes details of "Reno 911!" is that it's filmed at a real live police station, though not quite where you might think. Though there are plenty of accurate establishing shots of the city of Reno, the show is mostly filmed in Los Angeles. In the original run of the series, scenes within the police station were filmed in Carson, CA, at the local police department. The reboot features a change of scenery, with the station now located in Santa Clarita. 
Filming at an active location is a bit of a genius move, considering that it means minimal set-up since the whole place already looks very much like a police station (because it is one). Likewise, it's added to some iconic visual humor, such as Terry's rooftop helicopter escape in the second season. As far as how real-life police feel about the "Reno 911!" portrayal of cops, actor Carlos Alazraqui told The Denver Post, "They dig it." Asked to further dive into the relationship between the show and reality, he said, "I think we were just trying to copy 'COPS.' You can't get funnier than the real 'COPS.' You just can't. Turn it on and watch it and the things we do on 'Reno' are tame."
Nothing butt the truth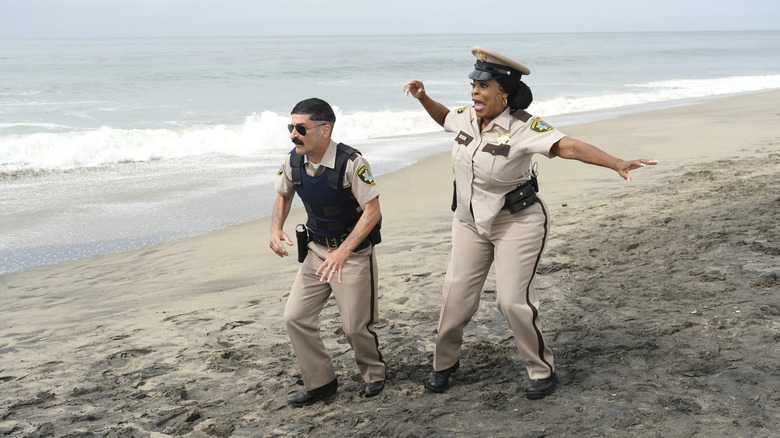 Paramount Plus
Among all the cast members of "Reno 911!" Deputy Raineesha Williams has been one of the most memorable across its many seasons. Indeed, the show is where most of the world was introduced to actress Niecy Nash in earnest for the first time after a series of smaller roles in films and TV shows. Nash has gone on to develop an impressive resume of both comedic and serious roles alongside her spin as the host of the Style Network's "Clean House" from 2003-2010. However, anyone who has seen Nash's other work will notice that there is something slightly augmented about Williams — she's wearing a prosthetic butt.
In a 2020 interview with Essence, Nash discussed the pushback she received for donning a bikini with the prosthetic, noting, "First of all, Raineesha's lower half is prosthetic; they took a mold of my real booty and built it out. Frankly, I thought my fake butt looked cute, but I don't think a lot of people know that it isn't real." Noting that the pushback was minor compared to the joy of people learning to celebrate their own bodies due to the sexiness of the character, Nash has continued to don the prosthetic in recent seasons. In a 2017 interview with Hollywood Reporter, she said, "I just slide it right on just like you put on a pair of pants."
The reboot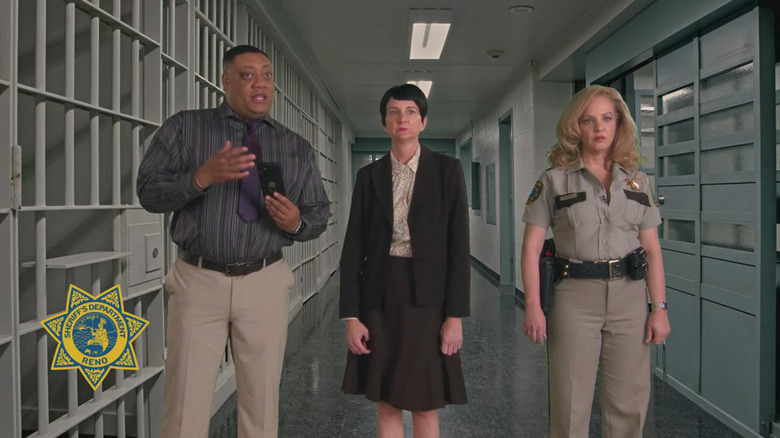 Paramount Plus
After the cast was shocked by the 2009 cancelation of the series by Comedy Central, the project spent a decade in relative limbo, though fans regularly called for more. Indeed, the final episode of the original six-season run was a bit underwhelming, with the deputies singing about self-acceptance, which was fine but not necessarily an impactful final word. This had to do with it coming as a surprise, according to Lennon and Garant, who hadn't planned for the show to run its course so soon. Fortunately, there was still more to come, it just would take years and a network change to pull it off.
In 2020, a 25-episode seventh season appeared on Quibi, however, the network was short-lived, and with its end, "Reno 911!" was again lost at sea. In 2021, Paramount+ released the TV movie, "The Hunt for QAnon." After this, the Roku Channel picked up the show's 11-episode eighth season only for the series to then return to Comedy Central, with the network re-editing the abbreviated Quibi episodes into the standard-length twenty-two minutes.
If this all sounds like a wild ride, that's because it is, but it seems likely that these comedic masterminds will be delivering more laughs to come. True to the original series, the reboot has featured plenty of cameos, including Danny Trejo, Tim Allen, and Ron Perlman, not to mention the original cast members back in their uniforms and ... protecting(?) Reno, and, in the end, that's all any fan could ask for.