CODA's Troy Kotsur Will Guest Star On Curb Your Enthusiasm Season 12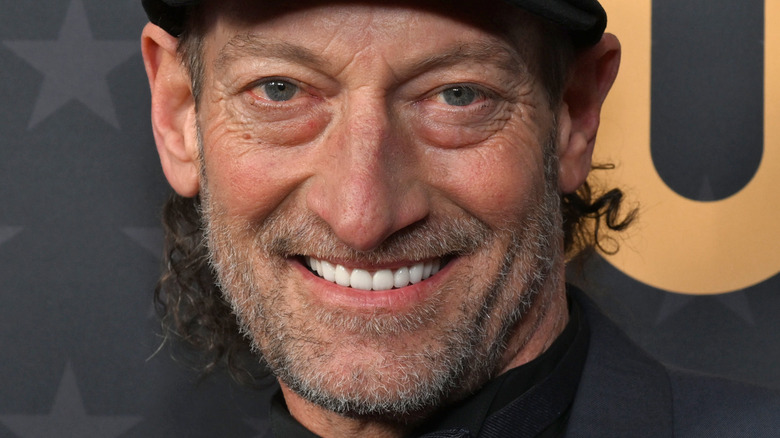 Michael Kovac/Getty Images
A perfect storm of quick-witted storytelling and star power invigorates "Curb Your Enthusiasm" to resonate with critics and fans alike (per Rotten Tomatoes), even after 11 seasons of buffoonery. Larry David's lampooning style of humor harmoniously mixes with the show's mainstays of characters like Jeff (Jeff Garlin) and Susie Greene (Susie Essman) to further the sitcom's tongue-in-cheek tone all these years later. The series also benefits from its talented and unforgettable guest stars, including Michael J. Fox, Julia Louis-Dreyfus, and even former NBA center Shaquille O'Neal.
These guests consistently challenge Larry's patience and place in the world, but at its crux, "Curb Your Enthusiasm" rests on the shoulders of its flippant main character. "Playing the role of Larry David has been the greatest honor of my life," David said, as only he can, in an interview with Variety about the upcoming 12th season. "In researching this multi-faceted, multi-talented man, I discovered that there's more to him than I ever could have imagined: He speaks six languages, brines his own pickles, and spearheads a national movement to install a bidet in every home. I've also been told from numerous sources that he is the most generous of lovers," Larry continued. "I am so excited to once again transform into this force of nature. I only pray that I can do him justice." 
The news came that Season 12 is officially greenlit, and fans of the show can get even more excited because Oscar-winner Troy Kotsur will face off against the irreverent Mr. David next year.
Troy Kotsur joins the Curb Your Enthusiasm golf club
"Curb Your Enthusiasm" readies to bewitch fans of the sitcom with its humorous spell once more when Season 12 drops in 2023. Over the show's first 11 years, creator and star Larry David has sparred both verbally and sometimes physically — the duel with Lin-Manuel Miranda is hard to forget — with any number of worthy guest stars. Whether it is David's hilariously heated feud with fellow "Seinfeld" alum Jason Alexander, or when comedy icon Mel Brooks produced problems in Season 4, someone is always waiting in the batter's box to hit a dinger David's way. 
And Academy Award winner Troy Kotsur is on deck. "Kotsur will appear as himself in one episode as a member of Larry David's golf club," an unnamed source told Variety. Without any further information to go on, it's impossible to know what will transpire between Kotsur and David. However, Larry has already had his share of problems at his country club. In the Season 4 episode titled "The 5 Wood," for example, David faced the threat of being dismissed as a member when he hadn't cleaned his locker. 
Kotsur is coming off 2021's "CODA," which is an adaptation of filmmaker Éric Lartigau's "La Famille Bélier," and the thespian's riveting performance led him to become the first deaf man to win an Oscar (per The New York Times).