The Raunchy Jason Sudeikis Comedy That Might Be Too Much For Netflix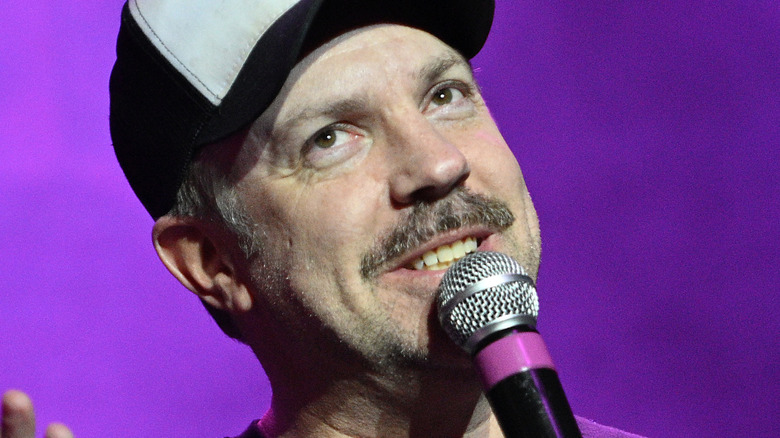 Fernando Leon/Getty Images
Jason Sudeikis is currently best known as the star of Apple TV+ hit "Ted Lasso," where he plays the title role of an American football coach hired to coach a British soccer team. However, Lasso's unconventional approach to the game leads to the team's out of nowhere success. The actor even won 2 Emmys in 2021 and 2022 for his performance on the series (via Variety).
But the veteran performer has also had a robust screen career outside of "Ted Lasso." He appeared as a main cast member on "Saturday Night Live" from 2005 to 2013, where he often played caricatures of Mitt Romney and Joe Biden. Sudeikis was one of the leads of "Horrible Bosses" and its sequel, and he also co-starred in "We're The Millers." The actor had recurring roles on "30 Rock" and "It's Always Sunny in Philadelphia" as well.
In 2011, Sudeikis starred in this shockingly titled comedy which could be too filthy for streaming subscribers.
A Good Old Fashioned Orgy is a goofy 2010s sex comedy
Eric Keppler (Jason Sudeikis) is in his 30s and still uses his dad Jerry's (Don Johnson) house in the Hamptons to throw big outrageous parties. When Jerry decides to sell the place once and for all, Eric convinces his friends, including Mike (Tyler Labine), Adam (Nick Kroll), and Laura (Lindsay Sloane), to throw a final Labor Day party in the form of the title orgy. Naturally, the idea of group sex between old friends leads to plenty of ridiculous situations and some emerging, unresolved feelings.
"A Good Old Fashioned Orgy" was evidently a labor of love for screenwriters Alex Gregory and Peter Huyck. The pair worked on the script for years before it was finally filmed more than a decade later (via Visual Hollywood). But their passion project received negative reviews, including a 35% "Rotten" score on Rotten Tomatoes, and only a limited release in theaters, per The Numbers.
Luckily for Gregory and Huyck, the movie is currently streaming on Netflix and Hulu. Now, more than a decade later, audiences can take a second look at this ridiculous sex comedy.