Why Tom Holland Had Trouble Working With An Avengers: Infinity War Star On Set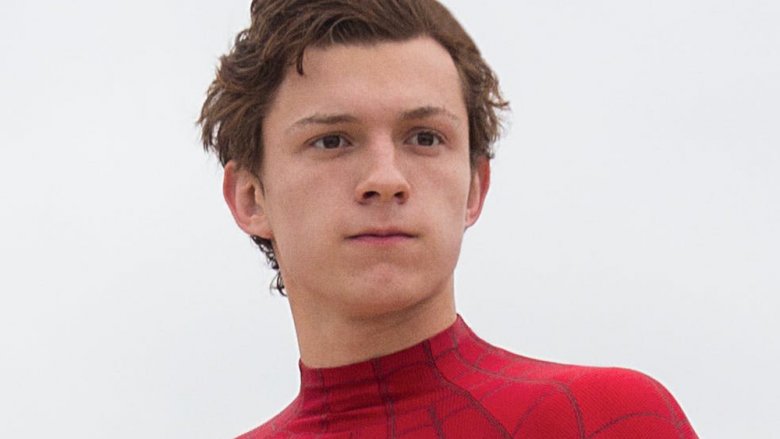 Tom Holland could hardly focus when filming Avengers: Infinity War, and that lack of concentration is all thanks to one of his co-stars.
The newest actor to step into the Spidey suit, Tom Holland made his Marvel Cinematic Universe debut in 2016's Captain America: Civil War, then basked in the solo spotlight for his own film, Spider-Man: Homecoming, a year later. Holland has since burst into the mainstream, established himself as a (still quite young) A-list actor, and proven his iteration of Spider-Man to be an integral part of the MCU — including the upcoming Avengers: Infinity War. Despite his Marvel movie experience, however, Holland had trouble keeping it together on the Infinity War set, finding it difficult to work with a fellow actor. 
Speaking with Hey U Guys, Holland revealed that he actually had trouble acting opposite Chris Pratt, known in the MCU for his Guardians of the Galaxy franchise character Star-Lord. But before anyone gasps so hard they collapse a lung or hurriedly opens their Twitter app to get the rumor mill churning about drama behind the scenes of Avengers: Infinity War, the reason for Holland's strife is actually pretty darn adorable: Pratt was simply too funny, and Holland couldn't be around him without folding over in a fit of laughter.
"Working with Chris Pratt was pretty awesome. He is so funny, he's so fun, and he has such great stories about his career and about the industry, and he's also just super talented, you know? I found it quite difficult, because he would make me laugh so much," Holland explained. "He's the man, I absolutely love him."
Not that anyone ever doubted it, but it seems the Guardians actor is just as goofy and fun-loving when the cameras stop rolling as Marvel fans would hope him to be. We can imagine that with Chris Pratt being Chris Pratt, it must have been hard for Holland to keep a straight face while trying to act. Admittedly, though, a 15-year-old kid like Peter Parker would probably be tickled pink in the presence of the silly Star-Lord, so perhaps some of Holland's smirks that make it into the film's theatrical cut are completely genuine. 
See Holland attempt to maintain his cool in Avengers: Infinity War on April 27.