Impractical Jokers' Tattoo Punishment Was The Scariest For Q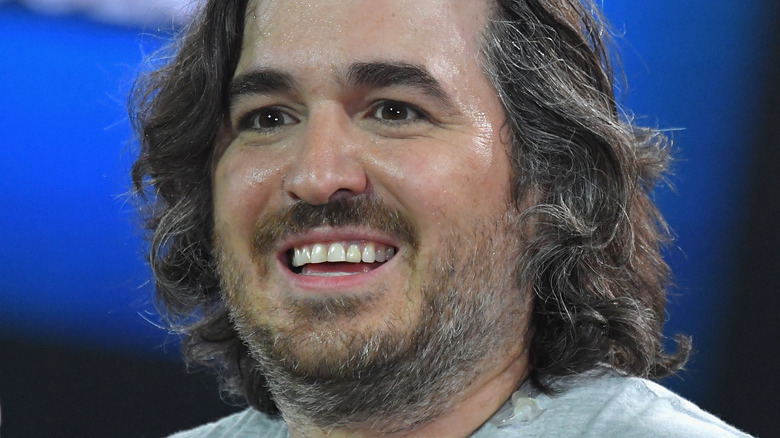 Mike Coppola/Getty Images
With nine seasons under their belt, several spinoff series, and a full-length feature film, the cast members of "Impractical Jokers" have necessarily had to keep things fresh and interesting. Like most other productions, COVID-19 had a major impact on the "Impractical Jokers" set, and Brian "Q" Quinn, James "Murr" Murray, Sal Vulcano, and Joe Gatto incorporated precautions like Zoom-based pranks and had to rely less on crowds of strangers. When Gatto departed the series, the remaining Jokers had to regroup and resume the series with three members.
Coming up with a constant flow of new ideas is a daunting task, but channeling your most sadistic, mischievous impulses is an entirely different sort of challenge. In that regard, the Jokers have been wildly successful, and their ability to cook up brutal punishments every week has made "Impractical Jokers" truTV's linchpin. For Quinn, the tattoo punishment stands out among the rest.
Q has warmed up to his cat tattoo
In the Season 3 episode "The Permanent Punishment," James Murray, Sal Vulcano, and Brian Quinn share in a three-way punishment and must get mysterious tattoos of Joe Gatto's choosing. In a behind-the-scenes interview, Quinn called the tattoo his most terrifying punishment to date, since he was subject to Gatto's sadistic whims. The tattoo features a picture of Quinn's cat and reads, "38. Lives alone. Has three cats." "You basically got a tattoo that brands you a loser," Gatto cackled gleefully upon revealing the new ink. Quinn responded, "I'm only gonna be 38 for another four months!"
As the tattoo healed, so did Quinn's hot-headed reaction. "Look, [the tattoo] didn't end up being that bad," he said. "I kind of like it, actually. I kind of got away with it." He continued, "Biographically speaking, all of these things are going to be incorrect. I'm not going to be 38 forever. Hopefully I won't live alone forever. And I will, at times, have more than three cats or less than three cats ... although I don't want to think about that because when I think about my cats passing away I get upset and cry."
"The Permanent Punishment" aired in 2014, and Quinn seems to have maintained a sense of humor about the embarrassing tattoo. On his birthday in March of 2022, the "Impractical Jokers" star tweeted, "46. Lives alone. Has 3 cats."