How COVID Had A Major Impact On Impractical Jokers' Filming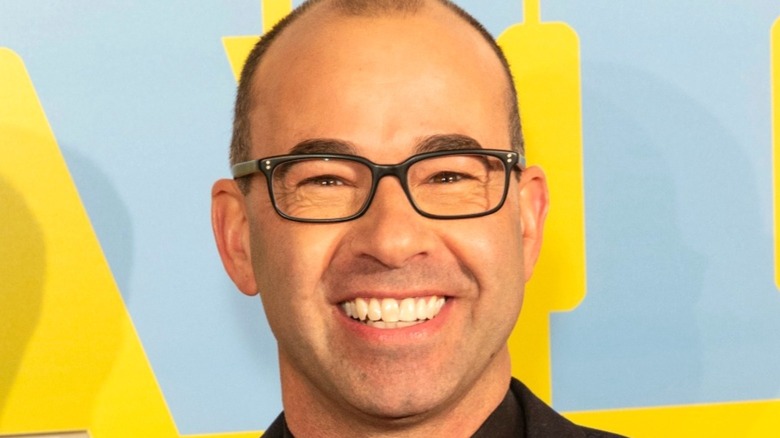 lev radin/Shutterstock
It's nearly impossible to think of a production in the last two years that wasn't impacted by the ongoing COVID-19 pandemic. While some delays and disruptions have been more pronounced than others (here's looking at you, "Mission: Impossible 7"), each film or series comes with its own variety of pandemic-era challenges. For the cast and crew of "Impractical Jokers," a series long defined by its interactions with the unsuspecting public, filming presented an especially unique set of challenges.
Developed by childhood friends Joe Gatto, James "Murr" Murray, Brian "Q" Quinn, and Sal Vulcano, "Impractical Jokers" is predicated on a single mission: make each other laugh. The series first aired in 2011 and quickly became the linchpin of truTV's lineup. In addition to appearing in a near-constant stream of reruns, the Jokers have also launched "Jokers Wild," "Impractical Jokers: After Party," and "Impractical Jokers: Dinner Party." In early 2020, the gang continued their prank-filled takeover with "Impractical Jokers: The Movie." 
"Impractical Jokers" Season 9, however, came new complications, and shooting was suspended between March and September of 2020. With one pandemic season behind them and a new one — Season 10 — set to premiere on June 16, here's how the "Impractical Jokers" handled making a prank show in the midst of COVID.
The Jokers used COVID as a way to get creative
When the Jokers returned to film Season 9 in Fall 2020, they resorted to mitigation strategies that became common in many corners of the industry, whether it was limiting personnel or implementing regular testing. "No longer are we just going up to people on the streets or parks or supermarkets," Vulcano told People. "Instead, we would rent a whole location and then film there over an entire week." One bit even took place over a darkly familiar medium: Zoom. Elsewhere, the team got more creative in their effort to simultaneously maintain levity and safety. One sketch takes place in a music studio and separates the Jokers and the prankee with a glass divider.
Ahead of Season 10, the Jokers and company returned to set somewhat more equipped to handle the new circumstances. "When it first happened, we were like, 'How do we even make our show in these times?" Quinn said to People. Per Murray, keeping things COVID safe has demanded that the team keep things fresh — a challenge for any show entering its tenth season: "When you go almost 300 episodes, you have to constantly reinvent the show. It was just another hurdle to overcome to keep the show fresh and original."
Unfortunately for the Jokers, they're all too familiar with the unpredictable vicissitudes of working in television. In the middle of Season 9, Joe suddenly left "Impractical Jokers," imparting a bittersweet absence to the series. For the remaining pranksters, COVID is another challenge in an otherwise difficult time — one through which they hope to channel clever new pranks.