The Impractical Jokers Punishment Fans Think Is Too Painful To Watch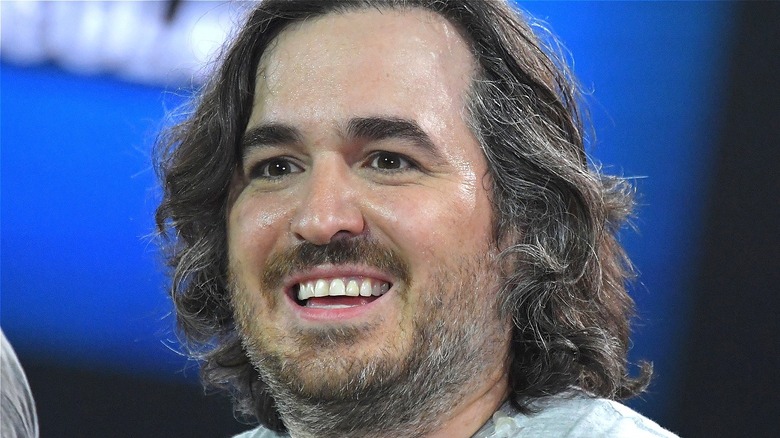 Mike Coppola/Getty
"Impractical Jokers" — one of truTV's flagship shows — has produced plenty of memorable moments for viewers since it debuted in 2011. The reality show has gained a following by putting its cast of improvisational actors, including James "Murr" Murray and Sal Vulcano, through dares ranging from cringeworthy to hilarious. The cast of comedian-actors competes in their assigned challenges, such as teaching classes on childbirth to pregnant women, only for the person designated by the Loser Board to have the lowest score forced to face a punishment chosen by the other "Impractical Jokers." 
These punishments vary wildly, as one episode saw Sal feeding fried chicken to a grizzly bear while another had Brian "Q" Quinn dress as a clown at a kid's birthday party — and do whatever his cast mates commanded. Although plenty of dares are funny to watch, some punishments for the losers have been deemed difficult to sit through by fans on the "Impractical Jokers" subreddit. While there are plenty of tough clips to sit through, fans feel that one punishment easily stands out as the most cringeworthy. 
Q's punishment involved a Little League game
As fans of "Impractical Jokers" know, former firefighter Q's punishments often force him to act like a jerk in front of crowds, and sometimes children are involved. One of the most difficult to watch punishments saw Q pretend to be a loud dad in the bleachers at a Little League game. Unbeknownst to him, a young actor had been employed as his fake daughter, too. 
Instructed to shout ridiculous comments, such as "Slow it down with those pitches!" Q's behavior almost gets him jumped by other parents, who watch in obvious anger as he ridicules their children and then treats his own daughter so horribly that she starts crying — especially after he yells, "Macy, you want daddy to love you or what?" 
Selected by user u/njpunkmusic as the most cringeworthy punishment to watch, others on the "Impractical Jokers" subreddit agreed. U/cingerix wrote, "that one was one of the first Jokers bits i ever saw and, at the time, i thought it was his real daughter who was really crying!!! i was so relieved when i found out later that she's an actor and Q has no children," while another user commented, "I thought he was about to get jumped for real."
Q answered fan questions about the punishment
Following the video of that particular punishment on truTV's YouTube page for the show, Q was asked if the kids on the field knew they were being filmed for a TV show. "The only one who did was the little girl who played my daughter," he said. "I believe they did not tell them because they wanted all the real reactions that we got." He added the question would have been best directed at the cast members who'd planned the punishment. "If I was planning it, they wouldn't know," he added.
A separate Reddit thread discussing that same punishment saw other fans agree it ranks as one of the highest cringeworthy punishments on the series. U/LJGremlin commented, "For me, this is by far the most painful punishment of the series." Considering the sheer number of brutal punishments that the "Impractical Jokers" have put each other through over the years, that is certainly saying something.