Sarah Polley Discusses The Real Meaning Of Her Film Women Talking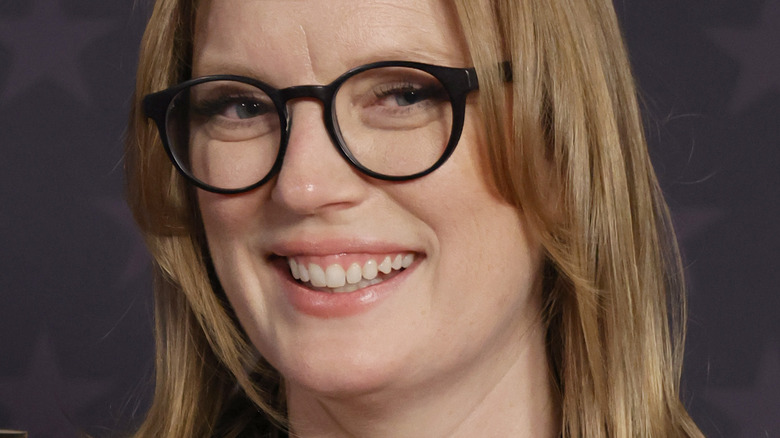 Frazer Harrison/Getty Images
Based on the true story of female members of an isolated Bolivian Mennonite colony who are repeatedly drugged and sexually abused, only to have their trauma dismissed as "demon attacks" or dreams (per The Atlantic), "Women Talking" is sparking plenty of conversations about its profoundly shocking subject matter.
With an impressive 91% of critics giving the film a positive review on Rotten Tomatoes, "Women Talking" builds on its startling premise to deliver a powerhouse cinematic experience that belies its straightforward title. Based on Canadian author Miriam Toews' 2018 novel, the film features a brilliant ensemble cast including Claire Foy, Rooney Mara, Frances McDormand, and Jessie Buckley, among others. Much of the film's action, such as it is, takes place in the loft of a barn where the abused women gather to debate what to do about the horrific situation in which they find themselves quite literally trapped. The men responsible for the crimes against them are in custody, but other men are on their way to bail the offenders out and return them to the colony. Thus, the clock is ticking as the women discuss whether to leave, stay, and fight or do nothing. But as director Sarah Polley notes, the film's message goes beyond what many movie-goers might expect.
If you or anyone you know has been a victim of sexual assault, help is available. Visit the Rape, Abuse & Incest National Network website or contact RAINN's National Helpline at 1-800-656-HOPE (4673).
Polley said Women Talking explores society's complicity in the crime of sexual assault
Speaking with Marc Maron recently on his WTF podcast, director Sarah Polley went into her motivations behind making "Women Talking." While the story centers on the unimaginable situation the women find themselves confronting, Polley said she also wanted to address issues beyond the inhuman abuse they suffered. "What I didn't want it to be was a trauma dump," the director told Maron at around the 61-minute mark of her interview. "I kind of wanted to make sure that every story was a story of recovery or moving through something."
When Maron commented that the women appeared to be internally conflicted over what had happened to them and what to do about it, Polley responded that the women were also dealing with the broader implications of sexual abuse as a societal phenomenon. "Complicity," Polley said, "Is something we've all had to reckon with a lot in the last six or seven years. You know, the sense that, 'Yes, a lot of harm was done. But also, what did we see that we knew was wrong and didn't do anything about?'"
In this respect, Polley expanded on the "complicity" element of the meaning within "Women Talking" as she pointed out the moment of truth for a mother in the film who "apologizes to her daughter for encouraging her to go back to a situation over and over again that was unsafe and dangerous and violent."