Women Talking Review: A Potent Portrayal Of Protest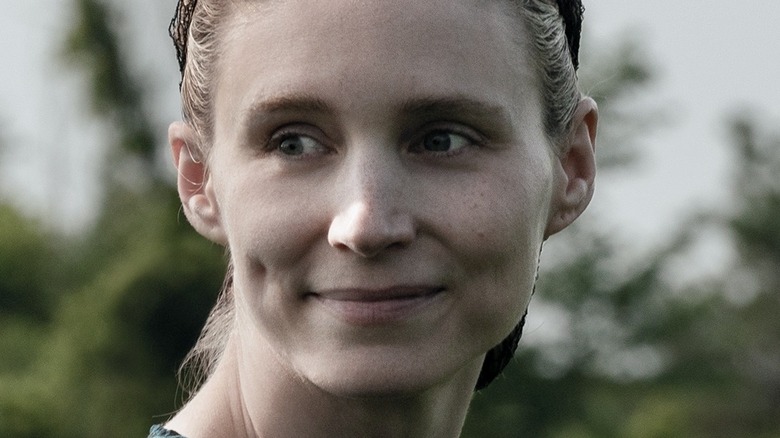 United Artists
With "She Said" and, now, "Women Talking" — both directed by women and both filled with talented female ensemble casts — it's clear that there's a long overdue conversation happening on screen. For the first time, women are in a position to dictate their pace, rather than being asked to take notes and make sure everyone has enough coffee. Directed by Sarah Polley and based on a 2018 novel by Miriam Toews, "Women Talking," which premiered at Toronto International Film Festival, takes the dangers inherent to being a woman in society and transposes them into a cloistered Mennonite community in crisis. Blessed with a strong cast of actresses who are infinitely generous with one another on screen, "Women Talking" manages to take what could be a fairly unwieldy, extremely dialogue-driven drama and inject it with real heart and emotional stakes.
A group of women in a strictly observant Mennonite order gather to discuss a matter of utmost importance. The girls and women of their community have been the victim of disturbing nighttime attacks, drugged and sexually assaulted while asleep in their beds. When the group responsible for these rapes are discovered, they are taken to the nearest city to stand trial, with the rest of the men in the colony following behind to post bail. This leaves the women with an important choice that will define the rest of their lives. In the hayloft of the barn, each woman votes with an "X," since none are allowed the gift of literacy: whether to do nothing, to stay and fight, or to leave. Each path has its own benefits and very real costs, and their task here is to figure out which option will best allow them to preserve both their faith and their safety. And they have to do it quickly — the men will be returning in just a few short days.
To help them make their decision, they have recruited one man to serve as notetaker: the meek schoolteacher August who has spent many years studying outside the colony and is their one ally. He will document their discussions, which, as much as they try to focus on the task at hand, have a tendency to flit between practical, philosophical, and theological matters.
If you or anyone you know has been a victim of sexual assault, help is available. Visit the Rape, Abuse & Incest National Network website or contact RAINN's National Helpline at 1-800-656-HOPE (4673).
Not just idle chatter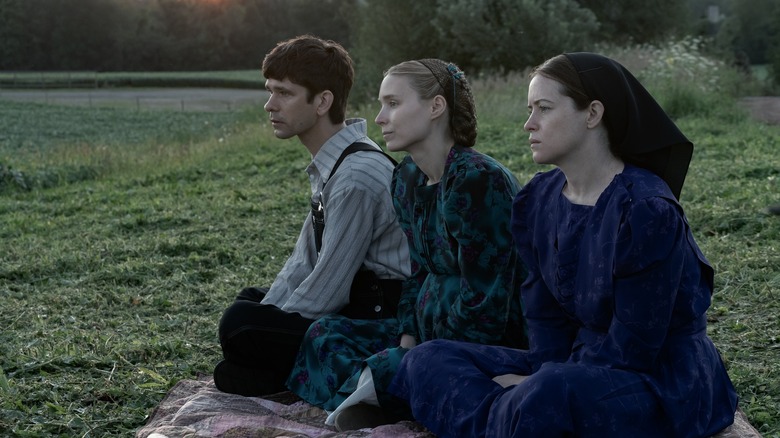 United Artists
Anytime you put the word "talking" in a film title, you're taking a risk. There are probably critics ready to pounce on this one for being staid or overly stagey, given that so much of the action (or lack thereof, as it were) takes place in one hayloft with just a bunch of women, well, talking. But while "Women Talking" does have the tenor of a play in many aspects, as Sarah Polley's direction has a dreamy quality that indulges moments that are less rigidly staged. In one scene, for example, a census taker drives through the community with his radio blaring The Monkees' "Daydream Believer." 
The teenage girls are enchanted by this music; it's a glimpse of the outside world that they had previously been denied them. August, the only one amongst them who has experienced secular life, sings along with the chorus under his breath, moved by the simple and innocent reminder of his past. It's just one example of a scene that breathes life into "Women Talking," bringing it back from the brink whenever it feels as though it might simply become a compilation of Oscar clips.
With a focus on monologuing, "Women Talking" does right by all of its performers. They are a true ensemble cast, stepping forward at some points and gracefully moving out of the way at others, giving each woman an opportunity to make her mark on the film. The characters have been developed so thoughtfully that they each feel like a unique individual, even as their plain clothes and head coverings attempt to make them look homogenous and nondescript. Claire Foy and Jessie Buckley in particular make the most of their moments, capturing the rage, determination, and vulnerability of women attempting to protect themselves and their children in a world where their options are devastatingly limited. Ben Whishaw also acquits himself admirably as the sole man in the film, a timid, reserved outsider who serves as witness to this most monumental of discussions.
A heartbreaking conversation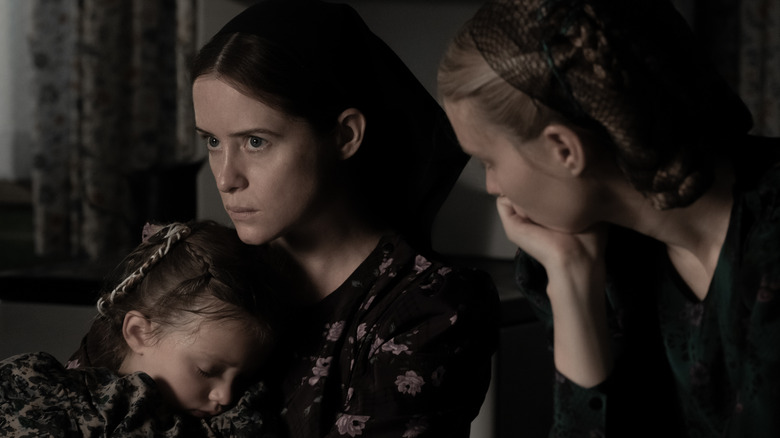 United Artists
The discussions that the group has are especially rewarding — how often are we ever given the opportunity to watch three generations of women on screen together, organically communicating with one another about the issues that they face in their day-to-day lives? Yes, "Women Talking" requires its audience to suspend disbelief a little bit — it does feature a group of illiterate women discussing philosophical concepts with the eloquence of someone who had just finished a graduate thesis on the subject. But in a way, this quality enhances the film's otherworldly quality. The characters don't talk like normal people because they aren't normal people.
"Women Talking" is hardly an action-packed film, and audiences looking for a little adrenaline will likely do better elsewhere. This narrative is about the agonizing paralysis at the moment before taking action, when you know that you need to do something, but the weight of that decision is overwhelming. The courage on display from the central cast of characters — whether they choose to do nothing, stay and flight, or leave — is incredibly moving, giving "Women Talking" a profound emotional weight.