Ant-Man And The Wasp: Quantumania Screenwriter Describes Kang The Conqueror In Some Pretty Scary Terms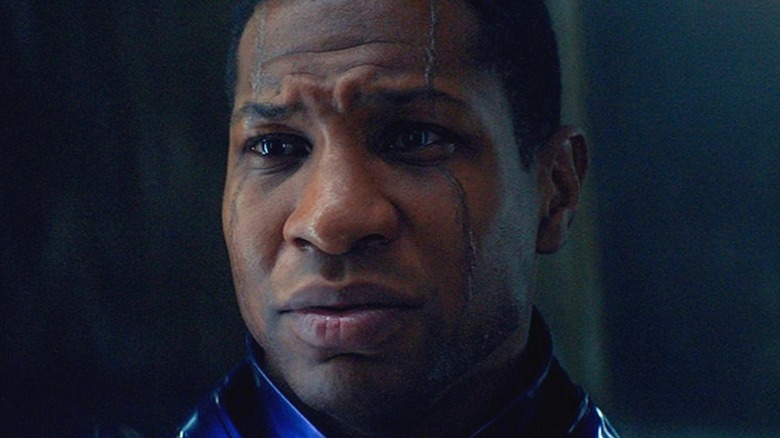 Marvel Studios
It's strange to think that it has been four years since the plans of the snap-happy villain Thanos were thwarted by Tony Stark and the rest of the Marvel Cinematic Universe's hero roster. Since then, the MCU hasn't seen a threat as fierce as the Mad Titan, but that's all about to change. Jonathan Majors' Kang will soon be trying to conquer the MCU when he (or a new version of the character, at least — we met a variant in the "Loki" finale) makes his debut in "Ant-Man and the Wasp: Quantumania."
Majors' antagonist will be a different breed of villain compared to Thanos. He's a threat that even the God of Mischief was left rattled by, which is no easy feat. However, this close encounter at the end of time leaves us wondering how the clash will go down between our new big bad and our occasionally tiny super thief, Scott Lang (Paul Rudd). According to screenwriter Jeff Loveness, there's one element of Kang that he couldn't wait to expand on, something that Thanos lacked. This could lead to Majors' mastermind being even more of a threat than the Mad Titan himself.
Kang is the 'Infinite Thanos' according to Jeff Loveness
Speaking to SFX Magazine, Loveness painted a detailed picture of the MCU's new evildoer, highlighting that it was Kang's journey before he arrives to cause trouble for the newly appointed Avengers that appealed to him. Describing Kang as a "lonely character," Loveness teased: "We're going to be seeing a lot of him in a lot of different ways going forward, but I really wanted to introduce the humanity and even the vulnerability of this character before he gets to such apocalyptic, Avengers-scale heights."
That won't be a difficult task for Kang, given his history in the comics. As threatening as Thanos or Doctor Doom, the screenwriter made sure to put some respect on the name and the eventual endgame he's prepping for. When considering Kang's first encounter with Earth's Mightiest Heroes, Loveness said: "What do you do when you feel you're not enough against that? How do you step up to face the challenge of this generation, who is Thanos on an exponential level? He's almost this infinite Thanos."
Such a comparison means he's sure to come out swinging after "Quantumania," in anticipation of "Avengers: The Kang Dynasty." Loveness explained: "I think it's time to put the pedal to the gas again, and really take all these new characters that we like and throw them into the fire." Let's see how things heat up when "Ant-Man and the Wasp: Quantumania" arrives on February 17.