The Walking Dead Fans Vote On Their Favorite Romantic Partner For Daryl, And It's Not Carol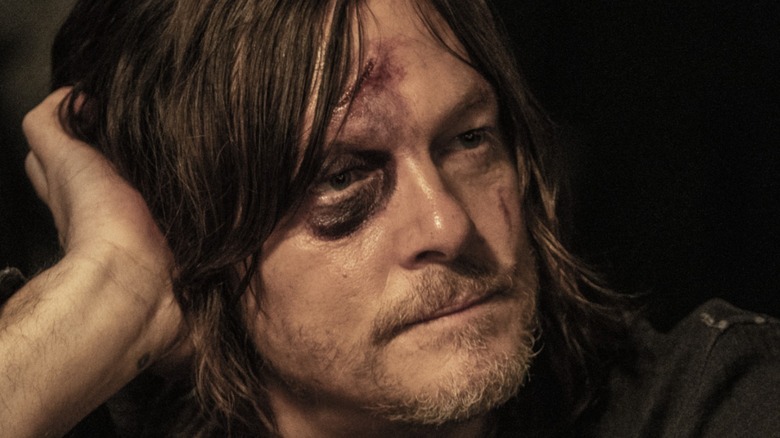 Jace Downs/AMC
Even in the zombie apocalypse, the time-honored tradition of shipping characters must be honored. "The Walking Dead" saw plenty of romantic pairings come about. Even in Season 1, there is something of a love triangle between Rick (Andrew Lincoln), Lori (Sarah Wayne Callies), and Shane (Jon Bernthal). Glenn (Steven Yeun) and Maggie's (Lauren Cohan) love is both touching and tragic. Yumiko (Eleanor Matsuura) and Magna's (Nadia Hilker) relationship goes back around a decade.
And of course, the bond between Rick and Michonne (Danai Gurira) has proven a lot stronger than Rick's disappearance. That last one seems to have become an apex for postapocalyptic romance. "It's an epic love story," showrunner Scott M. Gimple told "Talking Dead" host Chris Hardwick on "The Walking Dead Universe Preview 2022" (via Entertainment Weekly). "But it's an epic and insane love story."
One enigma swirling in the midst of all these hookups and breakups is Daryl (Norman Reedus). The crossbow-wielding survivor has always appeared to be most comfortable on his own, which isn't at all to say that he's proven incapable of forming close bonds. Sparks certainly fly between him and both Leah (Lynn Collins) and Connie (Lauren Ridloff). However, his deep, seemingly unbreakable friendship with Carol (Melissa McBride) is the most enduring on "The Walking Dead," going all the way back to Season 1.
A Daryl and Carol romance?
The bond between Carol and Daryl is so strong that, for a time anyway, a Daryl and Carol spin-off was in the works, though the idea was unfortunately retooled to a Daryl Dixon solo endeavor after Melissa McBride was unable to film the series in Europe. Plenty of close friendships develop into something more, even in worlds far more dangerous than our own. As Carol and Daryl's friendship evolved over the 11 seasons of "The Walking Dead," plenty speculated about whether it might be pointing in the direction of romance, particularly after Carol split with the larger-than-life King Ezekiel (Khary Payton) following the death of their adopted son, Henry (Matt Lintz), in Season 9.
By the end of Season 10, critics like CBR.com's Renaldo Matadeen were commenting on the "mixed messages" that the show seemed to be sending about the iconic duo. These mixed messages also seemed to provide a source of tension in Carol's own relationships. Despite clearly trying to take the high road, Ezekiel's jealousy of Daryl is apparent. The threads of "will they, won't they?" absolutely build up. And while it might seem obvious that every fan of "The Walking Dead" was essentially shipping Carol and Daryl, that was surprisingly not the case.
A pairing between Daryl and Connie got the most number of votes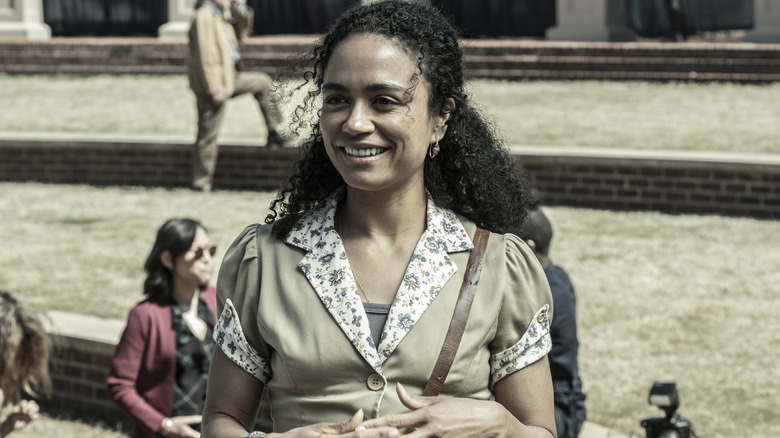 AMC
Posted by a now-deleted user in the r/thewalkingdead subreddit, a poll asked which Daryl ship was the best. Out of the 1,300 votes cast, it was Daryl and Connie that came in first. In fact, it wasn't even close. The idea of a matchup between the two had 538 votes, while second place had 292.
Speaking of second place, it was, perhaps unsurprisingly, the option of a "lone wolf" Daryl, which appears on the poll in the form of "asexual Daryl" (although, as a comment by u/HisDarkOmens clarifies, many people who identify as asexual are still up for dating and forming romantic relationships). Coming in with 18 votes fewer than a perpetually single Daryl is a pairing between Daryl and Carol, followed by Daryl and Maggie's long-deceased sister, Beth (Emily Kinney), and at the very end, Daryl and Leah.
After first appearing in Season 9, Connie became a popular character in her own right. Lauren Ridloff herself has expressed interest in the possibility of a prequel spin-off focusing on the trials of Connie and her sister, Kelly (Angel Theory) (via Entertainment Weekly). As for Daryl and Carol, their decision to go their separate ways as best friends is among the more moving moments in the series finale of "The Walking Dead." Melissa McBride herself thought so; both she (via Entertainment Weekly) and Norman Reedus (via Entertainment Weekly) had difficulty keeping their emotions from taking over while filming.