Whatever Happened To Happy From Sons Of Anarchy?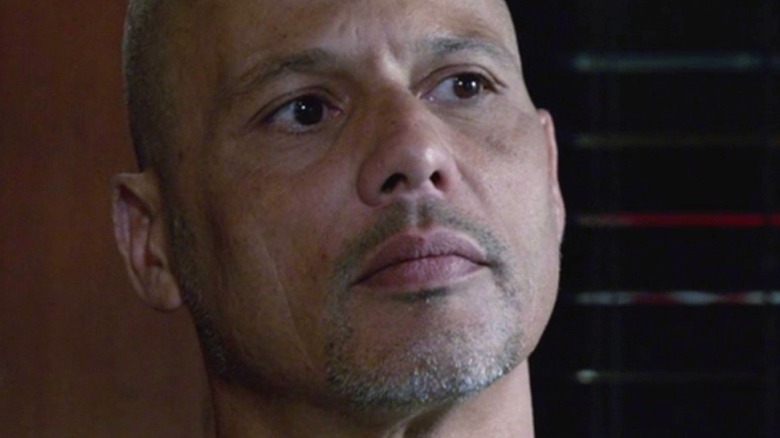 FX
No one can deny that FX's "Hamlet"-inspired series, "Sons of Anarchy," takes more than a few creative licenses. Outlaw clubs such as Hells Angels have been a prominent subculture for some time, but many have noted how some aspects of the show are questionable. But while details like women having a higher influence in the club are unrealistic, the series does not skimp where it counts. David Labrava started as a technical advisor on all things motorcycle club and went on to play the enforcer, Happy Lowman. His experience came from being a Hells Angel in real life, which he went to spin off in one of his most well-known characters to date.
"I remember when Kurt [Sutter] explained to me why I was called Happy," Labrava told Collider in an exclusive interview. "I was like, 'Why didn't you call me Psycho?' And he was like, 'Because your name is Happy. You're an assassin for the club, and you're never happy. It's ironic.' Happy is just a soldier. He's got his aunt and his mom, but the real family to Happy is that club." Happy had to say goodbye to his brothers when the upsetting finale of "Sons of Anarchy" premiered in 2014. But even though it was the end for Jax Teller (Charlie Hunnam), Happy didn't hang up his kutte for long.
He reunited with Kevin Alejandro in Lucifer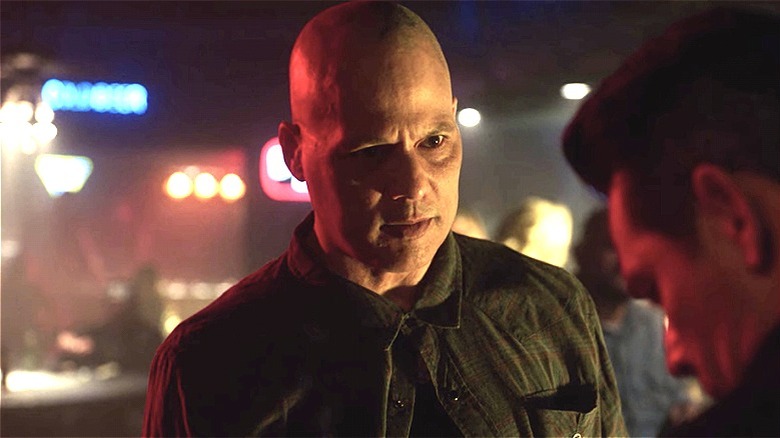 Netflix
Though "Sons of Anarchy" had ended by the time David Labrava guest starred on the wickedly funny procedural "Lucifer," the actor was still able to connect with some old friends. In Season 3, Episode 22, Dan (Kevin Alejandro) investigates a murder at a dog show and enters the bowels of a seedy gambling den to find the culprit. There, Dan runs into Mike (Labrava), a suspicious and aggressive bar patron. This is not the first time one has appeared on the other's television show. The working relationship between the two stretches back to 2008 when Alejandro appeared as Esai Alverez, son of Mayans President Marcus (Emilio Rivera), on "Sons of Anarchy."
Not only do the two appear in the same episode, but they also come to a confrontation. Esai is a short-lived character who fails to complete an assassination that his father ordered. This earns him an icepick in the back of the head, courtesy of Happy. Luckily for Dan, he does not have the same fate when the two meet again in "Lucifer." This time, Labrava is the guest star, and Dan has a far more optimistic outcome. The detective successfully enters the bar and plays poker with Mike and a suspect in the case. Though the interrogation ends on a sour note when Lucifer (Tom Ellis) interrupts with a SWAT team, Dan still leaves with his life.
Happy continued his journey in Mayans M.C.
Jax may have departed from this world in a blaze of glory, but that doesn't include the rest of the Sons. Under the leadership of Chibs (Tommy Flanagan), the club continues to run guns in FX's spin-off series, "Mayans M.C." The series follows the sometimes adversarial club when legacy member EZ (JD Pardo) returns from prison. Familiar faces show up, such as the underrated "Sons" character Chucky (Michael Ornstein), who offers his services to the Mayans after Jax's death.
But out of the fully patched members, Happy is the most significant character to reprise his role in "Mayans M.C." EZ's journey to find his mother's killer comes to a head when he learns Happy was behind it. Though Happy was with the Nomads at the time and a killer for hire, the knowledge that EZ's mother was killed as an organized hit is a shock. Further exploring Happy and his background was important to showrunner Kurt Sutter, who never had a chance to do it in the flagship show.
"We did a little bit with Happy['s backstory]. We had a couple of episodes [in "Sons"] where we had him talking about wanting to be closer to his mom, because his mom wasn't well," Sutter told The Hollywood Reporter. He went on to say: "Now, we will be able to, at the very least, show some layers of his backstory in ["Mayans M.C.]"