Questionable Things We Ignore In Sons Of Anarchy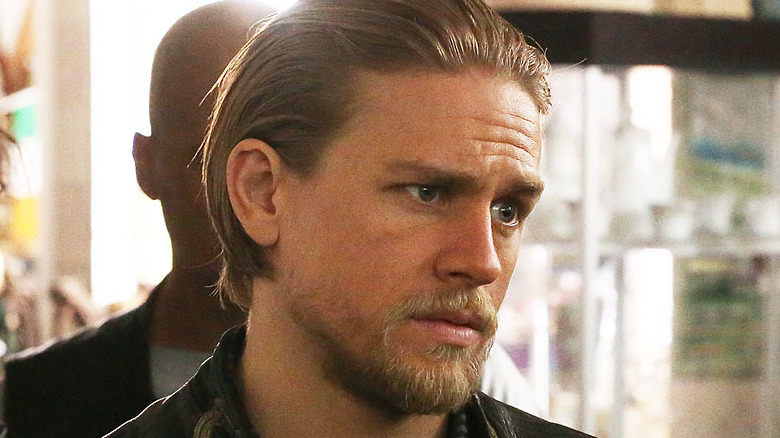 FX Networks
FX's violent motorcycle action drama series "Sons of Anarchy" got a lot of things right. "SOA" creator Kurt Sutter found a winning formula in the grit and violence of his Shakespeare-at-Sturgis saga, given the obvious parallels between the show and the bard's classic tragedy "Hamlet." Heck, there are even "Sons of Anarchy" actors who were Hells Angels members in real life. The show never dipped below a 76% critics score on review aggregator Rotten Tomatoes, with its debut season rated at 88%, its fourth season garnering an enviable 100% score, and the series overall holding steady at an 87% approval rating. 
Sutter told Deadline that he had a good idea of where he wanted the show to go from the jump. "I always had a sense of what the kind of big mile markers were," he said. "Where I ultimately wanted the direction of my show to go and where I wanted my characters to land, who will be redeemed, and who won't, and what would happen. I learned a lot after the first couple seasons, when you're heavily scrutinized and wondering if you're going to be picked up."
Naturally, any show that's a hit is still going to miss on at least a few items, and "Sons of Anarchy" is no exception to the rule. There are notable characters who outright disappear, plot lines that are never really resolved, some things that legitimately make no real amount of sense, and a deus ex machina season finale that many fans found maddening. With all that in mind, here's a look back at some of the questionable things we choose to ignore in "Sons of Anarchy."
Opie's boundless loyalty to the club that killed his father and his wife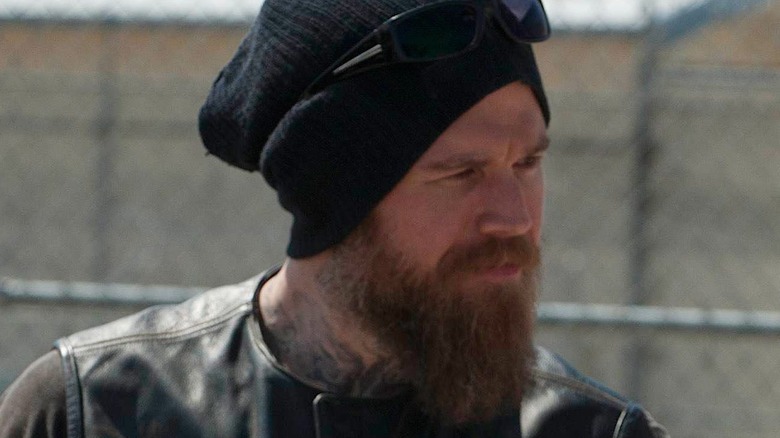 FX Networks
We're not sure any of the questionable things we've come up with really rival the seemingly boundless loyalty that Harry "Opie" Winston (Ryan Hurst) shows SAMCRO on "Sons of Anarchy." He does five years in Chino after former member Kyle Hobart (Brian Van Holt) ditches him and tries to stay on the straight and narrow upon his release in order to keep his wife Donna (Sprague Grayden) happy. It's clear Opie misses the brotherhood he enjoyed as a member of the club, however, as evidenced by the way he is eventually drawn back in by best friend Jax Teller (Charlie Hunnam) to make some extra money. Unfortunately, repeated attempts by ATF Agent June Stahl (Ally Walker) to get Opie to turn on the club result in president Clay Morrow (Ron Perlman) believing Opie truly is a rat, so Clay orders Alexander "Tig" Trager (Kim Coates) to kill him. As fans know, Tig mistakenly kills Donna instead.
Opie, of course, is at first unaware his own club is responsible for his wife's death, but Tig confesses out of guilt in Season 2 Episode 11, at which point Opie gives him a savage beating. He still stays with the club nonetheless, seeing Stahl as the real villain; it doesn't hurt that Clay spares his father, Piney (William Lucking), after the elder Winston fires a gun at him twice. But Clay has only hit pause on eliminating members of Opie's family: he kills Piney in Season 4 over letters Jax's father wrote, which indicate his seeming awareness that Clay and Jax's mother, Gemma Teller (Katey Sagal), are going to kill him. Opie shoots Clay twice, but is still able to operate alongside him and Tig up until he finally gives his own life for the club in prison in Season 5.
Jax is all about family but seemingly forgets he has a half-sister after Season 3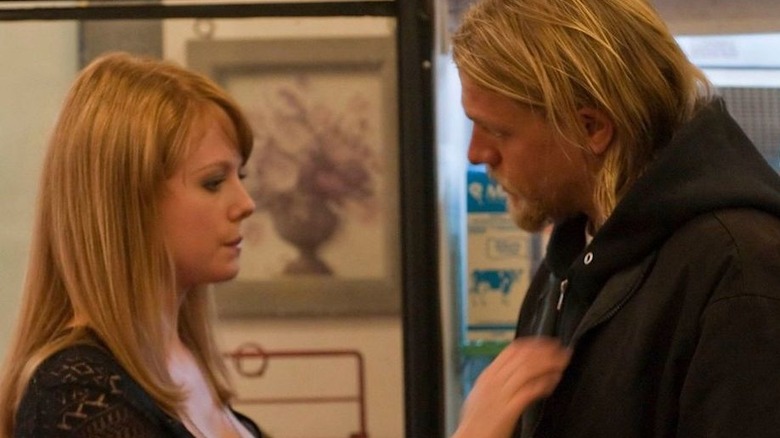 FX Networks
Jax Teller is ostensibly all about family. First, his devotion to his brothers in SAMCRO is rivaled only by Opie's. Jax fights to maintain custody of his son Abel from his drug-addicted ex-wife Wendy (Drea de Matteo). He drags the entire SAMCRO crew to Ireland in Season 3 to track Abel down after he's kidnapped by True IRA bad guy Cameron Hayes (Jamie McShane). Jax actually considers leaving SAMCRO to get his wife Tara and their two sons away from the outlaw life. And, of course, he sacrifices himself in the series finale so that SAMCRO can remain operational, given the mayhem vote against him.
But in his travels to the old sod, Jax learns he has a half-sister, Trinity (Zoe Boyle) — a product of an affair between his father John Teller (Victor Newmark) and Maureen Ashby (Paula Malcolmson) — a fact of which he is apprised just in the knick of time before the two got too cozy with each other. Obviously they're both pretty embarrassed to have almost hooked up with a blood relative and maybe that awkwardness is the reason we never hear from Trinity and Maureen again; despite Jax being more focused on family than the entire "Fast and Furious" saga, his long-lost sibling remains a Season 3 ghost and doesn't surface again for the remaining four seasons of "Sons of Anarchy." The awkwardness of their introduction notwithstanding, for someone so dedicated to his loved ones, it doesn't make sense that we never hear from the Ashbys again.
Wait, Jax wants to go legit by partnering on a brothel?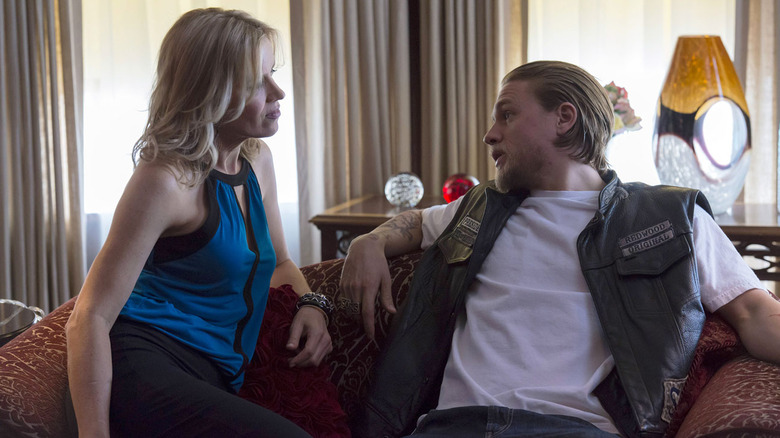 FX Networks
We're thinking maybe Jax Teller needs a dictionary; could someone turn him to the page that defines the word "legitimate"? We're all about him taking SAMCRO away from drugs and guns and the respective precarious relationships with cartels and the Irish Republican Army that those dealings represent. But getting into the ... uh, "companion" business is no less illegal. Look, we get that Nero Padilla (Jimmy Smits) is a charming guy and if we had to pick a fictional character of shady repute with whom our outlaw mother would hook up, it would be him. We could debate the respective moralities of the Sons being smugglers vs. proprietors in the sex trade, but at the end of the day, there's simply no getting around the simple fact that they're both against the law. Trying to take the club legit by leaving drugs and guns in favor of escorts is like trying to lose weight by simply switching from full-calorie Coke to full-calorie Pepsi — it's just not going to work.
Of course, all of that being said, it's also true that Jax's first attempt to get the club to go legit via the sex trade would have worked if Clay hadn't torpedoed it. Putting SAMCRO in the adult film business in Season 2 — ignoring the obvious moral issues that entails — with Luann Delaney's (Dendrie Taylor) pornography studio Cara Cara was at least a legitimate business venture operating within the law. Of course, Cara Cara also provided a source of relationship drama between Jax and future wife Tara Knowles (Maggie Siff), but it's also where Opie met his second wife, Lyla (Winter Ave Zoli). 
Juice would rather risk being caught out as a snitch than reveal his parentage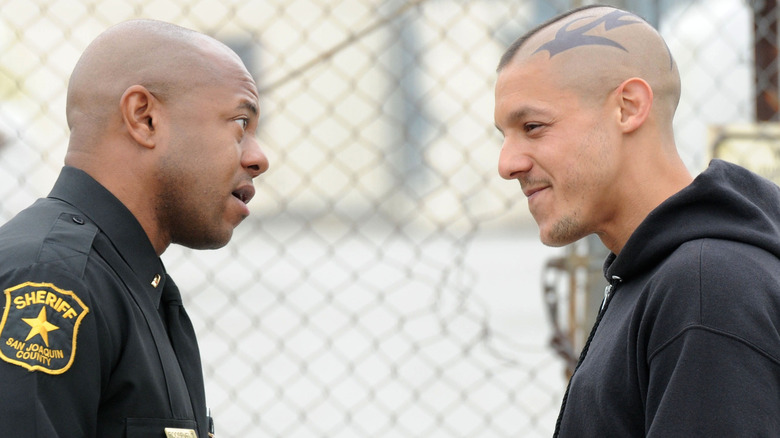 FX Networks
Juan Carlos "Juice" Ortiz (Theo Rossi) manages a lot of the non-muscle tasks SAMCRO faces over the course of the "Sons of Anarchy" timeline. He's technologically proficient and serves the role of an MC's version of a hacker and tech support, but he's also prone to making his share of stupid decisions, perhaps the most notable of which is turning against the club when Sheriff Eli Roosevelt (Rockmond Dunbar) blackmails him. 
Back in the day, when the Sons of Anarchy Motorcycle Club was first formed, the legendary First 9 — the founding members of the Redwood Original chapter — wrote their bylaws with some rules that would not age well. Among them was the provision that prohibited Black men as members. Sheriff Roosevelt blackmails Juice on behalf of Season 4's primary antagonist, Lincoln Potter (Ray McKinnon), knowing that Juice's father is Black, threatening to reveal his heritage to the club if he doesn't turn snitch. Fearing being kicked out of the club, Juice does Potter's bidding and steals a brick of cocaine — which will provide proof that SAMCRO is mixed up with the Galindo Cartel — and even kills Eric Miles (Frank Potter) when he's caught in the act trying to return the drugs.
The inanity we ignore is that Juice would rather risk getting caught out as a rat — for which he'd almost certainly be killed — than potentially get kicked out of the club over an outdated rule that it's possible no one in the modern club would even care about. Also, as Philip "Chibs" Telford (Tommy Flanagan) explains, all that matters is what it says on his birth certificate.
Gemma and Tara's influence is not a realistic representation of MC culture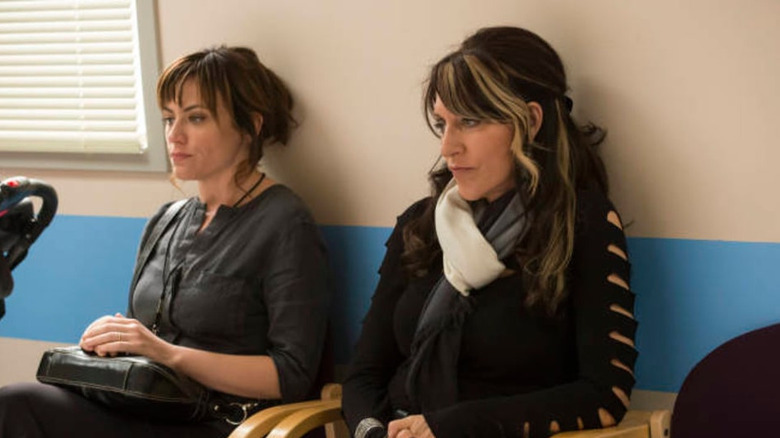 FX Networks
Speaking of the outdated rules written by the founding members of the Sons of Anarchy MC, in addition to people of color, women were also prohibited from being members of the club. So, while it's true that Gemma and Tara are not patched members of the club, it's unlikely that any woman would be able to exert as much influence on its comings and goings as the two of them do — and Gemma more than anyone. Biker culture has traditionally been patriarchal in nature and the club that's presented on "Sons of Anarchy" is no different. Don't take our word for it; people have written scholarly articles about the persistence of patriarchy in the world of motorcycle aficionados. In her thesis "Making Sense Of Motorcycle Brotherhood: Women, Branding, And Construction Of Self," Kimberly Michelle Maas notes that the number of women riders has risen over the years but is still down around 25% of the total biker population, with 75%, naturally, being men. "No matter the experience used to define or support patriarchy in motorcycles the data shows that it still does exist," she concludes.
Quora user George Paczolt addressed Gemma's role in the club, after laying out an impressive list of his MC credentials. "Gemma's position in the club ain't gonna happen — ever. She'd have been taken out back and 'corrected' halfway thru the first episode in the real world," he said, adding that the process would be repeated until it stuck. "Women do not have any decision making positions in a real M/C. Period," Paczolt concluded, later underscoring his point by straight up calling Gemma's role on the show "the biggest single piece of bulls*** on the entire series" in all caps.
The explanation for John Teller's death continues to change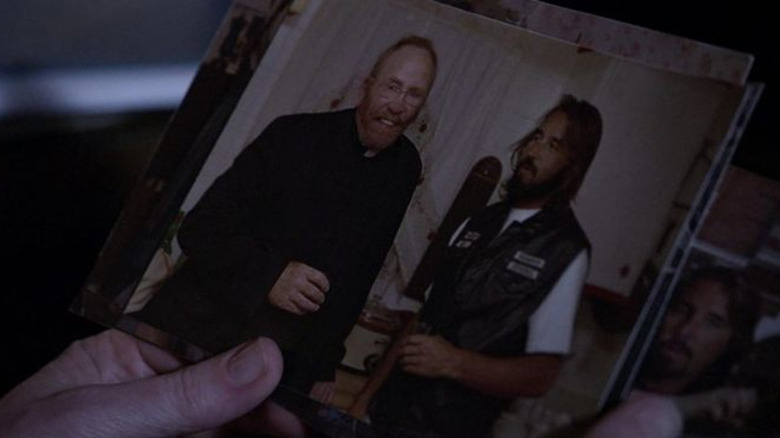 FX Networks
The mystery and uncertainty behind John Teller's death plays a crucial role in the early development of "Sons of Anarchy," and his figurative ghost — the narrative set forth in his manuscript "The Life and Death of Sam Crow: How the Sons of Anarchy Lost Their Way" — also helps set up conflict between Jax and Clay. JT makes it clear he feels the club's decision to get into guns with the True IRA was a catalyst for SAMCRO's seeming downfall and tries more than once to get the club out of guns and into more legitimate pursuits — sound familiar? Of course, Jax's father died shortly after completing this manuscript, so the subtext reads that his idea wasn't popular with a certain party who very much wants SAMCRO to continue running guns — read: Clay.
Initially, we're told JT died in an accident, but the circumstances change more than once. Gemma suggests that, following the death of their second son, Thomas, JT may have taken his own life. JT's letters to Maureen Ashby indicate he feels like Clay and Gemma are plotting to kill him. We also find out that Wayne Unser (Dayton Callie) helped cover up the fact that his bike was sabotaged, so it was murder. But then it was neither an accident nor murder because JT's confidant Jury White (Michael Shamus Wiles) insists JT would know if his bike had been tampered with, suggesting he purposely crashed his bike into the semi in an effort to save the club and keep SAMCRO together — sound familiar? Given how Jax met his own end, we assume the most recent version of JT's death is what he chose to believe, but the shifting narrative on the matter of John Teller's death was definitely a source of frustration for many "Sons of Anarchy" fans. 
Bobby Elvis' always does what's in the club's best interest except this one time
FX Networks
Robert "Bobby Elvis" Munson (Mark Boone Junior) is a nuanced and important character among the "Sons of Anarchy" cast. He serves as both a surrogate father figure and vital sounding board for Jax, talking the volatile young man down with a skilled and steady hand on more than one occasion. In many a situation that called for a voice of reason, Bobby plays that role, knowing the tension between Clay and Jax is bad for the club as a whole. He also initially serves as vice president of SAMCRO when Jax takes the president's patch. Before that, Bobby Elvis serves as club treasurer, and it's in this capacity that the character is seen acting outside his normal operating principles. 
In Season 2, when reviewing the finances of the club's joint venture with Luann Delaney, the Cara Cara adult film studio, Bobby realizes Luann is skimming and thus defrauding SAMCRO of money. Based on the moral compass he presents throughout the rest of the show, we'd expect Bobby to turn Luann in to face the consequences of her actions. Instead, he gives into her sexual advances and chooses not to disclose her theft. It's a decision that doesn't make sense, given Bobby's tendency to do what's best for the club. Further, Luann is Otto Delaney's (Kurt Sutter) old lady. Despite the fact that the prison clause — we're still not sure if that's actually a thing in real life MC culture, but we hope not — allows other members to have sex with an old lady while her man is in prison, it's just wrong on so many levels and not really in keeping with the character as a whole.
The only way Lincoln Potter would not have won was something crazy like the CIA showing up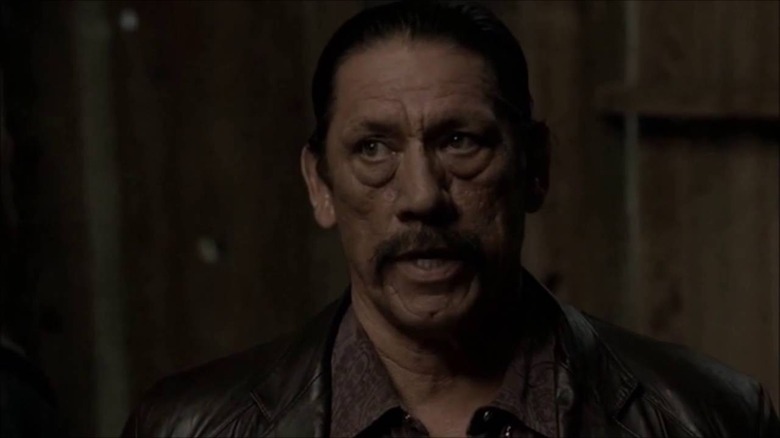 FX Networks
Remember at the beginning when we mentioned that "Sons of Anarchy" Season 4 had a 100% critics score on Rotten Tomatoes? We're still trying to figure out how it's the one season with a perfect score, because there's a major issue with the finale. Assistant U.S. Attorney Lincoln Potter rolls into town as members of SAMCRO are released from prison and recruits Eli Roosevelt, the new top dog at the San Joaquin County Sheriff Department, to be a part of his multi-agency task force to bring down SAMCRO, the True IRA, and Russian organized crime all in one fell swoop.
Potter sows dissension in the ranks by forcing Juice to betray his club in order to remain a member when he and Roosevelt convince the wayward Juan Carlos to steal a brick of cocaine SAMCRO got from the Galindo Cartel — represented by Romero "Romeo" Parada (Danny Trejo) and Luis Torres (Benito Martinez). Potter is an antagonist who's ambitious and cunning to boot. In fact, he's so good that it looks like he's got all his ducks in a row and is about to clear the board with a massive RICO case.
Then the cartel shows up to make that all go away. See, Parada and Torres are actually members of the CIA working on a black-book operation and the American government is backing the Galindo cartel in the hopes of putting other cartels out of business and eliminating the violence between the warring factions, amid other political reasons. It doesn't matter that Potter succeeded where others had failed, because this deus ex machina ending essentially undid the entire season's worth of drama.