Why Some Sons Of Anarchy Fans Were Upset With The Ending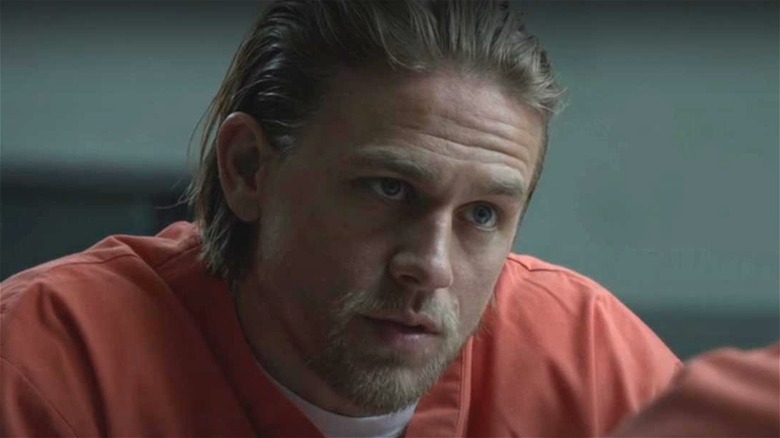 FX/Hulu
FX's "Sons of Anarchy" gained a loyal fanbase by telling its compelling tale of violence, motorcycle gangs, and family conflict before wrapping up with its seventh season in 2014.
Charlie Hunnam stars in the series as Jackson "Jax" Teller, vice president of the SAMCRO motorcycle club. Jax's father, John, was the original SAMCRO president, but after John's death, his best friend, Clay Morrow (Ron Perlman), took over and even married Jax's mother, Gemma (Katey Sagal). Jax later discovers, however, that John's intentions for SAMCRO were wildly different from the decisions Clay ended up making for the club. Naturally, creator Kurt Sutter has acknowledged the similarities "Sons of Anarchy" shares with Shakespeare's "Hamlet," especially in the manner in which Jax comes into increasing conflict with his stepfather, Clay.
Over the course of the bloody series, Jax's good intentions, unfortunately, end up paving a road towards tragedy for both himself and his family. In fact, it's only in the last episodes of "Sons of Anarchy" Season 7 that Jax finally recognizes his mistakes and tries to make things right for his family and the club.
While it's been seven years since "Sons of Anarchy" came to an end too, some fans of the show still take issue with its series finale and how it wrapped things up for the Tellers and SAMCRO. With all that in mind, here's why some viewers were upset with the series finale of "Sons of Anarchy."
Some Sons of Anarchy fans didn't like Jax's death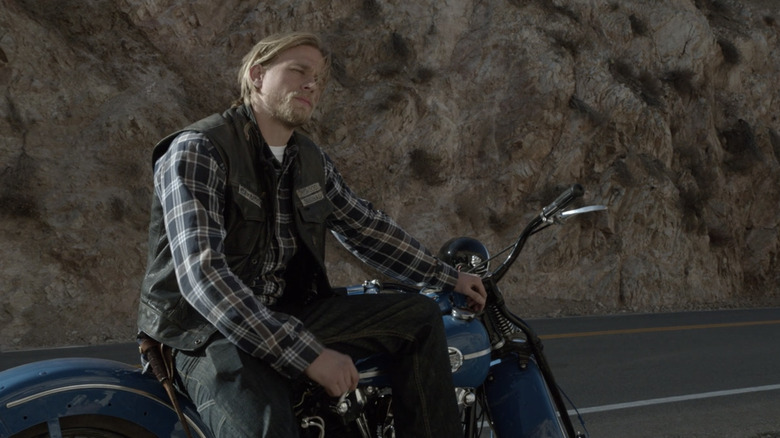 FX
On Reddit, u/TheGStandsForGets echoed the thoughts of many "Sons of Anarchy" fans when they expressed their uncertainty about Jax taking his own life, writing, "The way he suicides at the end of the show just doesn't seem like him at all. I don't know how else it could've ended though with everything he was facing." The user's post also notes that Jax killing August Marks (Billy Brown) and Charles Barosky (Peter Weller) will still bring "some blowback" for SAMCRO. In other words, as much as it seems like Jax supposedly fixed everything, most "Sons of Anarchy" fans don't think his killings or his decision to simply turn his children over to his ex-wife Wendy (Drea de Matteo) will really solve all of Jax's problems.
Another comment critiqued the show for not choosing one ending for Jax over another, noting, "It seems the writers couldn't decide between the two endings of jax [sic] meeting mayhem or sacrifing [sic] himself and figured they can do both." Elsewhere, another "Sons of Anarchy" fan shared their disappointment with the show's conclusion, writing, "My main question is why did the club need to vote on Jax getting killed if they were simply just going to let him go?"
Other replies, however, defended the parallels between Jax's death and his father's. u/nsgiad, for instance, commented that most fans should have had a "pretty good idea about how things must have [gone] down with [Jax's] dad and his 'accident'" by the time the series was nearing its conclusion. "When the same ending happens with Jax it just hits home the idea that 'those that do not learn from history are doomed to repeat it.' Which really was the central theme of that whole d*** show," the user added.
All seven seasons of "Sons of Anarchy" are available to stream now on Hulu.