Chicago Med's Kristen Hager Couldn't Get Enough Of The Sweet Moments Between Stevie And Her Mom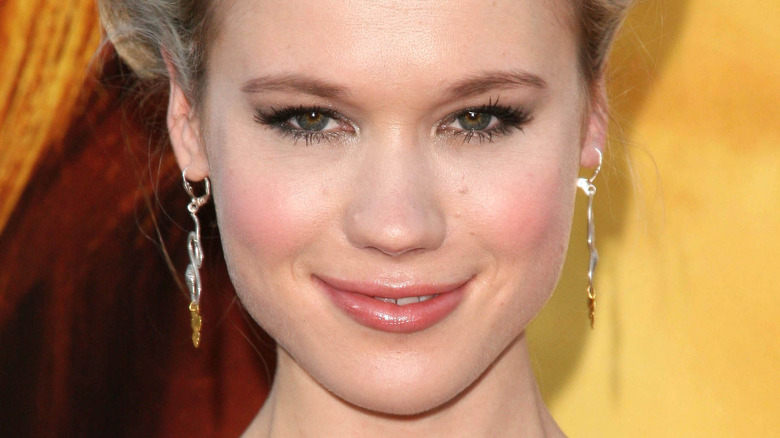 s_bukley/Shutterstock
Since its launch in 2012 with "Chicago Fire," the "One Chicago" franchise has been celebrating the lives of the Windy City's hardworking public servants. Not only have audiences gotten to experience the many hard battles and sacrifices these individuals must make in their professional fields every day, but viewers have also been able to grow attached to these characters as if they're friends and family, thanks to the shows' manner of showcasing their personal lives as well. 
Such is the case for Stevie Hammer (Kristen Hager) in the third installment of the "One Chicago" franchise, "Chicago Med." Hammer's appearances began in the seventh season of the show. Hammer is not only known for being another hardworking member of the Gaffney Chicago Medical Center but has also had plenty of personal struggles to overcome throughout the series. The Michigan native saw an unstable home life in her early years, which put both Stevie and her mother Terri (Bonita Friedericy) in multiple instances of homelessness. But through her hard-headed spirit and determination, Stevie has pushed through to become accomplished in her field.
Playing such a character is sure to come with some fond memories, and the fondest of these memories for Hager involves her motherly co-star. 
Stevie and Terri's relationship is a special one
Stevie Hammer has enough to deal with in her day-to-day life as an emergency medicine physician on "Chicago Med," but it is perhaps her personal life that sees the most ups and downs, especially when having to look after her mother Terri. While both have their discrepancies, they are ultimately always there for and love one another deeply. 
So perhaps it is no surprise that actor Kristen Hager holds many of these moments in high regard. During the 2022 One Chicago Day, an all-day fan event that celebrates the long-running franchise, Hager was asked what her favorite scene to work on in the show has been. "Some of my favorite scenes, thus far, have been the ones with my mom," Hager explained. "I think there was some really special stuff there." Seeing such a rich and complex relationship develop the way that theirs has is a special treat for TV audiences and only adds to the humanity that "Chicago Med" presents.
Seeing where things go between the two may be difficult as the show goes on, as Hager left the series following her involvement in Season 7. Hopefully, we will see more of her in the show's future, as even "Chicago Med" producers Diane Frolov and Andy Schneider hope to have her back, telling Deadline, "We all really liked Kristen and would welcome her character coming back in the future."