Why Chicago Med Fans Have A Hard Time Getting Through Season 6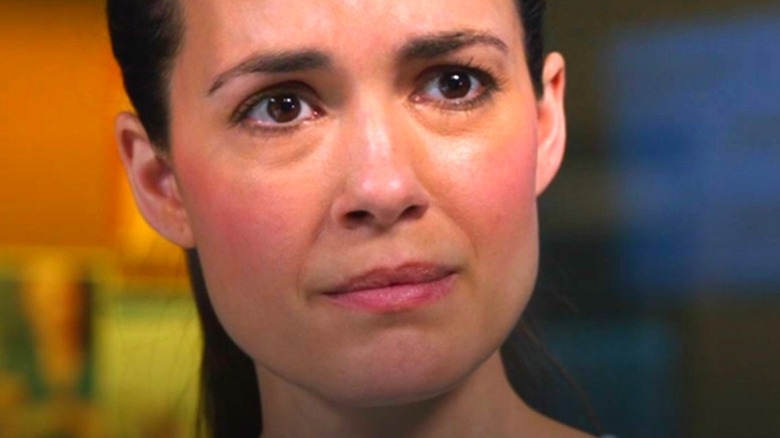 NBC
Airing on NBC from early November 2020 through late May 2021, Season 6 of the hit medical drama "Chicago Med" continued to rack up viewer numbers with its time-tested formula of gripping medical cases peppered with a full spectrum of interpersonal blowups, smackdowns, and hookups.
But like any series that maintains such decidedly healthy ratings for so many years, some seasons are likely to pack less fan appeal than others. What might viewers nag about during the show's 6th season? We can start with Dr. Ethan Choi (Brian Tee) being named head of the Emergency Department. Fans are concerned that he doesn't have the personality to calm the constant chaos of the hospital. Then there's Dr. Natalie Manning (Torrey DeVitto) swiping drugs from an ongoing medical trial to help her ailing mother, which Will Halstead (Nick Gehlfuss) covers for, and then both doctors wind up getting the ax. All this being said, what's really making it a chore for some fans to sit through Season 6 of "Chicago Med"?
Chicago Med's Season 6 got a little too real for some fans
Venting on the show's subreddit discussion, original poster u/kush80w90gl5 complains that plotting is the issue for "Chicago Med" Season 6: "The atmosphere feels weird, the storytelling is weak so far." But on the same thread, u/doubleplusfabulous puts their finger on what turns out to be the most significant complicating factor about the show's 6th season, writing, "I'm guessing the original trajectory of the plotlines were thrown off by [COVID-19], and they had to scramble to make things work."
As the air dates listed above no doubt tipped you off, Season 6 hit viewers' screens just as the COVID-19 pandemic erupted into the headlines — and into the world's hospitals and emergency rooms. COVID-19 hit the series hard, causing cast and staff absences and resulting in only 16 episodes that season, most of them dealing with the outbreak in one way or another (via Deadline). But the constant COVID-19 narrative on "Chicago Med" also wore more than a few fans out, like this Reddit user who confessed: "I'm a bit exhausted with [COVID-19] content." However, as executive producer Diane Frolov explained to Us Weekly just before Season 6 launched, the series had an obligation to reflect what was going on: "Real-life doctors have been at increased risk and have been disproportionately infected. We felt we had to show that."