Why You Won't See Amy Jo Johnson In The Mighty Morphin Power Rangers Reunion Special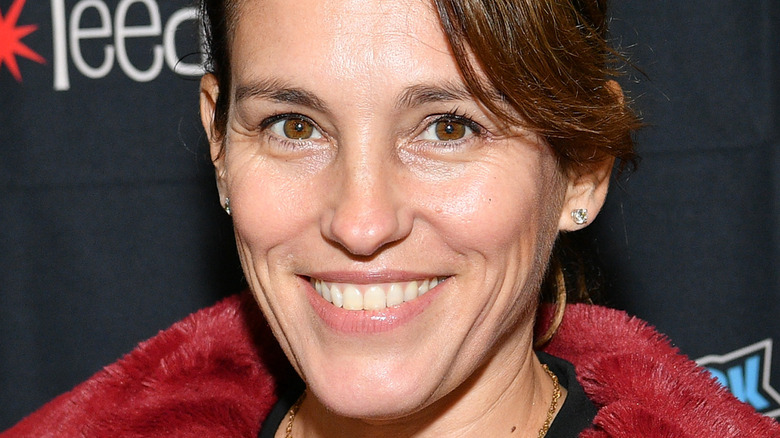 Dia Dipasupil/Getty Images
Fans of the original action-packed "Mighty Morphin Power Rangers" series will get to see their some of their favorite stars reunite this spring on Netflix. On April 19, six retired rangers will morph once again to save the world from the forces of evil. Surprisingly, we'll even see another Green Ranger after the death of Jason David Frank. 
The momentous 30th Anniversary special, subtitled "Once & Always," will bring together two of the original rangers while keeping in line with the series canon. In Season 2, the Red, Black, and Yellow rangers transferred their power to worthy saviors who will also be returning for the special occasion. Later, in the last season of "Mighty Morphin Power Rangers," the Pink Ranger Kimberly (Amy Jo Johnson) relinquished her title to her loyal friend Kat (Catherine Sutherland), who will reprise her role in the upcoming event.
With these changes, the awesome team in "Once & Always" will include David Yost (Billy, the Blue Ranger), Walter Jones (Zack, the Black Ranger), Steve Cardenas (Rocky, the Red Ranger), Karan Ashley (Aisha, the Yellow Ranger), and Johnny Yong Bosch (Adam, who could be the new Green Ranger after becoming so in "Power Rangers Zeo" and "Power Rangers Turbo"). Sutherland suits up again to fight in pink, leaving fans disappointed over Johnson's absence. Recently, the original Pink Ranger took directly to Twitter to clarify why she won't be featured. 
Amy Jo Johnson 'never said no' to appearing in the reunion special
Out of all the five teenagers with attitude Alpha (voiced by Richard Steven Horvitz) chose to save the world, one always stood out to diehard fans the most. Johnson's performance as the formidable and stylish Kimberly Hart consistently solidified the themes of teamwork and justice that "Power Rangers" highlights. She quickly became a feminist icon of the series who was capable, empathetic, independent. It's hard to imagine "Mighty Morphin Power Rangers" without her but the upcoming "Once & Always" won't feature the first Pink Ranger.
On Twitter, Johnson sheds some light on why she won't be returning in pink with her fellow rangers. "For the record I never said no ... I just didn't say yes to what was offered. But other fun stuff is in-store! Looking forward to watching my friends kick ass!" She loving adds the kissy face emoji in support of her former co-stars. 
While it's extremely disappointing that the actress won't be returning to "Power Rangers," it's also bothersome that she was given less than she felt she deserved. As a foundational part of the original series, the anniversary will be bittersweet without Johnson battling alongside the colorful heroes. Additionally, the first Red Ranger, Austin St. John (Jason), will also be excluded for controversial legal reasons following the pandemic. However, even with these notable omissions, fans are still excited for a surely explosive celebration of the "Mighty Morphin Power Rangers" 30th Anniversary.