Mighty Morphin Power Rangers Fans Are Not Happy About Amy Jo Johnson's Reunion Absence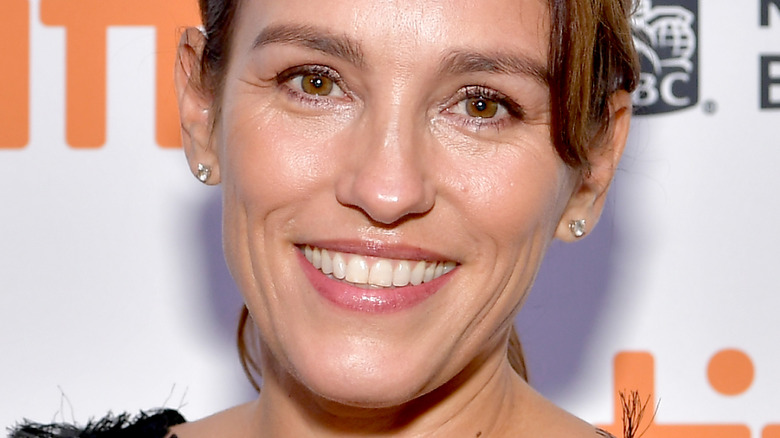 Emma Mcintyre/Getty Images
"Mighty Morphin Power Rangers" fans will be gifted with the ultimate nostalgic treat when the 30th anniversary special premieres on April 19th. Presented by Netflix, the landmark celebration subtitled "Once & Always" will feature the long-awaited reunion of cast members from the original run of the series. Following the tragic death of "Power Rangers" icon Jason David Frank, this celebratory event is both bittersweet and sorely needed. 
Longtime viewers of this adrenaline-pumping series will see some very familiar faces in "Once & Always" as it reunites Walter Emanuel Jones (Zack, the Black Ranger) with David Yost (Billy, the Blue Ranger) from Season 1. The special will also include Steve Cardenas (Rocky), Karan Ashley (Aisha), and Johnny Yong Bosch (Adam), who replaced the Red, Yellow, and Black rangers in Season 2. This trio also teamed up with Yost and Frank in the theatrical film "Mighty Morphin Power Rangers: The Movie" against the evil Ivan Ooze (Paul Freeman).
Unfortunately, this extraordinary occasion will be missing one of the "Mighty Morphin Power Rangers" beloved icons. Amy Jo Johnson starred as the first Pink Ranger, Kimberly Hart, a multifaceted fashionista with a brave heart of gold. In Season 3, she selflessly gave her power to her dear friend Kat (Catherine Sutherland) as the new Pink Ranger. In the upcoming special, Sutherland will be reprising her role instead of Johnson, which has fans expressing their dissatisfaction on social media.
The 30th anniversary special will not feature the original Pink Ranger
In the new trailer for "Once & Always," the rangers suit up once again to take on the destructive forces of evil. However, among the excitement of the ranger's return, long-time fans of the series quickly noticed Amy Jo Johnson's absence. Canonically, it makes sense as her character is no longer a Power Ranger, though audiences still hoped she would return for the 30th anniversary in some capacity. 
Johnson had a very special relationship with Jason David Frank, so returning to the franchise could potentially be hard for her. While viewers are understanding, they can't help but be disappointed that the original Pink Ranger will be missing from such a notable event. As @Jeffy_D shares their enthusiasm, they also point out one glaring detail: "I'll be seated, but... Where is Amy Jo Johnson?" Another user echoes this with, "I just wanna know why Amy Jo didn't do this #PowerRangers30 special." This attracted even more attention as @SharksFan_39 writes, "Can't wait! But was hoping Amy Jo Johnson would come back too."
Other fans like @BrianConkey are mournful for the loss of Frank while also pointing out the missing original Red Ranger (Austin St. John). They add that it will be strange to see another hero in the Green Ranger's suit but that they're still excited nonetheless. Lastly, @movie_charles tributes Frank fittingly before asking everyone's burning question, "Where's Amy Jo Johnson aka Kimberly?"