The Ending Of That '90s Show Season 1 Explained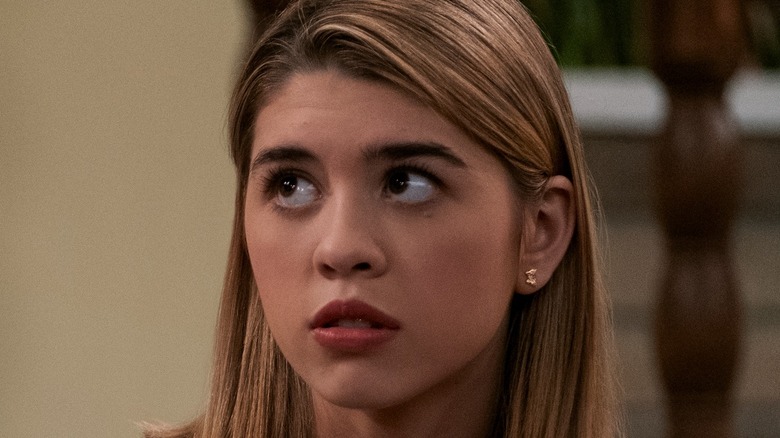 Patrick Wymore/Netflix
Nostalgia is a powerful drug, and Hollywood is our biggest supplier. Reboots, remakes, and revivals have become so commonplace in entertainment that it was only a matter of time before we revisited our friends from Point Place, Wisconsin. "That '70s Show" offered a sentimental warmth when it premiered on Fox in 1998, and even younger audiences who may not have watched the show the first time around have likely binged the show during its nearly decade-long run on Netflix.
Coming of age is a generational and timeless experience, making it the perfect framework for a period teen sitcom. In "That '70s Show," we follow a group of friends as they navigate teenhood in the midst of '70s culture. But even when you replace cassette tapes with compact discs or disco with grunge, Netflix's sequel series "That '90s Show" proves, after all, that we're not so different from our parents — or our parents' parents.
"That '90s Show" generally follows the successful formatting of the original while having fun with a new decade and the chemistry between the new cast. It's the summer of 1995, and Leia has convinced her parents, Eric Forman and Donna Pinciotti, to let her stay with her grandparents, where she'll meet a new group of friends who'll open her up to new experiences. Get ready to tap a keg and stash some hash, because a new generation is taking over the Formans' basement.
The OG teens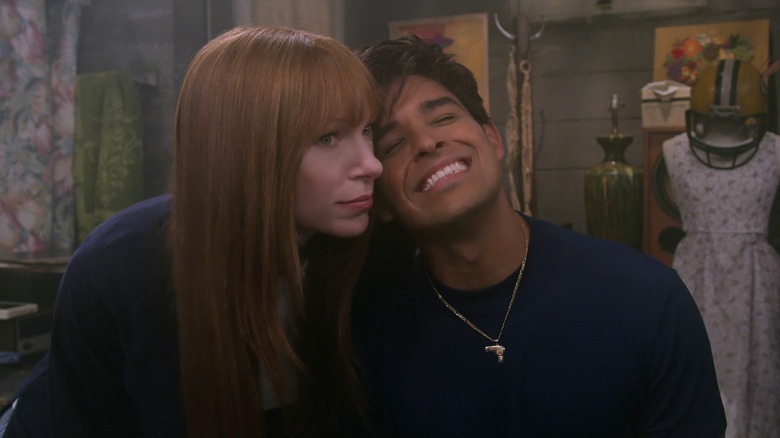 Netflix
What made "That '70s Show" so special was the chemistry between the ensemble cast. Unknown actors at the time, Topher Grace, Laura Prepon, Danny Masterson, Ashton Kutcher, Mila Kunis, and Wilmer Valderrama were launched into stardom thanks to their time on the show. They played the roles of Eric Forman, your run-of-the-mill dork; Donna Pinciotti, the sensible girl next door; Steven Hyde, the cool, carefree rebel; Michael Kelso, the pretty boy idiot; Jackie Burkhart, the self-assertive snob; and Fez, the foreign exchange student with a silly accent. Their dynamic worked so well that it was essentially replicated for the new generation of teens in "That '90s Show."
In Episode 1, "That '90s Pilot," Grace and Pinciotti reprise their roles as Eric and Donna. Now parents to 14-year-old Leia and living in Chicago, Donna is a published author, and Eric teaches a college course about the religion of "Star Wars," both fitting career paths for the two love birds. Their supportive parenting styles also go hand-in-hand. Donna is proud of her daughter and encourages her to find herself, while Eric has a harder time letting go of his little girl.
Real-life couple Ashton Kutcher and Mila Kunis are also back, reprising their roles of Kelso and Jackie, whose son Jay befriends Leia. The two are preparing for their second re-marriage. Valderrama is also back as Fez, who is revealed to be the kooky next-door neighbor Sherri's love interest in Episode 2, "Free Leia." As for Masterson, his character Hyde is ignored, due to Masterson's public legal trouble (via TV Insider).
Young at heart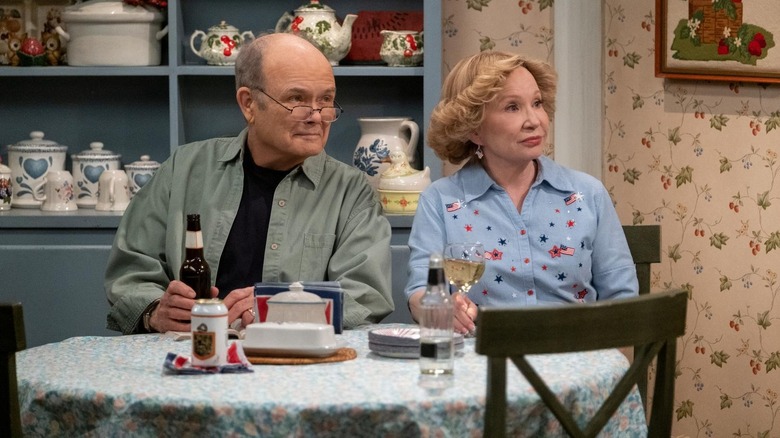 Patrick Wymore/Netflix
Two more familiar faces from the original cast have reprised their roles as recurring characters in "That '90s Show, and their presence (and anti-aging genes) make us feel right at home, as if we're picking up right where we left off 15 years ago. One of the best grumpy-sunshine duos in sitcom history, Red and Kitty Forman are leading characters just as much as their teenage counterparts, if not more. Instead of being thrown into a sequel with an all-new cast, Red and Kitty ground us in the familiar. Red is still putting his foot in people's asses, and Kitty is still ensuring the kids are well-fed. They were the parents who shaped a generation, and now they're the grandparents for a new generation.
The original teens, now adults, look back at their teenhood in the Forman house with fondness, while the new teens feel welcomed instantly. In Episode 2, "Free Leia," one of the kids, Nate, feels comfortable enough to ask Red for one of his hip flannels from his vast collection — it's the '90s, after all. Red turns him away, but don't be fooled by his hard exterior. By the end of the episode, Red makes a silent gesture by leaving a flannel for Nate in his van. In Episode 5, "Step By Step," another kid, Ozzie, helps Kitty set up her new computer, hoping they'll form a bond strong enough for Kitty to accept Ozzie's coming out announcement. It's no surprise that Kitty embraces him with open arms.
Leia Forman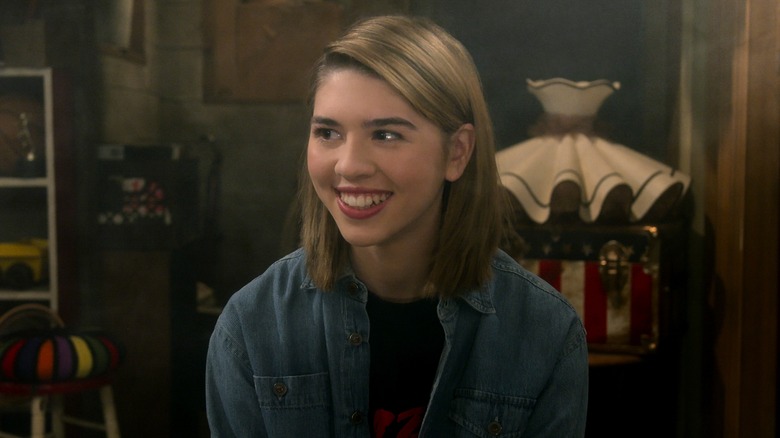 Netflix
Meet the newest Forman, Leia. If you haven't already picked up on it yet, yes, she was named after Princess Leia, thanks to Eric's "Star Wars" obsession. She's a straight-edged, insecure teen ready to make the most out of her life. She's tired of being an unpopular debate nerd and wants to spend the summer cultivating the same experiences her parents fondly reminisce about. Instead, Eric is eager for her to join him during a summer-long space camp. It seems as though there's no way of getting out of it until she meets rebellious Riot grrrl Gwen, who acts as a catalyst for Leia. After some convincing, Leia is granted permission to stay with her grandparents for the summer, where Gwen will introduce her to a new group of friends.
Leia desperately wants to fit in. In her eyes, these cool and experienced teens won't want anything to do with her when they realize she's a fraud. In Episode 2, "Free Leia," after failing to host a fun movie night, Leia lets her insecurities get the best of her. Gwen reassures Leia that her friends aren't interested in how cool or uncool she is and would rather she be her most authentic self. By Episode 3, "Lip Smackers," Leia gains enough confidence to initiate her first kiss, a big step towards Leia becoming comfortable in her own skin.
Generational friendship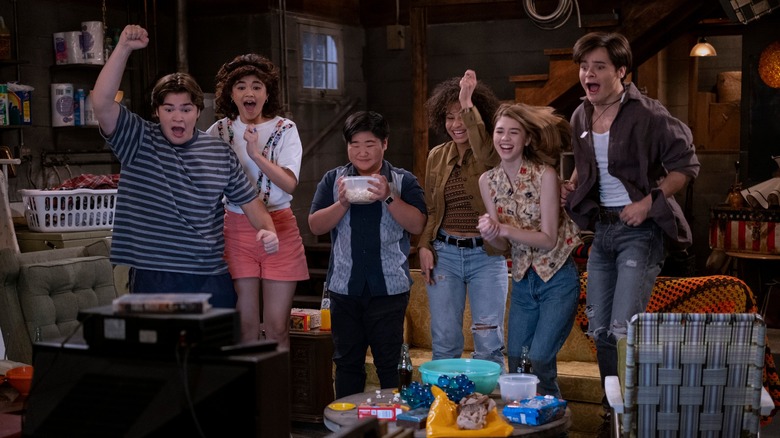 Patrick Wymore/Netflix
In Episode 1, "That '90s Pilot," Leia may not know it yet, but friendship will become her biggest confidence booster. Everything changes when Gwen introduces Leia to her dim-witted but kind-hearted brother Nate, his girlfriend Nikki, the sarcastic, quick-witted Ozzie, and Leia's flirty love interest, Jay. Each of these characters somewhat follow the archetypes of the original personalities. Gwen takes on aspects of Donna and Hyde's personalities, Nate and Jay are both reminiscent of Kelso, Nikki will remind you of Jackie, Ozzie is the new Fez, and Leia obviously takes after her father. History is repeating itself, which will either feel comforting for some or lazily repetitive for others, depending on the viewer. As the series slogan states, "times change, teenagers don't."
Although Leia may be the new kid on the block, everyone in this group is still getting to know each other. Nate and Jay are already the closest out of everyone, swapping cologne and sharing ice cream cones. Gwen and Nikki bond for the first time in Episode 5, "Step By Step," when they're left alone with each other. In Episode 8, "Summer Storm," Gwen and Nate grow closer as siblings when they open up about missing their dads. By the season finale, the teens are closer than ever.
Flannels, Doc Martens, and dial-up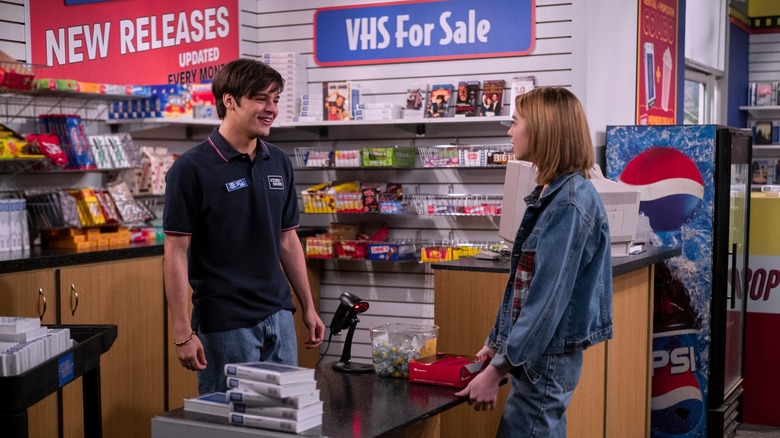 Patrick Wymore/Netflix
In theory, "That '90s Show" was destined to succeed. The meta-nostalgia attached to the concept is enough to intrigue anyone. Set in 1995, "That '90s Show" takes place 15 years after the 2006 finale of "That '70s Show," when the teens rang in the new decade of the '80s. When "That '70s Show" premiered to audiences in 1998, many viewers were reliving their teenhood from the late '70s, while teens of the '90s were fascinated by the novelty of the time period. With the perfect 15-year time jump, new and old audiences can enjoy the sequel in the same way.
Like the original, "That '90s Show" captures its time period's culture using references fashion, music, and historical events, as well as tackling timely social issues in some of the episode's storylines. Some references sprinkled into the show include Gwen's interest in the riot grrrl movement, Leia's favorite movie "Free Willy," and a "Beverly Hills, 90210" themed episode where Brian Austin Green makes a cameo. The teens also spend some time at a video rental store, a rave, and a bustling mall. While all this may seem normal to millennial viewers, Gen-Z likely regards these as retro references — at least the ones that don't fly right over their heads.
Summer romance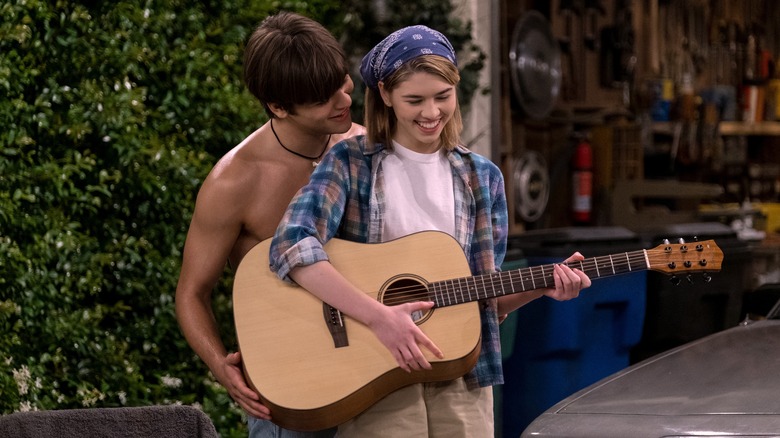 Patrick Wymore/Netflix
It wouldn't be a teen sitcom without romance, and for better or worse, Season 1 of "That '90s Show" spends a big chunk of its run time on the budding relationship between Leia and Jay. Right away, Jay is introduced as the smooth-talking flirt who takes a liking to Leia. Like the good friend she is, Gwen warns Leia about Jay's reputation as a player. But when Jay turns down Leia's attempt to kiss him in Episode 3, "Lip Smackers," Leia can't help but obsess over Jay's comment about how he wants their relationship to be more than just a meaningless hookup. The two go back and forth in the following episode, refusing to be the first to make a move, despite already knowing their feelings for each other. It's typical teen relationship drama that leaves them in a fight at the end of the episode. 
Things get even more complicated when Jay picks up a new date shortly after. But don't worry, the two make up by Episode 6 and officially start dating. Too bad we only have four more episodes before summer ends. It's now the Season 1 finale, and Jay is ready to break things off, not wanting to try long distance. During a vulnerable moment, Leia and Nate open up to each other about heartbreak and love — a conversation that almost ends in a kiss before being interrupted by Gwen. Who knows what'll happen in the future, but for now, Leia is back to being single.
Adolescence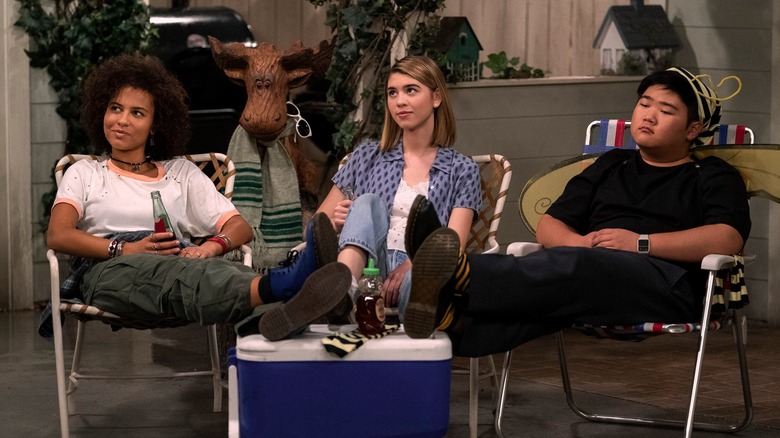 Lisa Rose/Netflix
Adolescence, identity, and coming of age are major themes throughout "That '90s Show." The teens are rebelling, trying new things, and figuring themselves out along the way. Remind you of anyone? Of course, these are the growing pains of every generation. And if there's one guarantee in any of this, it's that mistakes will be made. In Episode 4, "Rave," Leia tells her first big lie by tricking her grandparents into thinking she's going to see a movie when she's really sneaking off to a rave. She's caught at the end and taught a lesson about taking advantage of trust and love. But how often do teens learn their lesson the first time? In Episode 7, "Boyfriend Day One," Jay, Leia, and Gwen pick up a drugged Kitty from her dentist appointment, despite Red's strict demands that Leia and Jay keep away from each other. While trying to prove how responsible they can be, they take a detour to a tattoo shop, where Kitty ends up getting some new ink. Cue the thing about trust and love again.
However, the biggest lesson Leia learns this summer happens in Episode 6, "The Birthday Girl," when Red pulls her aside during her birthday party and initiates a heart-to-heart. Leia comes clean about what's been bothering her. She feels as though she has no idea what she's doing and keeps messing everything up. At that moment, Red bestows upon her wisdom that encapsulates the whole show: "We're all just making it up as we go along."
Parenthood and daddy issues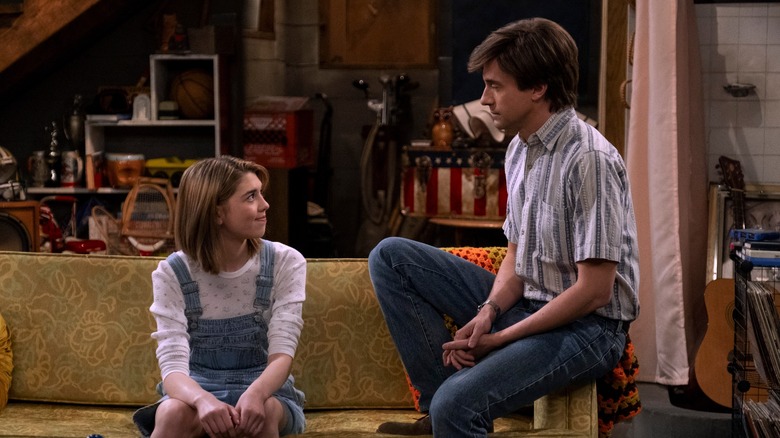 Patrick Wymore/Netflix
Something unique about "That '90s Show" that sets it apart from other teen sitcoms is its inclusion of the parent's perspective. Rarely do teen shows take an empathetic approach towards parental figures by showcasing healthy parent-child relationships. In "That '90s Show," these relationships are more than just mother, father, and child. While Leia is under the guardianship of her grandparents for the summer, they take on the roles of caregiver and supporter. Red and Kitty are protective of Leia, but trust her enough to make her own decisions.
Episode 8, "Summer Storm," highlights a different yet very common kind of parental relationship. Sherri is the single mother of Gwen and Nate, half-siblings with different fathers. Gwen and Nate don't always see eye to eye, but during a touching moment, the siblings open up about missing their fathers. Kitty joins in, revealing a peek into her own daddy issues. In Episode 7, "Boyfriend Day One," Sherri's paternal angst is also revealed when Red starts reminding her of her father. In a rare sweet Red moment, he even offers to help Sherri learn how to ride a bike, something her father never did for her.
Paying homage to the original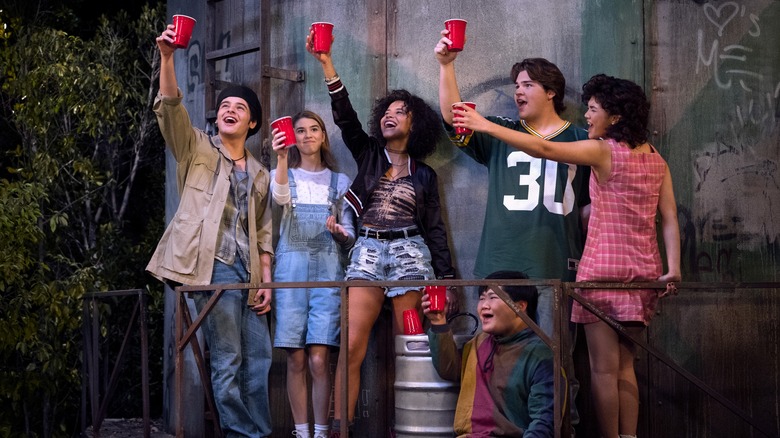 Patrick Wymore/Netflix
"That '90s Show" feels like one big throwback from its '90s era nostalgia to its not-so-subtle nods to the original. Even if you've never seen "That '70s Show," it's possible to watch this new iteration and enjoy it. However, most of the fun comes from picking up on all the "That '70s Show" easter eggs. With fond memories of the original, significant moments pack an even greater punch, like when Red gifts Leia the Vista Cruiser or when the new teens reenact the memorable circle scenes. 
Memorable catchphrases like Red's "Foot in the Ass" and Kelso's "Damn, Jackie" are all the more funny. The Forman house we know and love is untouched, from its dusty basement couch to the kitchen knick-knacks. Even the transitions between scenes take after the style of the original. Even if you're just looking for a trip down memory lane, "That '90s Show" is worth a watch.
A second attempt at a spin-off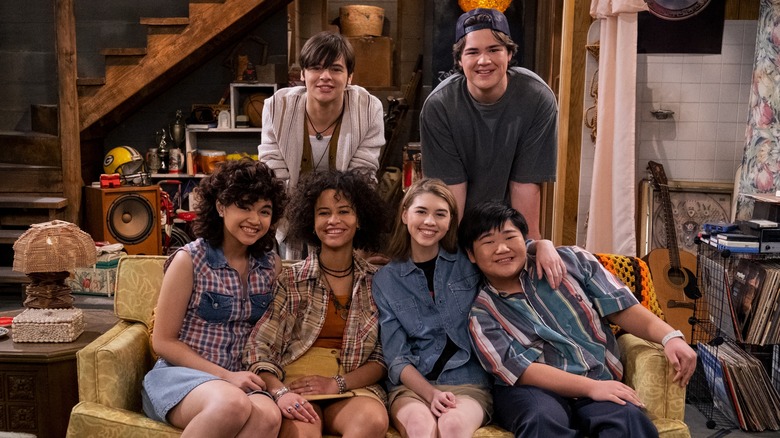 Patrick Wymore/Netflix
When news spread about a new "That '70s Show" sequel, a certain '80s-centric show might've crossed your mind. Although we'd all like to forget it ever existed, it's difficult to ignore the failure of "That '80s Show" when we're being introduced to this second attempt at a spin-off. Maybe it's too early to tell, but Season 1 of "That '90s Show" seems to have learned from its predecessor's shortcomings.
There are many reasons why "That '80s Show" didn't make it past Season 1, and one of those reasons was its timing. It premiered on Fox in 2002 during Season 4 of "That '70s Show." While "That '70s Show" was experiencing ratings success, "That '80s Show" failed to pull in the same audience. The consensus: too soon. Now, 16 years after the finale of "That '70s Show" and with the current-day boom of reboots, the timing of "That '90s Show" couldn't be more perfect.
Another "That '80s Show" misstep that "That '90s Show" corrects is the characters' chemistry. "It's exhausting how little enjoyment these characters derive from each other and it hurts the experience we have with them," Vulture writes about "That '80s Show." However, with the return of the original cast and the carefully contrived archetypes of the new teens, "That '90s Show" is able to replicate the magic of the original as well as any reboot possibly can.
Summer of '96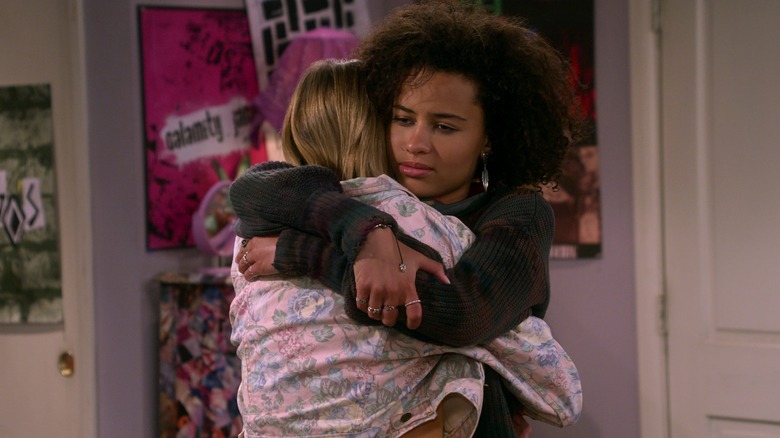 Netflix
Season 1 ends with a finale entitled "Kids in America" — granted, a song that technically came out in the 1980s, but a '90s anthem nonetheless. Summer is coming to an end, and to make things worse, Jay breaks up with Leia, causing Gwen and Leia to fight. Now, Leia can't get out of Point Place fast enough. Kitty tries everything she can to remind Leia of the good times to ensure she returns next summer. In the end, Gwen and Leia make up, and Jay asks Leia to give him another chance. But Leia has mixed feelings after almost kissing Nate, setting us up for a juicy Season 2 love triangle. For now, we're left with Leia saying her goodbyes.
As of the Season 1 premiere, Netflix has yet to announce a renewal for Season 2. But with mostly positive reviews so far, there's still a good chance that we'll return to Point Place for the summer of '96.