Kelso's Hilarious That '90s Show Entrance Was The Highlight Of The Pilot For Fans
Season 1 of "That '90s Show" hit Netflix today, giving fans a look at the new generation of Point Place teenagers. Leia Foreman (Callie Haverda) arrives at her grandparents' house, electing to spend the summer with Red (Kurtwood Smith) and Kitty (Debra Jo Rupp) instead of attending Space Camp with her dad, Eric (Topher Grace). Leia quickly meets other local teenagers, including Gwen (Ashley Aufderheide) and Jay (Mace Coronel).
Although Netflix decided to focus on a new younger cast for "That '90s Show," many of the original, now adult, cast returned to reprise their roles in quick cameos. In the pilot episode, Eric and Donna (Laura Prepon) drop Leia off at Red and Kitty's. Later in the episode, Kelso (Ashton Kutcher) and Jackie (Mila Kunis) also make an explosive return. With all these returns, we need Netflix to release a behind-the-scenes feature giving fans a look at all the on-set nostalgia.
Kelso and Jackie's hilarious return to the Foreman household was hands down a highlight of the pilot. Just as Red thinks his summer will be a time of peaceful relaxation, Leia brings Jay over to their house, who reveals his last name to be Kelso. Before he has time to process the revelation, Kelso himself pops into the Foreman kitchen, delivering his iconic "burn" line as Red hides in panic. The scene will definitely go down as one of the show's best, and fans were quick to express their joy on social media.
Everyone missed Kelso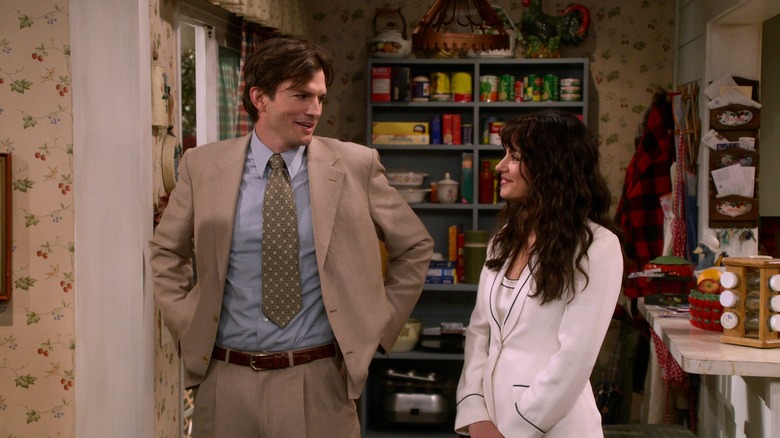 COURTESY OF NETFLIX
While the pilot of "That '90s Show" was a solid start to the sequel series, the nostalgia in the fan base is at an all-time high. Fans absolutely love seeing the older versions of their favorite "That '70s Show" characters, and they have quickly dubbed Kelso's hilarious return as the best part of the episode.
On Twitter, @Francesco_Adam mimicked Ashton Kutcher's character, saying, "'BUUUURNNNNNN,' 'That '90s Show' Kelso, popping into the Forman's kitchen made me smile so much." @Cinephilevats also loved that Kelso returned just to burn Red, while @_zirea31 wishes someone was around to record their reaction when the character popped into the kitchen.
The love for Kelso didn't stop there, as fans also discussed moments from the episode on the show's subreddit. U/MollyPW loves the series so far, pointing out Kelso and Jackie's quick cameo as one of their favorite moments. U/yungphotos agreed, loving all of the nostalgia surrounding the characters' returns. U/canentia can't get enough of the original cast members, saying, "[the] best part of the pilot was Jackie and Kelso's cameo (love that they squeezed in both a 'BURN' and 'damn Jackie,' so classic)." U/Chadwiko shared a similar opinion, crowning Kelso's return as the first episode's best moment, which excited them to watch the rest of the season.
Fan consensus states that Kelso remains the King of Point Place, and his and Jackie's brief cameo left them wanting to see the characters more.