There's A Good Reason That '90s Show Isn't Addressing Danny Masterson's Absence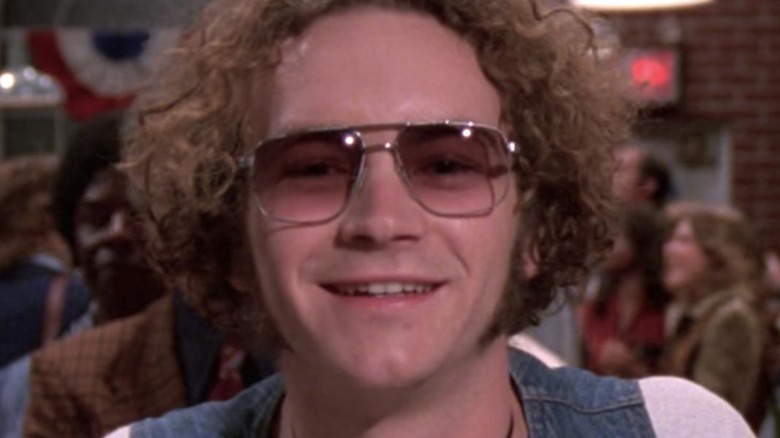 Fox
The following article discusses matters of sexual assault that can be sensitive to some readers.
"That '70s Show" followed the exploits of a lovable band of misfits just trying to get by in Point Place, Wisconsin. The de facto leader of the group was Eric Forman (Topher Grace), who had a relatively consistent relationship with Donna (Laura Prepon). Together with their friends Jackie (Mila Kunis), Kelso (Ashton Kutcher), Fez (Wilmer Valderrama), and Hyde (Danny Masterson), they got into all sorts of shenanigans, often earning the ire of Eric's father, Red (Kurtwood Smith), and the sympathy of his mother, Kitty (Debra Jo Rupp).
Following the tradition of streaming platforms, the show received a revamp titled "That '90s Show," picking up 15 years after the end of the original series. This time around, Red and Kitty are the main returning characters who look after a new crop of kids, including Eric and Donna's daughter, Leia (Callie Haverda). Naturally, some familiar faces outside of Red and Kitty make an appearance, but there's one notable absence from the proceedings. Danny Masterson's Hyde isn't anywhere to be found, and no one even mentions him in the first season, which dropped on Netflix on January 19. So what happened?
The rest of the original cast cameos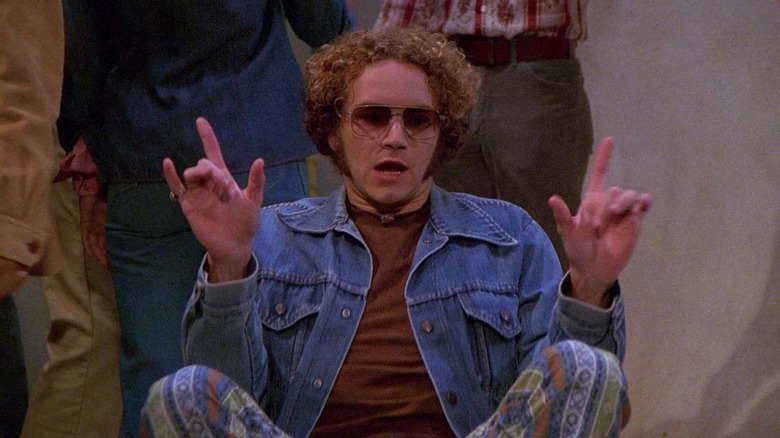 Fox
Hyde isn't anywhere to be found, but the rest of his old Point Place buddies show up in "That '90s Show." In the first episode, Eric and Donna are back in town with their daughter to attend Red's Fourth of July celebration. While their intention was to merely stay the weekend, Leia convinces her parents to let her spend the summer with her grandparents. Through this, Leia meets a new friend, Jay (Mace Coronel), who's the son of Kelso and Jackie, the two of whom also make an appearance in the pilot.
Everyone's return to the spinoff makes sense and is in line with their characters. Even though Kelso and Jackie weren't together when "That '70s Show" ended, they reunited, and in fact, they're looking to get remarried. So where does that leave Hyde? None of the cast members or Netflix have officially commented on Danny Masterson's absence, but it makes sense why he isn't there if you've stayed up-to-date with his personal life. 
Danny Masterson has been on trial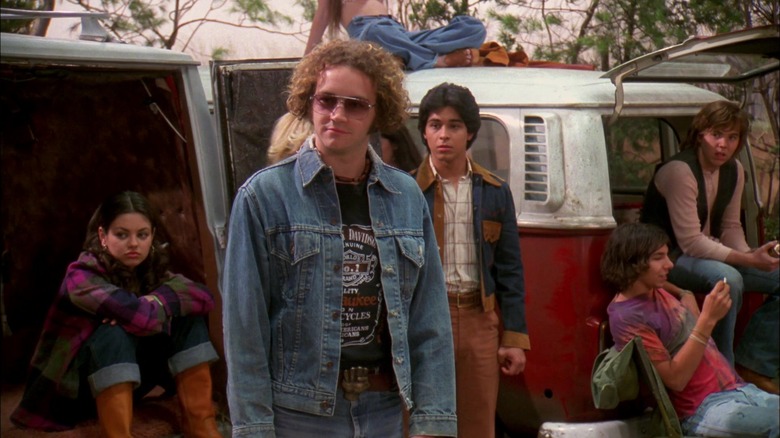 Fox
In 2020, Danny Masterson was charged with forcibly raping three women during separate incidents between 2001 and 2003. However, allegations of such behavior date back to 2017, when Masterson was a cast member on the Netflix series "The Ranch." When the accusations first surfaced, Netflix quickly wrote Masterson out of the series and released a statement: "After discussing with the producers, we've decided to write Danny Masterson off of The Ranch. Yesterday was his last day of work, and we'll make new episodes in 2018 without him" (via People).
Masterson denied such allegations, but it went forward with a trial. In January 2021, Masterson pleaded not guilty, and in December 2022, a mistrial was declared (via Deadline). The jury was split on all three charges of sexual assault, but the women at the center of the case insist the fight is far from over. After the mistrial, two of the Jane Does released a statement: "We are obviously disappointed that, at least for the time being, Daniel Masterson has evaded criminal accountability for his deplorable acts. However, we are collectively resolved to continue our fight for justice, including in civil court." As such, it makes sense "That '90s Show" would want to distance itself from Masterson and not even bring up Hyde. 
If you or anyone you know has been a victim of sexual assault, help is available. Visit the Rape, Abuse & Incest National Network website or contact RAINN's National Helpline at 1-800-656-HOPE (4673).