That '70s Show's Debra Jo Rupp Raves About Having Betty White Portray Kitty's Mom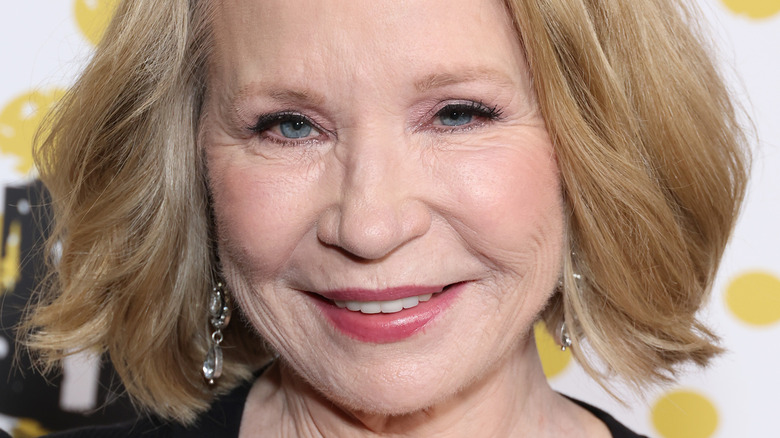 Monica Schipper/Getty Images
The nostalgia is palpable after the highly anticipated premiere of "That 90's Show" on Netflix. Decades after "That 70's Show," the gang returns to Point Place, Wisconsin to visit everyone's favorite television parents. In their cozy home, we catch up with the cantankerous Red Foreman (Kurtwood Smith) and his cheerful wife Kitty (Debra Jo Rupp).
Viewers will be thrilled to hear that the spin-off also includes the mischievous bunch of basement dwellers as they usher in the next generation of rebels. Topher Grace (Eric), Laura Prepon (Donna), Wilmer Valderrama (Fez), Mila Kunis (Jackie), and Ashton Kutcher (Kelso) return to their iconic roles, and they even introduce their children, much to Red's dismay and to Kitty's delight, to fill the Foreman house with joy (and smoke) once again, accompanied by the extremely catchy theme song "In the Streets."
As we marathon "That 90's Show," it's near impossible not to revisit the original series, especially with the cast reminiscing in heartwarming interviews. Recently, Smith and Rupp have been looking back on their fondest moments with their favorite guest stars. One in particular holds a special place in Rupp's heart with the beloved Betty White playing her mean-spirited mother.
Rupp will always treasure her delightful memories of working with Betty White
On "That 70's Show," Kitty and her mother Bea (played by TV legend Betty White), had an edgy and complicated relationship. This brought a complex layer to Kitty's cheery spirit that helped further develop her character. Bea consistently scrutinizes Kitty until she finally stands up for herself in a rousing and emotional moment. This set White apart from other guest stars as Rupp and Smith review past scenes in a video interview with Entertainment Weekly. 
"Oh my god, I loved Betty White so much, and she was so mean to me. Yeah, she was really mean, she was a mean mother." She then clarifies that she's referring to her character, much to the relief of her co-star Smith who agrees "Betty White was great." Rupp continues to explain "Yeah I loved that relationship because, because it was very passionate on Kitty's end and Red was just enamored with her. It gave Kitty some good conflict so I really liked that. It was, to me, true to life. It was heartfelt."
This scene also gave Rupp the chance to flex her tremendous dramatic acting chops which led her to future roles like the enchanted Sharon Davis on Marvel's "WandaVision." The esteemed actress will even be reprising her part, as a testament to her undeniable abilities, in the upcoming "Agatha: Coven of Chaos." That's great news for fans who will also enjoy her in future seasons of "That 90's Show."