Abbott Elementary Fans Have An Intriguing Theory As To Why Janine Ordered Ribs On Her Date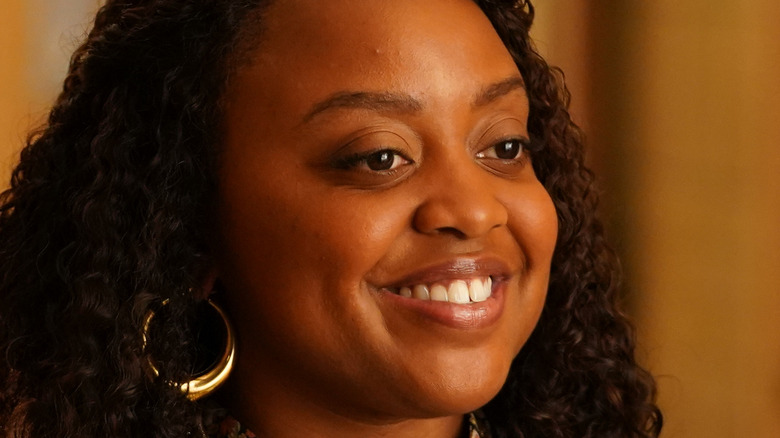 ABC/Gilles Mingasson
Fans of "Abbott Elementary" were excited to see rapper Vince Staples guest star in the holiday-themed episode "Holiday Hookah" as Gregory's (Tyler James Williams) friend Maurice who he goes to a club with, only to run into Janine (Quinta Brunson). After a tense moment where Gregory and Janine almost kiss and Gregory runs back off to his girlfriend, Maurice starts hitting on Janine, adding one more obstacle in the path of "Abbott Elementary" fans' favorite will-they-won't-they couple.
In an interview with Elle from April 2022, Brunson, who is also the show's creator, said that Gregory still has "got to grow a lot before he's ready for a relationship, period, let alone with Janine." In an interview with "The Late Late Show with James Corden" back in October, Williams explained that Brunson has not decided yet whether or not she will bring Janine and Gregory together by the end of the show. "I think everyone assumes that it's a 'will they,' that they will eventually, but she's just like 'No, I'm not positive it will go that way.'" With Brunson unsure about which way the budding relationship will go, it becomes even more frustrating for fans who are hoping to see the two become television's next Jim and Pam relationship.
In the latest episode, "Fundraiser," Janine finally has her date with Maurice, which makes Gregory visibly upset. Janine says, rather naively, that she's going to order the ribs on her date because she doesn't want to make a mess (which is just outstanding logic), and Gregory advises her not to. On her date, she orders the ribs anyway, and some fans are pretty sure it was because of her crush on Gregory.
Did Janine order the ribs to sabotage her own date?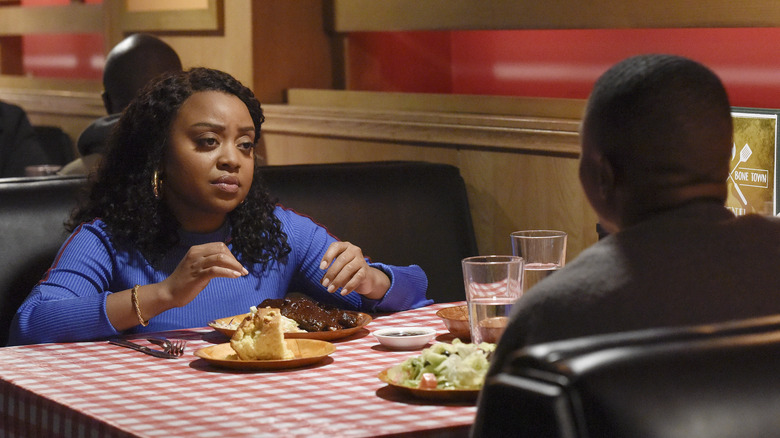 ABC/Bonnie Osborne
Many fans on social media all came to the same conclusion about Janine ordering the ribs at the end of the episode. Several fans agreed that she got the ribs to sabotage her date with Maurice because of her secret feelings for Gregory. "[N]ot Janine ordering the ribs anyway!" tweeted @ravenlani_ about the episode. "She don't want Maurice to like her." Twitter user @StillBreathin_ made a similar comment, saying, "she don't want him lol she want some Greggory." Fans on Reddit had the same idea, as both u/almx9 and u/Its_Jess_Day posited the same theory.
A few fans on social media did have other theories, such as u/MasterPrek who suggested she might have forgotten what Gregory said or that she decided that, if Maurice is going to like her, he's going to have to get used to how she eats ribs. Redditor u/The_Proper_Potato summed it up pretty well, saying that "she's done putting anyone else's comfort before her own and I'm totally here for it!"
While it does seem like the ribs were a plan to self-sabotage her date, it's also possible that Janine just made a poor decision. Janine does have a history of failing to pick up social cues, and she also often ignores advice that other people, including Gregory, give her. In the episode "Egg Drop," Gregory tries to explain to Janine that her second graders aren't advanced enough to participate in the egg drop activity that the eighth-grade science class is doing, and Janine goes through with it anyway to disastrous results. So it's not a huge leap to suggest she ordered the ribs for another reason.