Abbott Elementary's Quinta Brunson Addresses The Burning Question About Janine And Gregory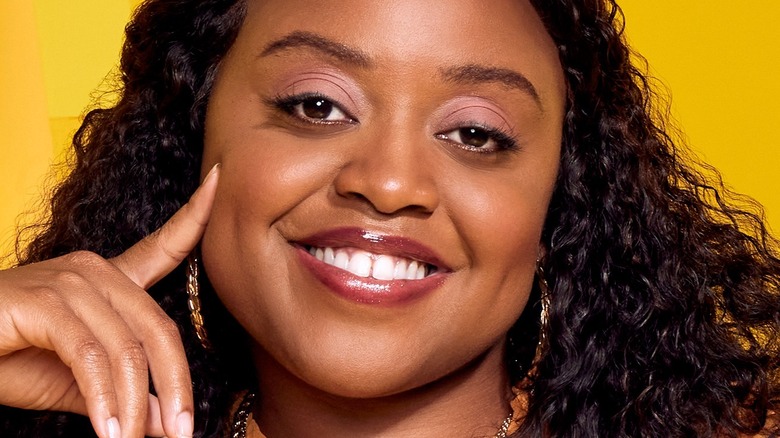 Matt Sayles/ABC
"Abbott Elementary" stole hearts earlier this year when it wrapped up its debut season. The brainchild of BuzzFeed alum Quinta Brunson, the ABC sitcom brought in 7.1 million cumulative viewers for its debut and continued to maintain strong ratings throughout its 13-episode freshman run (via TV Insider). Now, the series is poised to return with a huge splash this month, just in time for back-to-school season.
The sitcom, which focuses on the personal and professional lives of teachers at a Philadelphia elementary school, has been praised by educators from across the world for its empathetic look into the world of teaching (via Education Week). While the show clearly succeeds at shining a light on the public school system, the comedy hasn't shied away from dabbling with sitcom tropes. The first episode of the series planted the idea that teachers Janine (Brunson) and Gregory (Tyler James Williams) are attracted to one another but can't make it work due to Janine's relationship with Tariq (Zack Fox). The show is naturally building up to the two coming together as it appears to be a matter of when, not if.
Brunson is aware that audiences are waiting for the relationship to manifest, but it might not happen as soon as Season 2 of "Abbott Elementary" starts.
Janine and Gregory won't get together ASAP
Warning: Spoilers for "Abbott Elementary" Season 1 follow.
Season 1 of "Abbott Elementary" ended on a definitive and optimistic note. Janine decided to call it quits with her long-term boyfriend Tariq after he opts to move to New York. Meanwhile, would-be principal Gregory makes the choice to stay put at Abbott Elementary as a teacher. The finale also ended with Gregory holding hands with Taylor (Iyana Halley), which seems to leave Janine with a sour expression. The series kicked off by pitching Janine and Gregory as typical "will-they-won't-they" lovers, and this seems to make matters between both teachers even more complicated.
While speaking with Entertainment Weekly, Quinta Brunson discussed how the future isn't set in stone for Janine and Gregory, and how it's important that both teachers are focusing on their own journeys. "Janine is now on a journey of finding herself [ ... ] And for the first time, she is a single adult, and now she has space to discover what that means," Brunson said. 
The showrunner and star of the series went on to confirm that Janine likely won't start a relationship with Gregory soon, especially because he's figuring out the trajectory and direction of his career. "So I think right now, these are two individuals who are growing up, and we'll continue to see them meet in the middle of that growing up during the second season," Brunson said. It wouldn't be hard to imagine the two coming together at the end of the 2nd season, though "Abbott Elementary" fans will just have to wait and see what happens to their favorite lovebirds.