Melissa McCarthy Once Accidentally Mortified Fans On The Set Of Gilmore Girls With A Prank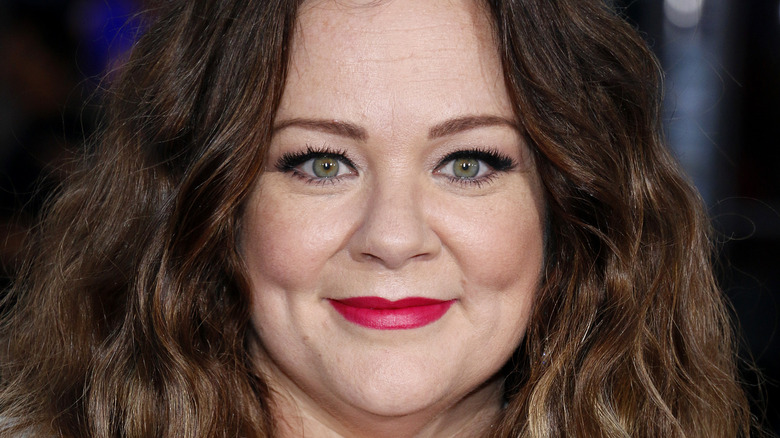 Tinseltown/Shutterstock
Melissa McCarthy has become one of the most beloved comedians in the genre. Known for her over-the-top, fearless comedy in films like "Bridesmaids" and "The Heat," McCarthy actually got her big break in Hollywood by playing a very sweet role.
In the series' original run, from 2000-2007, McCarthy played Sookie St. James on "Gilmore Girls." The actor won the role as a result of recasting after the pilot. She was the best friend and business partner of Lorelai Gilmore (Lauren Graham). She began as the accident-prone executive chef at the Independence Inn before becoming a co-owner and head chef at the Dragonfly Inn. She forms a relationship with Jackson Belleville, and they later get married and have two kids. As the first run of the show came to an end, St. James finds out she was pregnant again.
Melissa McCarthy re-invented herself after "Bridesmaids," often starring as crass, bombastic characters. The director of that film, Paul Feig, thinks McCarthy has made an art form out of swearing. While she was playing the sweet St. James on "Gilmore Girls," she already had a dark side to her comedy that she showed off whenever she got the chance. Fake pregnancy belly from the show in tow, McCarthy pranked some unsuspecting fans, resulting in them being absolutely mortified.
McCarthy smoked a cigarette and punched her fake belly in front of fans
In an interview with James Corden on "The Late Late Show" in 2019, Melissa McCarthy recalled a bit that she used to shock fans who were stopping by the set of "Gilmore Girls." She said that during her downtime from filming the popular series, she would walk out from the set to have a cigarette. The Warner Bros. studio backlot tours would go by while she was out there. She would be wearing her character's false pregnant belly and take a drag from her cigarette. Then, she would punch the belly and exhale the smoke. Fans passing by on the studio tour would be mortified.
She said, "People were laughing and then I did it again and the second time I did it, everyone's like, 'No, that's not OK.'" After reenacting the bit for various passing tours, one group actually stopped right by her. McCarthy said, "There's 45 people standing behind me on a tour of Warner Bros. and I was like, 'It's not a real belly!'" Regardless of her assurance, the group didn't believe her and let her know their disdain. A few months later, she tried the bit again and ended up with another group that stopped and was shocked by her actions. After getting stopped by the group that second time, she retired the act. Unknowing fans were rightfully shaken by the funnywoman's actions, but this definitely proves that McCarthy has always been on the cutting edge of shock comedy, even back in her "Gilmore Girls" days.