Who Plays The TV Dad In Progressive's Sitcom-Inspired Campaign?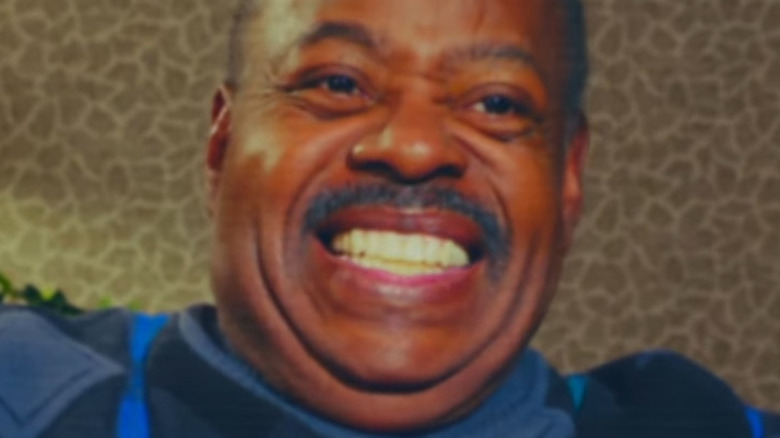 Progressive Insurance/YouTube
When it comes to shopping, buying insurance isn't usually the first thing that comes to mind. While daunting, finding good coverage is necessary to be an adult. To make a mind-numbing activity seem a little more exciting, insurance companies usually try to make their commercials fun and memorable in a way that still gets their point across. As such, many big insurance companies have a gimmick to help make their products stand out in a crowded industry. Geico has a talking gecko, Liberty Mutual has Doug, Allstate has the mayhem commercial guy Dean Winters, and Progressive has Flo, the bubbly but fictional salesperson played by Stephanie Courtney (via Insider).
While Flo has been a staple of Progressive ads for years, the insurance company isn't afraid to branch out regarding its marketing strategy. Recently, Progressive has produced a few commercials that poke fun at a classic character trope typical of the sitcom genre. Let's examine who plays the TV Dad in the company's sitcom-inspired campaign.
Progressive's TV Dad is played by Reginald VelJohnson
Reginald VelJohnson portrays the TV Dad in Progressive's latest campaign. One ad shows a father and son discussing insurance, only for TV Dad to interject with a laugh track and great lighting. Another commercial, formatted as an intro sequence, presents the character as a typical sitcom father figure. As the jingle notes, the TV Dad is a sweet, wise-cracking problem solver. He jokes around with neighborhood kids, greets everyone with a smile, and gets into wacky situations despite his best efforts. The message is clear: he's dependable, just like Progressive.
The TV Dad has typical characteristics of an archetype that VelJohnson helped to establish during the nine seasons he played patriarch Carl Winslow on the sitcom "Family Matters." Viewers could always rely on Carl to roll his eyes at Steve Urkel's (Jaleel White) antics, a history that subliminally bolsters the commercial's core message. Beyond his sitcom days, VelJohnson is also known for portraying Sergeant Al Powell in "Die Hard." According to The Hollywood Reporter, he's played a cop numerous times throughout his career, though he doesn't mind being typecast.
"I don't know what it is about me and this cop thing, but I get a lot of cop offers," the actor told the outlet. "Everyone always assumes that I'm someone on the force, but as long as they are paying me, I will play a cop until the day I die."