Who Is The Actor Who Plays Doug In The Liberty Mutual Commercials?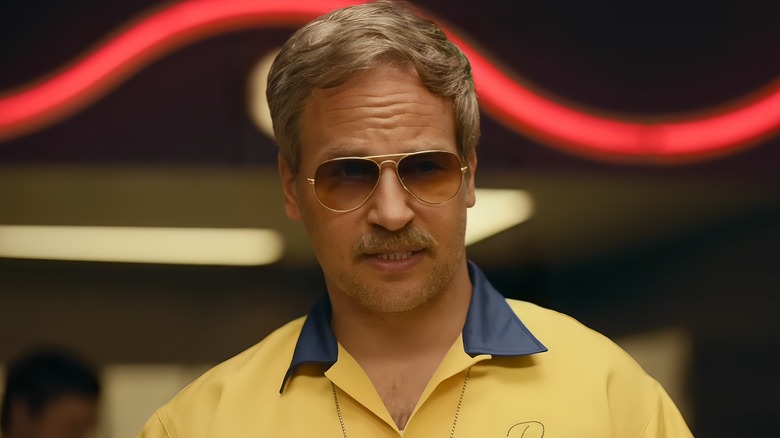 Liberty Mutual
In 2019, Liberty Mutual launched a new advertising campaign featuring LiMu Emu and Doug, a "fictional dynamic duo are passionate about saving people from overpaying for one-size-fits-all insurance," as a press release described them. Based on the capers from classic buddy-cop TV shows, the two have now starred in a series of commercials that sometimes also feature a '70s-style vehicle and other props to evoke an earlier era. The ads are campy and fun, as you might expect, often thanks to the fact that emus will be emus, and there's a nostalgia factor that can't be denied.
The latest of these ads, featuring a Zoom-based conversation to reflect the times, was released Feb. 1, just in time for Super Bowl Sunday, so perhaps you'll get to see it during the big game. But watching these two characters together definitely brings up a few questions, including, "Who is that guy?" While the Australian ratite LiMu tends to steal the show because it is, after all, a giant flightless bird that most don't tend to see in their everyday lives, people certainly want to know more about his human half, too. 
Doug is played by actor David Hoffman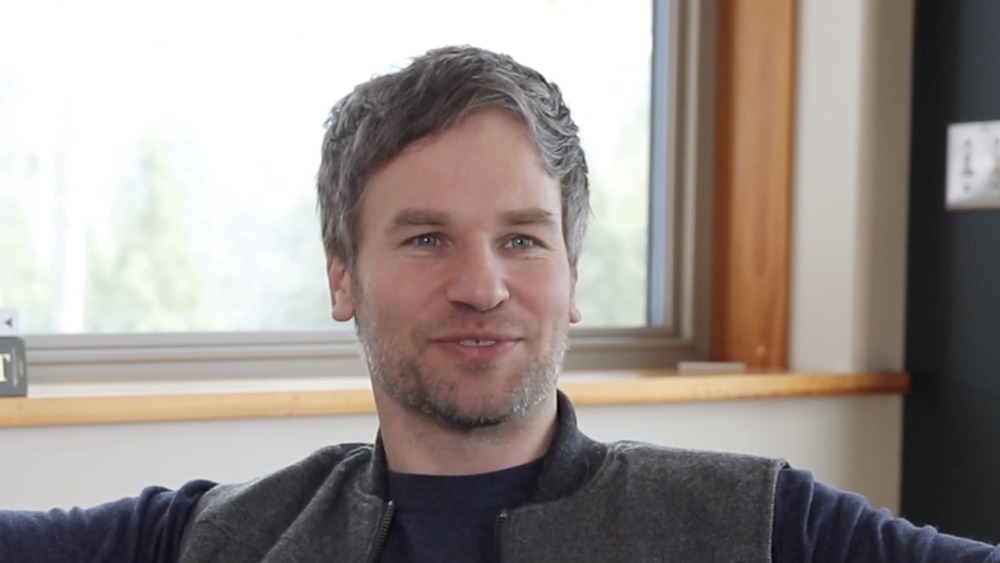 YouTube
The face behind Doug's aviator sunglasses belongs to actor David Hoffman, who is no stranger to the Super Bowl scene, as he's been in a Bud Light and a Doritos commercial that aired during previous NFL championship games. He's also been seen in episodes of Bones, There's Johnny, and Modern Family and starred in the Comedy Central British-American sitcom I Live with Models from 2015 to 2017.
According to the Burlington Free Press, Hoffman and his wife, Jaime Kowal, moved to Vermont just before COVID-19 hit in early 2020. To keep himself occupied during the pandemic, Hoffman started producing a web series that currently has 40 episodes on his Breaking Through YouTube page, called George Washington Is Here to Help. He credits his Liberty Mutual gig as helping to provide him creative freedom by giving him an income through residual payments. "Instead of chasing paychecks and doing stuff I'm not proud of, now I can be way more selective and afford to do the George Washington series, which is one of my favorite things ever, and not worry about a paycheck," he said. 
His background, which includes a stint with Groundlings Theatre & School, and his available work indicate that he's clearly drawn to humor, which may be one thing that appeals to him about the Liberty Mutual ads he stars in. If you want to know more about Hoffman, however, you might want to check out an interview he did with himself (as himself and as interviewer Peter Salazar) and posted to YouTube. It's by far the most popular video on his page, but you never know — if he keeps getting gigs like the Liberty Mutual ads, he might truly break through one of these days.