Jeremy Renner Has Been Released From The Hospital Following His Life-Threatening Accident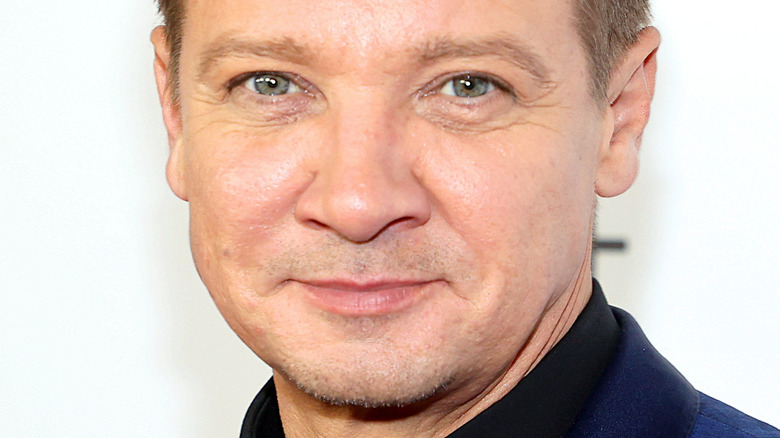 Theo Wargo/Getty Images
It's been a tough couple of weeks for Jeremy Renner fans. After being crushed in a snow plow incident on New Year's Day, the "Mayor of Kingstown" and Marvel star remained in critical condition for some time thanks to orthopedic injuries and blunt chest trauma. Though the star eventually began posting positive messages on social media, even mustering the energy to share a photo of himself with his "renowned" ICU staff, his haggard appearance had some fans worried and frustrated. At the time of his injury, a 911 caller was so scared that she allegedly screamed over the phone about Renner, who was moaning and bleeding heavily (via Today).
But now, Renner fans can rejoice. In a recent tweet, Renner casually revealed that he had just watched episode 201 of "Mayor of Kingstown" with his family at home. The subtle revelation about his health and recovery was very welcome news for many concerned fans across the Internet.
Fans immediately rejoiced at Renner's health update
Monday night, in reply to the official "Mayor of Kingstown" account, Renner wrote, "Outside my brain fog in recovery, I was very excited to watch episode 201 with my family at home." The unassuming tweet immediately sparked a flurry of joyful replies, causing several celebrities and Twitter users to take notice. "Fantastic news. you are at home, released from hospital then. This Tweet is just so sweet and humble rarely do you see a star share casual moments like this," wrote one Twitter user. "Sending you love, Hawkeye," wrote another.
During his time in the ICU and his subsequent recovery, Renner underwent two different surgeries for his injuries. According to 911 logs, the Marvel star had not only been completely crushed in his snowplow incident but had experienced extreme difficulty breathing. Apparently, Renner's engine-powered snow plow had begun to roll away without Renner in the driver's seat, and he had attempted to jump in and stop it (via CNN). Now, at least, Renner's actions will be remembered as heroic instead of part of a larger, more tragic story.