Mayor Of Kingstown Season 2 - Everything You Need To Know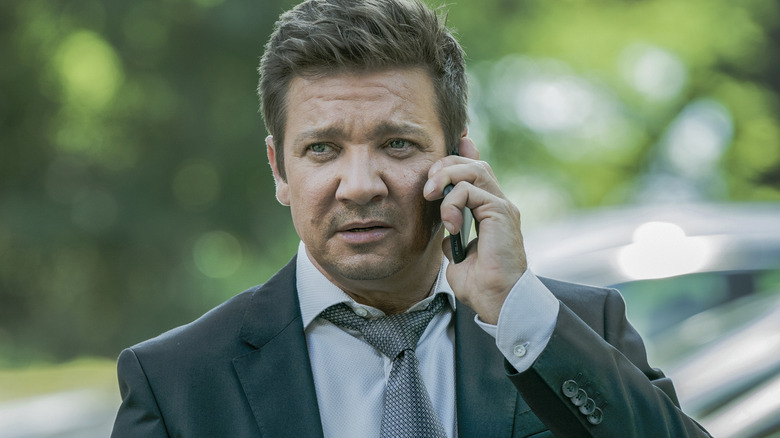 Dennis P. Mong Jr./Paramount+
We may receive a commission on purchases made from links.
By far the darkest of Taylor Sheridan's many shows, "Mayor of Kingstown" Season 2 premiered on January 15, 2023, picking up in the aftermath of a devastating first season. Set in the titular town of Kingstown, Michigan, Jeremy Renner plays the so-called "mayor," Mike McLusky, a power player in the "business of incarceration." His community revolves around the prison industry, and Mike spends his time brokering deals and keeping peace both behind bars and on the streets.
Of course, the détente between the inmates and the prison guards blew up spectacularly in Season 1, sparking a riot and leaving Mike to pick up the pieces in Season 2. With chaos inside and outside the prison walls, an escaped mob boss on the loose, and Mike's crooked allies under the state's magnifying glass, the mayor more than has his work cut out for him. But what else is there to know about Season 2? Well, read on for everything you should know about the second season of "Mayor of Kingstown."
What is the plot of Mayor of Kingstown Season 2?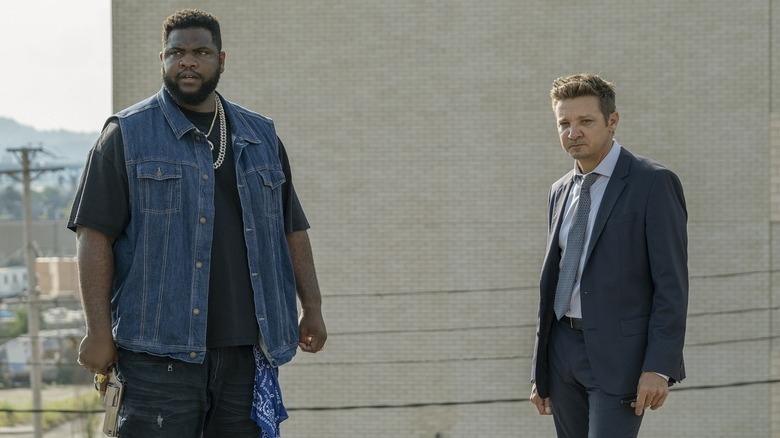 Dennis P. Mong Jr./Paramount+
"Mayor of Kingstown" Season 1 ended with a prison riot that left Kingstown in shambles. When Season 2 picks up, we're still feeling the aftermath of that horrific event. With the prison's criminal leadership all dead, war reigns in the streets, and Mike McLusky is forced to make a drastic decision to establish some sort of a peace — a decision that doesn't sit too well with Crips leader Deverin "Bunny" Washington ... or any of the local gang leaders for that matter.
Meanwhile, there's the Iris of it all. With her former employer, vicious Russian mob boss Milo Sunter, now on the loose, her safety is very much on the line. Things get even more complicated for Mike when Iris decides to go AWOL. Of course, perhaps Mike can make the Milo problem go away if he were able to get his hands on the mob boss' bonds and make a trade for Iris' life.
With all this drama going on, Kyle McLuskey is trying to find a new life for himself post-riot, but the dirty streets of Kingstown will always pull you back. Captain Kareem Moore is dealing with serious trauma following the events of the riot, and now that the prisoners have been moved to a temporary outdoor facility, he may just get his revenge. SWAT leader Robert Sawyer is coming under scrutiny for his, um, extra judicious methods, Detective Ian Ferguson gets himself involved with an incarcerated serial killer, and Mariam McLusky finds herself drawn to a poor youth in juvie who desperately needs Mike's help.
There are a ton of plot threads going on here, and we didn't even mention how the Aryan Brotherhood wants to buy Mike a one-way ticket to the afterlife. It all plays out over 10 grim and grimy episodes, with plenty of shootouts, beatdowns, and McLusky maneuvering.
Who stars in Mayor of Kingstown Season 2?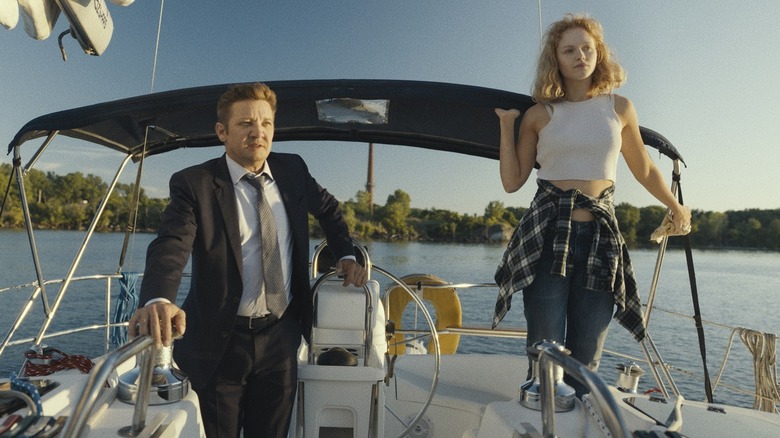 Paramount+
Hey, hey, the gang's all here (we mean that metaphorically and literally). Jeremy Renner is back as the mayor of Kingstown, Mike McLusky, a man who never has a second's peace. Seriously, with all the shankings and shootings going down in this town, when does Mike have time to sleep?
Renner is accompanied here by Emma Laird as Iris, the former sex worker who represents Mike's salvation. Of course, if Iris is around, that means Milo is nearby — and so is Milo actor Aidan Gillen, Littlefinger himself. Dianne Wiest and Taylor Handley return as Mariam (Mike's mom) and Kyle (Mike's brother), respectively, and the show's co-creator Hugh Dillon returns as Ian Ferguson, the hard-charging detective who always manages to get deeper and deeper into the muck.
Tobi Bamtefa is back as Bunny Washington, whose distrust in Mike grows bigger by the day. Michael Beach gets to show some serious range as Captain Moore, totally traumatized after the events of the prison riot. Hamish Allan-Headley is still causing chaos as SWAT leader Robert Sawyer, Nichole Galicia is still vastly underused as Rebecca, Mike's overworked secretary, and George Tchortov is still regularly getting the crap kicked out of him by Mike as Russian gangster Joseph.
As for newcomers, Lane Garrison of "Prison Break" plays Carney, an obnoxious prison guard in Mike's pocket, while Gratiela Brancusi of "1883" plays Tatiana, a high-ranking sex worker in Milo's world. Nona Parker Johnson of "Law and Order: Organized Crime" plays Bunny's very determined cousin, Rhonda, while rapper D Smoke portrays the musically talented Raphael. You can also expect to see Necar Zadegan as Assistant D.A. Evelyn Foley, Nishi Munshi as Kyle McLusky's pregnant wife, Tracy, and Derek Webster as Mike's ally Stevie, among others.
Who created and directed Mayor of Kingstown Season 2?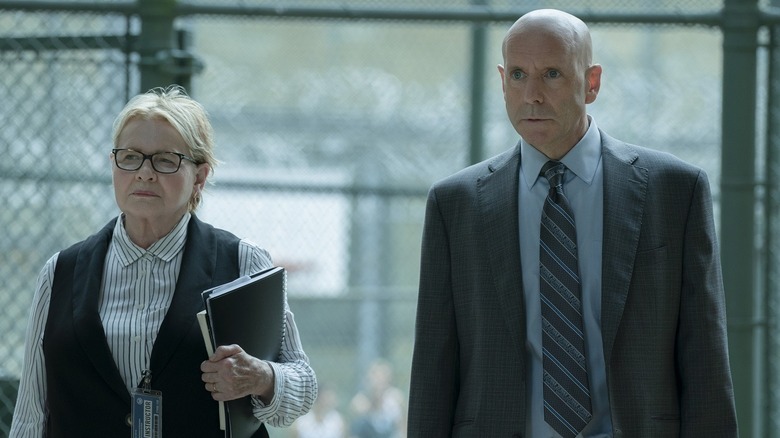 Dennis P. Mong Jr./Paramount+
"Mayor of Kingstown" was created by Paramount+'s favorite showrunner, Taylor Sheridan, along with Hugh Dillon. Dillon actually plays in the series as Detective Ian Ferguson, and you also may recognize him as Sheriff Donnie Haskell from Sheridan's other, bigger show, "Yellowstone."
Together, the two serve as "Mayor of Kingstown's" executive producers, alongside a long line-up of names, including Jeremy Renner. Director Antoine Fuqua — best known for helming films like "Training Day," "The Equalizer," and "The Magnificent Seven" — is also an executive producer on series, and he was incredibly excited to work on the second season. "'Mayor of Kingstown,'" Fuqua said, per Variety, "is such an important project that offers a comprehensive look into the brutal prison system, and I am thrilled to continue the journey with Taylor and team for Season 2."
With this many A-listers serving as producers, who's directing the show? Well, "Mayor of Kingstown" Season 2 has assembled quite the list of filmmakers to helm its 10-episode run. Stephen Kay (also an executive producer) directs the mass majority of the second season. Previously, he directed Sylvester Stallone in the remake of the classic British thriller "Get Carter," as well as episodes of "The Shield," "Sons of Anarchy," "Yellowstone," and "1883." 
Tasha Smith helmed two episodes of "Mayor of Kingstown," and she's worked on shows like "Bel Air," "Big Sky," and "9-1-1," in addition to acting in projects like "Meet the Browns" and "Empire." Lastly, the remaining episodes were directed by Guy Ferland, who's worked on TV shows like "Yellowstone," "The Shield," and "The Walking Dead," in addition to overseeing the not-so-well-received "Dirty Dancing: Havana Nights."
How did critics and audiences respond to Mayor of Kingstown Season 2?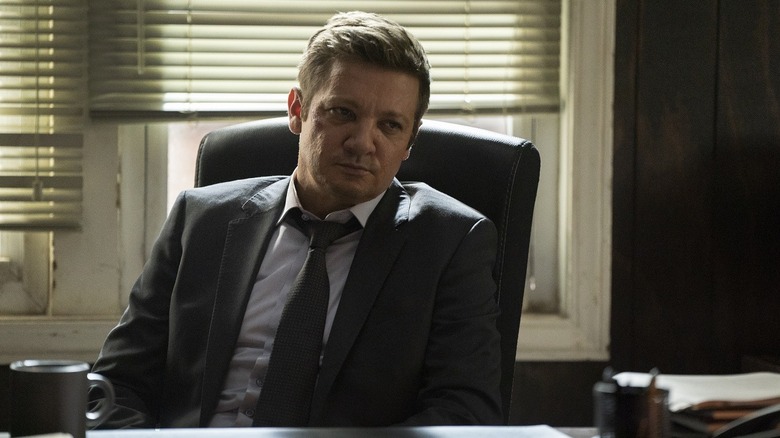 Dennis P. Mong Jr./Paramount+
Generally speaking, Taylor Sheridan shows get pretty good marks from critics. For example, "Tulsa King" currently has a respectable 79% on Rotten Tomatoes, and "1923" boasts a whopping 90%. However, the same cannot be said for "Mayor of Kingstown." For Season 1, critics lured the show away from the guards and then shanked it to death, resulting in a dismal 35% approval rating based on 26 reviews. Season 2 didn't fare much better, earning just 50% based on 8 critical reviews. If more had decided to get involved with this driveby, chances are good that 50% would've fallen a lot further.
So why all the hatred for Season 2? Well, as Alex Mandy of JoBlo's Movie Network put it, "Where Sheridan injected 'Tulsa King' with a sense of humor that helped make it as fun, 'Mayor of Kingstown' is so mired in death and violence that it is very hard to enjoy." Anita Singh of the Daily Telegraph concurred, writing, "The performances are decent — particularly Taylor Handley as Mike's police officer brother — and the plotting is assured. But it is undone by the violence for violence's sake." In other words, the show is just too dark, too depressing, too depraved for many critics.
Even those who gave the show positive marks had a similar takeaway, such as Johnny Loftus of Decider, who wrote, "'Mayor of Kingstown' ... seems to be doubling down on its sour times in Season 2. It's to our benefit that the acting is so terrific since otherwise Kingstown puts viewers on a collision course to bad mood city." As for audiences, the show currently has an approval rating of 93% on Rotten Tomatoes, but that's just based on 100+ reviews. On IMDb, though, it does have an 8.2 out of 10 rating based on 35,000 reviews, which seems a lot more positive.
So will fans — who seem to enjoy the show more than critics — get a Season 3? Ultimately, that might not come down to how critics or audiences feel about the series but about how Jeremy Renner recovers from his tragic snowplow accident in January 2023. While Renner does seem to be healing and posting encouraging messages online, he did undergo some serious trauma, and he might not be returning to Kingstown for quite a while as he recovers his health.
Where to watch Mayor of Kingstown Season 2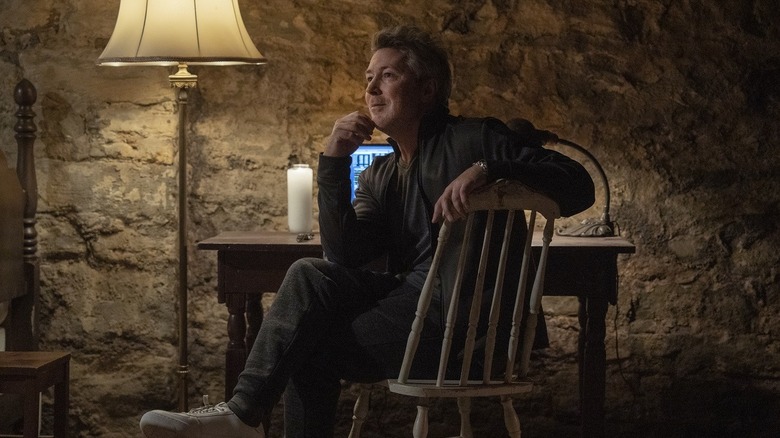 Dennis P. Mong Jr./Paramount+
Now that "Mayor of Kingstown" Season 2 has wrapped up, you can stream the first two seasons — for a grand total of 20 episodes — on Paramount+, which is home to almost all of Taylor Sheridan's shows (except "Yellowstone," weirdly enough). You can also view it on Prime Video if you have a Paramount+ subscription via Amazon. In other words, just like Mike McLusky is the only man who can get you what you need behind bars, you're only watching "Mayor of Kingstown" Season 2 if you subscribe to Paramount+ somehow.
What is Mayor of Kingstown Season 2 rated?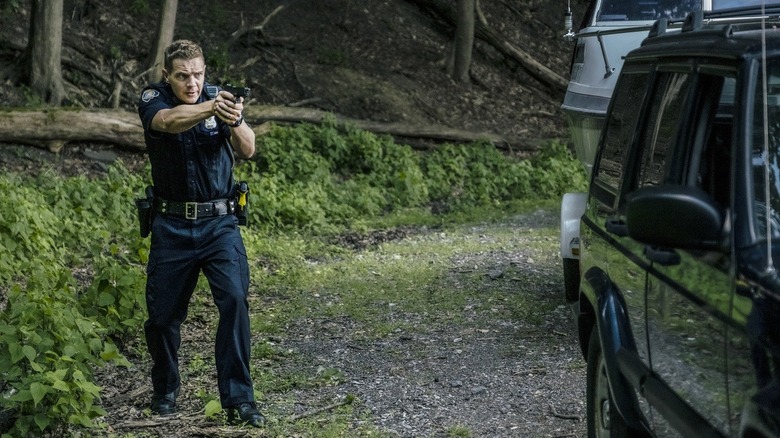 Dennis P. Mong Jr./Paramount+
"Mayor of Kingstown" Season 2 has a TV-MA rating, and that's a strong TV-MA. The show is pretty darn graphic, and while Season 2 isn't quite as dark as Season 1, it's still very much not for kids. One character is set on fire, others are brutally beaten and tortured, and there are plenty of shootings — the body count in Kingstown is shockingly high. There's also incredibly strong language befitting a prison drama, nudity, drug use, racism, suicide, and themes of sexual assault.
If you or anyone you know has been a victim of sexual assault, help is available. Visit the Rape, Abuse & Incest National Network website or contact RAINN's National Helpline at 1-800-656-HOPE (4673).