Who Played Barbara 'Bunny' Fletcher On Chicago PD?
As TV moms go, "Chicago P.D." character Barbara "Bunny" Fletcher is the kind of parent no kid should be saddled with –- even fictional TV kids. The mother of the series' former Detective Erin Lindsay (Sophia Bush), Fletcher is first seen in the Season 2 episode "Call It Macaroni." If there's any doubt about her credentials as a problematic parent, Bunny is quickly revealed as the kind of mom who lets excessive drinking and drug use control her decision-making. She's also the sort of parent who manages to drive daughter Erin and son Teddy (Lou Taylor Pucci) into life on the streets while both are still teenagers.
If any doubts remained about Bunny's character as the show progressed, they vanished with the revelation that she's responsible for young Teddy falling prey to a pedophile racket, a fact she actually admits. She also harbors ill will toward Intel Unit chief Hank Voight (Jason Beghe), whom she blames for taking Erin under his wing and eventually turning her daughter against her. And then there's the boyfriend she murdered. With her less-than-stellar familial history as the Mom from Hell, it's safe to say it took a brave performer to bring her nastiness to life. Here's who played the sketchy Barbara "Bunny" Fletcher on "Chicago P.D."
The late Markie Post portrayed Bunny Fletcher on Chicago P.D.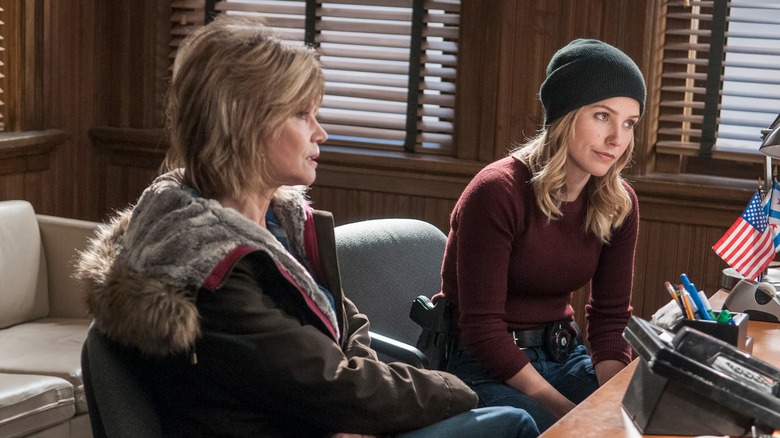 NBC
In her appearances across three seasons of "Chicago P.D." from 2014 to 2017, the late Markie Post played the hard-to-love Bunny Fletcher. Post is well-known for her portrayal of Cameron Diaz's mother in 1998's "There's Something About Mary," but "Chicago P.D." was just one of her gigs playing a variety of moms on TV. For instance, in addition to being Detective Lindsay's feckless mother, she turned up playing the mom of Sarah Chalke's Elliot Reid on the medical sitcom "Scrubs" and played yet another mother as the parent of Jenna Dewan's Joanna on 2019's "Soundtrack." Post can also be seen in the Netflix comedy "Santa Clarita Diet."
And while Bunny Fletcher was a terrible TV mother on "Chicago P.D.," her TV daughter clearly thought she was a nurturing presence on the show, as Sophia Bush took to Instagram on the occasion of Post's death to write, "Markie was the kind of set momma who made you feel invincible and gave you permission to be vulnerable and tender. I'll never forget that mystical power. That rare duality."