The Worst Thing Erin's Mother Ever Did On Chicago P.D.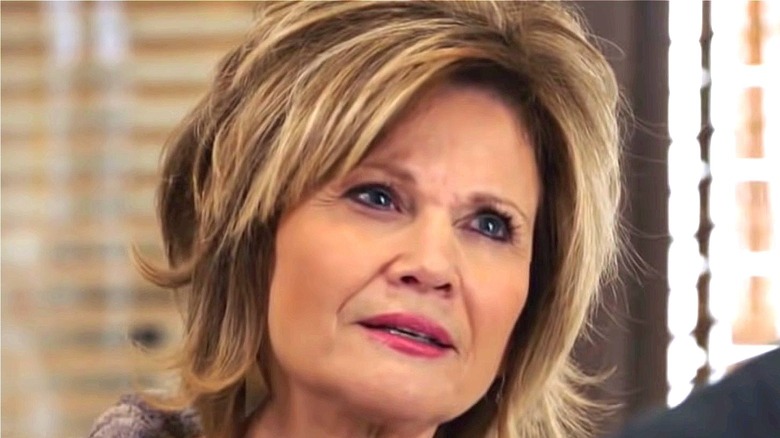 NBC
Loyal Chi-Hards following the dedicated cops of "Chicago P.D." are used to seeing their favorite characters risking their lives as they go up against the worst criminal elements the Windy City can throw at them. From chilling serial killers to firebug arsonists to drug cartel hitmen, this gritty police procedural makes for electrifying TV that consistently brings in millions of eyeballs every Wednesday night on NBC.
Clearly, it's no surprise to fans that the behavior of the show's lawbreakers will be appropriately villainous and evil, considering ramping up the threat level is the name of the game in this genre. But what if the most upsetting behavior in a given episode comes not from a cold-blooded killer or scheming criminal mastermind, but from a favorite character's mom? 
The truth is, Barbara "Bunny" Fletcher (Markie Post), mother of detective Erin Lindsay (Sophia Bush), seems to have cornered the market on seriously bad parenting in the One Chicago universe. That being said, what ranks as the very worst, most unforgivable thing Erin's mother ever did on "Chicago P.D."?
Bunny murdering her boyfriend was simply the worst
First seen on the show in the Season 2 episode "Call It Macaroni," Bunny Fletcher's reputation as a dysfunctional mom preceded her on-screen arrival. Even before this debut appearance, fans had already heard about how her questionable behavior contributed to her daughter Erin's childhood delinquency and trouble with the law. After she was taken in by intel unit head Hank Voight (Jason Beghe) and his family, Erin begins to turn her life around. That is until Bunny turns up and starts to exert her destructive influence on her adult daughter in subsequent episodes. From baiting Erin about who her real father might be to enabling her daughter's back-sliding into alcoholism, Bunny Fletcher's overt cruelty seemed to know no limits.
But when it comes to crossing way over the line, one of Bunny's final acts in the series has to be considered her low point. In the Season 4 episode "Fork in the Road," Bunny frantically calls Erin to say she's in deep trouble and needs her daughter's help. Bunny tells Erin her boyfriend Johnny Martelli has been shot, and she then earnestly denies that she's responsible. But after Johnny dies, Voight uncovers evidence that Bunny is guilty of the murder. And while she clearly had a knack for making her daughter's life miserable in a variety of ways, the murder of Bunny's boyfriend has to stand as the single worst thing Erin Lindsay's mother ever did on "Chicago P.D."