The Official Trailer For The Mandalorian Season 3 Is Here To Show Us The Way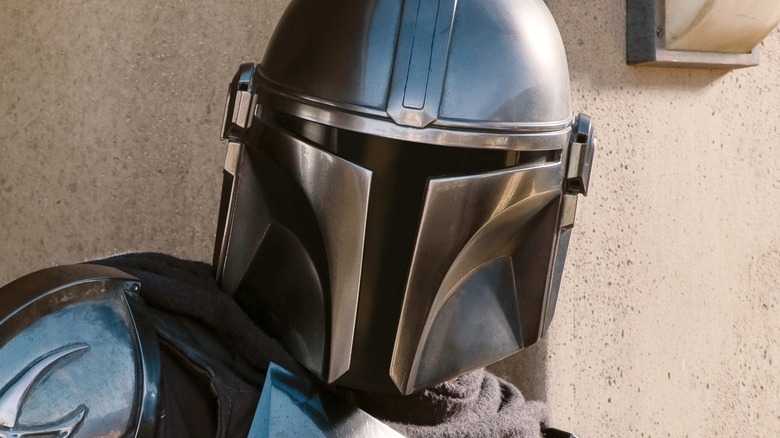 Lucasfilm/Disney+
"The Mandalorian" was the first "Star Wars" show on Disney+, and while relative newcomers like "Andor" have given it a run for its money, it's managed to hold its own in the big picture. After all, the vaguely Western-style adventures of Din Djarin (Pedro Pascal) have brought so many fan-favorite characters in the current incarnation of the "Star Wars" universe that it's hard not to see it as the backbone of the small-screen leg of the Galaxy Far, Far Away. Characters like Bo-Katan Kryze (Katee Sackhoff) and Ahsoka Tano (Rosario Dawson) make their live action debuts opposite ol' Mando, and the show has also paid respect to the characters who helped establish the franchise by bringing back a de-aged version of Luke Skywalker (Mark Hamill), as well as the weathered, wisened-up Boba Fett (Temuera Morrison). 
Pascal — who between this and HBO's "The Last of Us" is having a pretty neat year — is soon set to return as the titular bounty hunter with a heart for another season of the show. Now, Disney has offered fans a glimpse at the show's future with a brand new trailer for "The Mandalorian" Season 3.
The Mandalorian Season 3 looks like a Force to be reckoned with
"The Mandalorian" Season 3 trailer makes it clear that the upcoming batch of episodes will stand a pretty great chance at being the show's wildest ride yet — which is saying something, considering where the first two seasons took things. It builds on many of the things we've known so far about Season 3. 
The biggest thing is obviously the fact that Grogu is back. In all fairness, we've known for the while that the young member of Yoda's species is back, seeing as the September 2022 "The Mandalorian" Season 3 teaser confirmed "Baby Yoda's" story isn't done. Bo-Katan is also among the returning fan favorites, and it looks like the plot will finally take us to the legendary Mandalore. How will all this play out, and what will Din Djarin do with his new, vastly expanded worldview ... and his resumed alliance with the increasingly powerful Grogu?
Fans won't need to wait much longer for the answers, seeing as "The Mandalorian" Season 3 premieres on Disney+ on March 1, 2023.