Disney Presentation Reveals The Mandalorian Season 3 Plot Details And The Return Of A Fan Favorite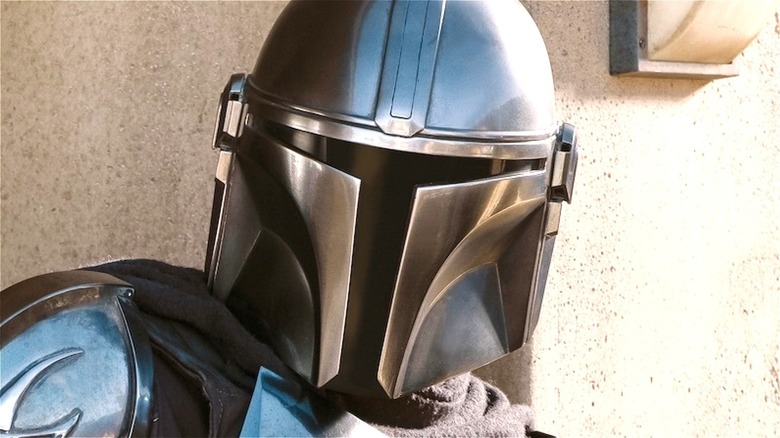 Lucasfilm/Disney+
Star Wars Celebration 2022 is officially underway in Anaheim, and already there's a torrent of new information about the new and returning Star Wars TV shows on Disney+.
The event kicked off with Lucasfilm's Studio Showcase, which Looper attended. During the presentation, "The Mandalorian" creator and executive producer Jon Favreau and his fellow executive producer Dave Filoni stopped by to tease the upcoming third season of the show. Not only did they reveal key plot details, they confirmed several beloved "Mandalorian" characters will be coming back.
When the story last left off at the end of "The Book of Boba Fett," Grogu — aka Baby Yoda — chose to abandon his Jedi training with Luke Skywalker (Mark Hamill) and resume his spacefaring life with his adoptive father Din Djarin (Pedro Pascal). Upon his return, he found Din in his own personal crisis. Din had won the ancestral Mandalorian weapon, the Darksaber, in combat with Moff Gideon (Giancarlo Esposito), which would ordinarily give him the right to rule the planet Mandalore. Problem was, Din violated the Mandalorian code by voluntarily removing his helmet, putting the legitimacy of his claim in doubt.
Now, heading into Season 3, Mando and Grogu are left to pick up the pieces — and they'll be seeing some familiar faces.
Bo-Katan will be back, and Mando will seek redemption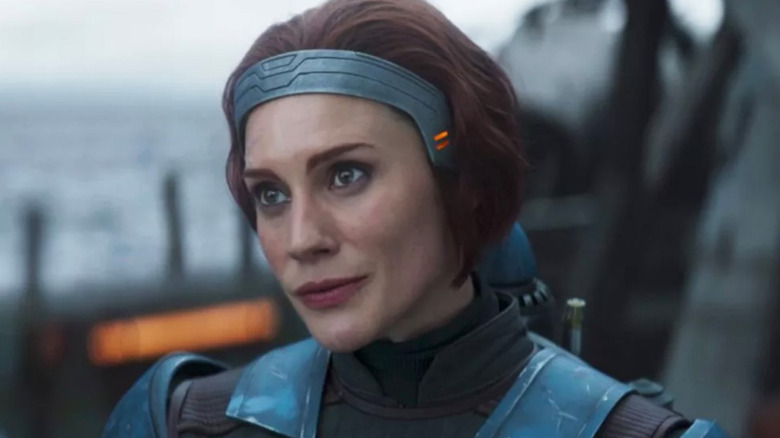 Lucasfilm/Disney+
"We're going to have some returning favorites joining our next season," Favreau said, before bringing actress Katee Sackhoff onstage. Sackhoff plays fan-favorite Mandalorian warrior Bo-Katan Kryze, a sometimes-ally of Din Djarin. Sackhoff intimated that Bo-Katan would be looking to settle old scores in Season 3. The actress likely refers to the Darksaber, and Bo-Katan's own desire to rule Mandalore.
Favreau and Filoni also introduced an exclusive teaser clip showing early footage from Season 3. "You have removed your helmet," The Armorer (Emily Swallow) tells Din in the exclusive teaser. "But worse, you did so of your own free will. You are no longer Mandalorian. Redemption is no longer possible."
That doesn't stop Din from trying, however. "I'm going to Mandalore so I may be forgiven for my transgressions," he says later in the teaser, while piloting his Naboo starfighter.
The trailer goes on to show Carl Weathers making an appearance as Din's occasional employer Greef Karga. He's now wearing a fancy red cape and new uniform, suggesting he's moved into some kind of leadership role. Amy Sedaris will also be returning as starship mechanic Peli Motto, as will Omid Abtahi as the ex-Imperial scientist Dr. Pershing–likely indicating that Pershing still wants to study Grogu.
Speaking of Grogu, he will very much be part of Season 3 as well, likely with some newly discovered Force abilities. The trailer shows him accompanying Din to Mandalore, where they meet several other Mandalorian warriors. "Did you think your Dad is the only Mandalorian?" Bo-Katan asks Grogu, while seated on a throne of her own making.
"The Mandalorian" Season 3 will premiere some time in February of 2023 on Disney+.