Abbott Elementary Fans Are Eager To See Who They Cast As Janine's Sister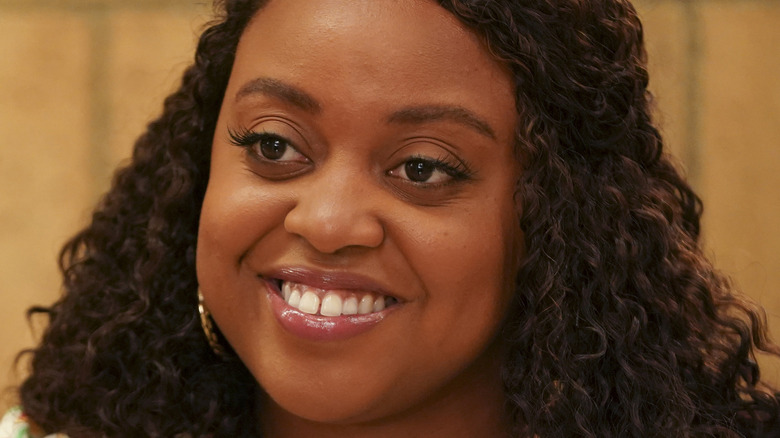 ABC/Gilles Mingasson
"Abbott Elementary" is continuing its hot streak on ABC, quickly becoming one of the network's most popular shows. The mockumentary series' success extends far beyond viewership, as it added three more Golden Globes to its already packed award shelf.
Unlike most network shows, "Abbott Elementary" uses its success to draw in exciting celebrity guest stars. Even though it's only halfway through its second season, the show has already brought in a slew of appearances and cameos. Leslie Odom Jr. ("Hamilton") joined the show as the villainous Draemond Winding, the owner of a local charter school. Rapper Vince Staples randomly appeared as Gregory's (Tyler James Williams) friend, who hit it off with Janine (Quinta Brunson). Even NBA Champion Andre Iguodala makes a quick cameo as Ava's surprise long-term boyfriend. Most recently, Season 2, Episode 12, "Fight" perfectly brought in Orlando Jones as Gregory's dad.
The guest appearances on "Abbott Elementary" have nearly become synonymous with the show. Because of that, when the series' latest episode teased the arrival of Janine's sister Ayesha, fans immediately began to wonder who would play the new character.
Who's on the other end of the phone call?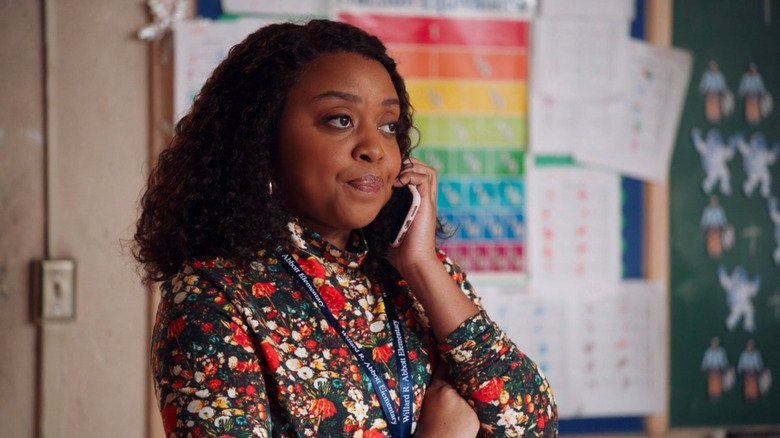 ABC/Hulu
In the latest episode of "Abbott Elementary," Janine is challenged with repairing the relationship between two arguing students. At one point, she relates the children's bickering to her sister Ayesha and her mom's relationship. The two students eventually make amends, and Janine leaves a message for Ayesha telling her to visit Philadelphia.
The tease means it's only a matter of time before Janine's sister — and possibly her mother — makes an appearance on "Abbott Elementary." With any other show, it wouldn't be a big deal, but with ABC frequently bringing well-known celebrities to "Abbott," fans immediately want to know who will play Ayesha. @HadariYao_X took to Twitter, saying, "Janine's sister incoming and I got a feeling her mama coming too ... We need to do a guessing game on who she's casting." @Nyelah_smith replied, suggesting that Issa Rae could play Ayesha while Jackée Harry could play their mom.
@NiceLookChrissy said, "I definitely wanna see who they cast as Janine's mom & sister!" Meanwhile, @pauleezo is committed to figuring it out themselves, stating they would listen to Ayesha's outgoing message to deduce whose voice it is. Throw @DreamWriter_20, @CJB_2014, and @peacewyns93 all into the group, as all three of them can't wait to see who "Abbott Elementary" casts as Janine's sister.
Hopefully, "Abbott Elementary" gives fans the answers they want this season, but if not, its Season 3 renewal means they'll see who plays Ayesha sooner or later.