Abbott Elementary Fans Couldn't Get Enough Of Leslie Odom Jr.'s Cameo In Season 2 Episode 7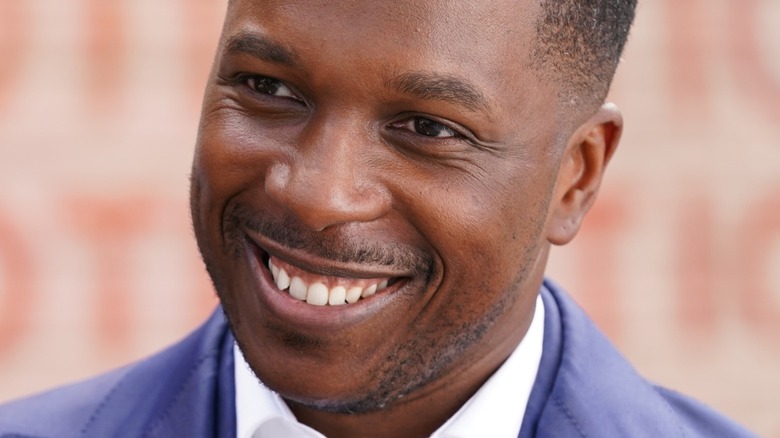 Gilles Mingasson/ABC
The following article contains spoilers for Season 2, Episode 7 of "Abbott Elementary."
ABC's "Abbott Elementary," like all great sitcoms, is aided by a charismatic and hilarious cast of characters that make up its ensemble. Since its premiere as a midseason replacement in December 2021, the series has shown that tried-and-true half-hour, network television comedies are still a force to be reckoned with when done well. The program became such an immediate runaway hit that it led series creator Quinta Brunson to tell USA Today, "I prepared for people to think this was a good show, but maybe not so quickly." With Brunson in the lead role of Janine Teagues, along with Sheryl Lee Ralph (Barbara Howard), Janelle James (Ava Coleman), Tyler James Williams (Gregory Eddie), Chris Perfetti (Jacob Hill), and Lisa Ann Walter (Melissa Schemmenti) in supporting parts, the show's repertoire of performers engages audiences on a weekly basis.
"Abbott Elementary," now in its 2nd season, has also had its fair share of memorable guest stars, with the latest featured player in the series to capture the attention of viewers being Leslie Odom Jr. The 'Hamilton" actor plays the mercurial and business-oriented Draemond Winding, the owner of a charter school conglomerate known as Legendary Charters. Fans have taken to social media to express their satisfaction with the villainous, but charismatic Draemond.
Fans had no concern that Leslie Odom Jr. plays a possible villain in Abbott Elementary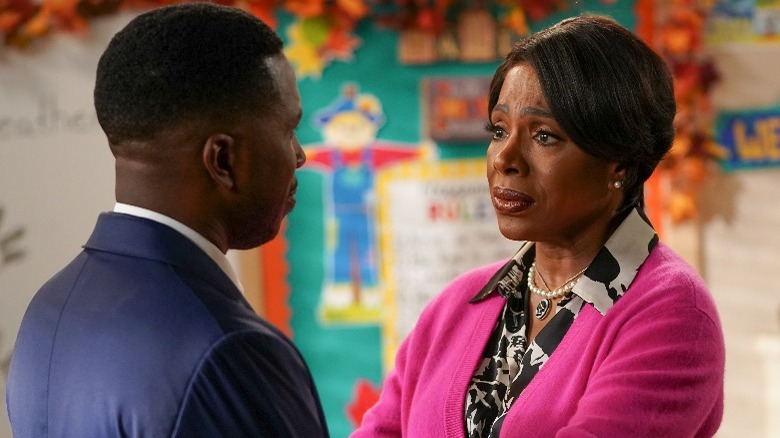 Gilles Mingasson/ABC
Leslie Odom Jr. appeared in Season 2, Episode 7 of "Abbott Elementary" titled "Attack Ad," as Draemond Winding, who wishes to absorb Willard R. Abbott Elementary into his network of charter schools (via Vulture). It is eventually revealed that Winding is a former student of Barbara's, which adds a level of complexity to their reunion that obviously goes against her long-term wishes and vision for the school she has dedicated years of her life and career to. For the actor, his guest spot provided him with an enjoyable experience as Odom Jr. shared on his Twitter, ".@thesherylralph you already know. @quintabrunson & @AbbottElemABC it was many dreams come true to sit in this week. Thanks a lot #AbbottElementary [school bus emoji]."
His performance also won numerous fans online, with Twitter user @phantomonetap tweeting "#AbbottElementary [school bus emoji] bro Leslie Odom jr as the potential season antagonist? Elite show." @QuiteeContrary added some context to this suggestion by sharing, "Also, Leslie Odom Jr. being a charming villain #AbbottElementary [school bus emoji]." Regardless of if the actor becomes the villain of the season or not, his presence alone is enough to stir excitement in many people. @BklynActiveMama summed this up best by adding, "Something about seeing Leslie Odom Jr. on my screen makes me SO happy. #AbbottElementary