Big Sky Fans Are Prepared To Put Up A Fight If Donno Dies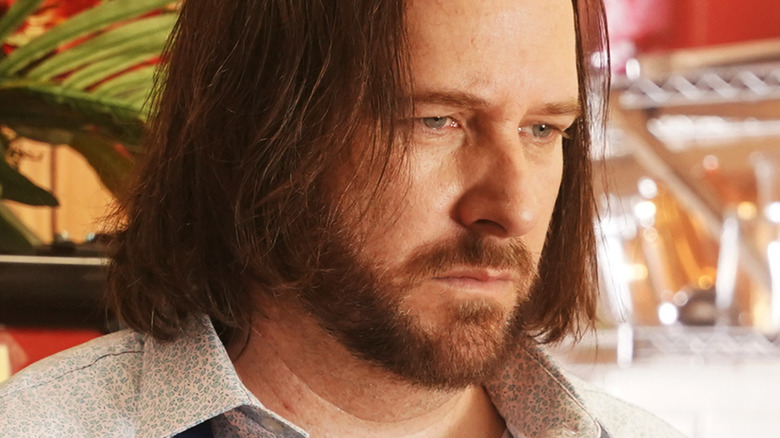 ABC/Michael Moriatis
Contains spoilers for "Big Sky" Season 3, Episode 12
Season 3 ABC drama of "Big Sky," which premiered in September of 2022, is subtitled "Deadly Trails," drawing attention to the show's anthology structure. That said, while the overarching plot of "Deadly Trails" may effectively stand on its own, the season nevertheless brings back some characters from the show's past, including the physically imposing Donno (Ryan O'Nan).
Fans were excited about Donno's "Big Sky" return when he re-debuted in Season 3, Episode 1 as a cook at the Blue Fox Diner restaurant, owned by former server Tonya Walsh (Jamie-Lynn Sigler). Though Donno may have left his life of killing from his days as an enforcer for cartel leader Ren Bhullar (Janina Gavankar) behind him, he approaches his restaurant job with a familiar intensity. Donno's one-liners even became a highlight for "Big Sky" viewers over the course of this season, delivered in his own signature, understated manner.
In "Big Sky" Season 3, Episode 7, fans unexpectedly rooted for Donno, many of whom shared their hope that the character's past proclivity for violence would not catch up with him and result in his death. Once Season 3, Episode 12 premiered on January 11, this possibility suddenly became a lot more immediate, spurring fans to share that they will put up a metaphorical fight if Donno's time on "Big Sky" has indeed come to an end.
Fans are worried that Donno might die after the events of Big Sky Season 3, Episode 12
ABC/Anna Kooris
Near the end of "Big Sky" Season 3, Episode 12, Avery (Henry Ian Cusick) meets with the dangerous Tony (West Liang) to negotiate the return of his kidnapped daughter. Their exchange quickly goes south when Tony shoots Avery, spurring a full-on shootout between the factions backing both men, resulting in Donno taking a few bullets for Tonya. The possibility that these gunshot wounds might kill Donno quickly had fans taking to the internet to mourn the possible loss of the fan favorite character.
Twitter user @AsroltanBeeba, for example, shared that she outright doesn't want to believe that Donno is dead. User @bjxmas similarly argued that Donno's death is against the rules, so to speak. One user even found Donno's name trending following Episode 12's premiere. None other than Donno actor Ryan O'Nan weighed in himself, retweeting a user hoping for Donno's survival with a series of emojis in his character's honor.
On Reddit, a discussion thread about the episode is full of comments praising Donno as the episode's foremost highlight. "Oh, Donno. You better survive!" wrote user AnneShirley310 in one such comment. Donno, then, has evidently endeared himself to a significant portion of the "Big Sky" fanbase. Whether his character will be able to retain this massive fan support moving forward or meet his end in the Season 3 finale, however, remains up in the air.