Big Sky Fans Can't Get Enough Of Donno's One-Liners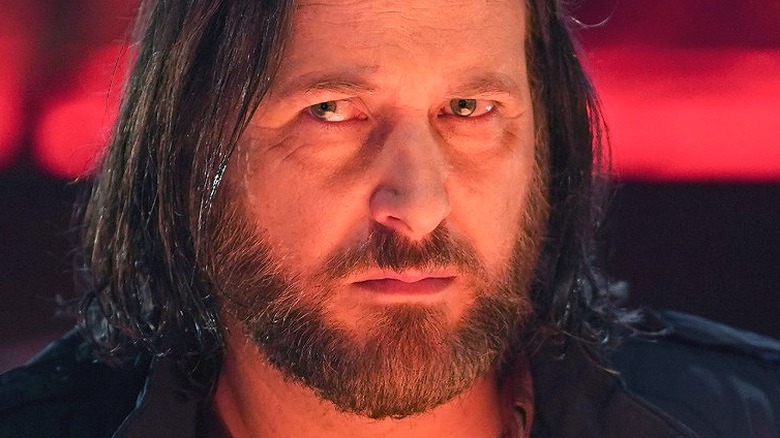 Michael Moriatis/ABC
ABC's "Big Sky" is officially on break until its return on January 4, 2023, as the series recently premiered its Season 3 midseason finale. While the wait for the next episode isn't too long, considering the unexpected twists from Episode 10, fans are already anticipating the series' return. Titled "A Thin Layer of Rock," the finale got fans talking online about its cliffhanger ending. Meanwhile, the crime drama found a little time to warm up things with an intimate scene involving Jenny (Katheryn Winnick) and Beau (Jensen Ackles). But "A Thin Layer of Rock" could never earn the right to call itself a stellar episode without an essential scene from everyone's favorite offbeat killer, Donno.
Portrayed by actor Ryan O'Nan, Donno first appeared in Season 2 of "Big Sky" as a cartel member for Ren Bhullar (Janina Gavankar). Fan love for the character grew the more we saw his uniquely charming dialogue with Ren and his strange actions. That's why fans were excited about Donno's return for Season 3, this time as a business associate of Tonya (Jamie-Lynn Sigler). Donno hasn't disappointed in his appearances this season, delivering some of the series' best one-liners. For example, we couldn't forget his meeting with Walter (Seth Gabel) earlier in the season, which resulted in Donno bluntly telling him that he's got a certain live-in-the-woods vibe about him. And in the finale, Donno once again said something that reminded "Big Sky" fans why they just love his one-liners.
Donno continues to deliver scene-stealing dialogue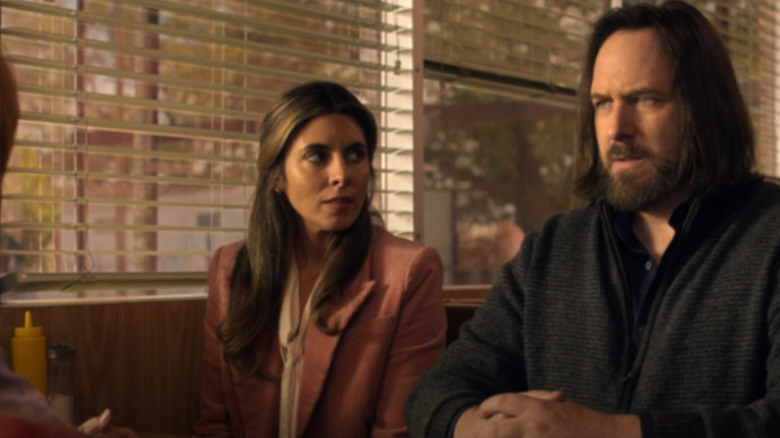 ABC
In the midseason finale, Sunny (Reba McEntire) meets with Tonya and Donno to forge a deal that involves helping Paige (Madalyn Horcher) find her journal and get her to a safe place. Sunny says that if the two agree to this, there's a lot of money to make. Specifically, it's the money Paige stole from the people who had Tonya and Donno looking for her in the first place. However, they won't get paid without the journal and Paige deciphering it. Sunny then suggests that with Paige out in the woods alone, Tonya and Donno need her and that Paige has been through a lot. At that point, Donno steals the entire scene by deadpanning, "It's hard out there for a pimp."
Fans couldn't help but express their love of the humorous exchange. "'It's hard out there for a pimp.' [laughing-crying emoji] Gosh, I love Donno so much! @IamRyanONan, you are a gem! [heart emoji]," @beautifulswan tweeted. @TaylorWood717 also championed the one-liner, posting, "Best line of the night is Donno," and adding the line at the end. 
Donno's line could have been a slight dig at Paige, who, after all, set up one former associate to die and caused Sunny's son Walter to become captured by authorities. And she did steal the money. What is for sure is that after Donno's philosophical quip on the life of a pimp, Tonya didn't look pleased. It's what helped make the one-liner stand out and, for one fan, at least relatable in a way. "I get you, Donno," @MaeveBran tweeted. "I make that 'It's hard out here for a pimp' joke, and my husband looks at me the way Sunny does, Donno."