Chicago Fire Just Went After Cindy Herrmann And Fans Are Not Happy
Like most shows of its length, "Chicago Fire" — which totals more than 225 episodes across 11 seasons and counting — shakes up its main cast of characters from time to time. Most notably, Lieutenant Matthew Casey actor Jesse Spencer left "Chicago Fire" partway through Season 10 in late 2021. Prior to his exit, Spencer acted in a grand total of 200 "Chicago Fire" episodes as one of the series' principal characters.
Monica Raymund, who portrays paramedic Gabby Dawson, likewise left "Chicago Fire" after a lengthy stint of just under 140 episodes in total. Some fans think Raymund might return to "Chicago Fire," though some of them have theorized that she might be coming back for an imminent series finale.
Meanwhile, a "Chicago Fire" showrunner teased some returns in Season 11 ahead of its premiere, including that of Cindy Herrmann (Robyn Coffin), wife of firefighter Christopher Herrmann (David Eigenberg). Cindy tends to appear sporadically depending on the season, factoring into more prominent storylines in some and only appearing in a limited capacity in others. Coffin's first appearance as Cindy in Season 11 occurs in Episode 7. Then, she returns for Episode 11, in a manner that quickly had fans upset about a troubling new development for her character.
Fans are up in arms about Cindy Herrmann's cancer diagnosis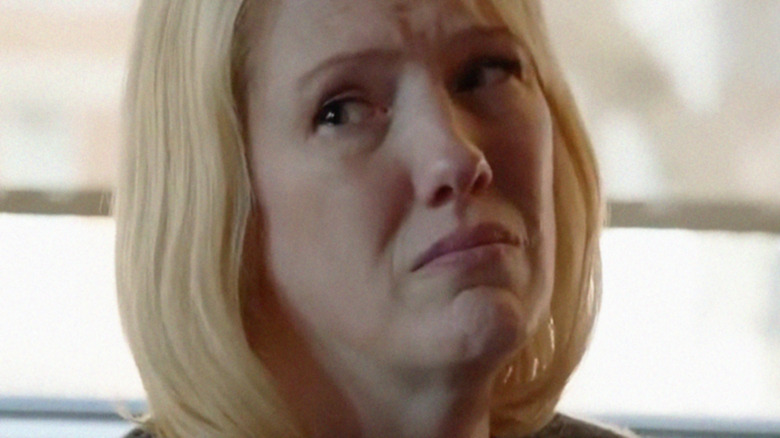 NBC
In "Chicago Fire" Season 11, Episode 11, Cindy Herrmann visits a doctor who reveals that Cindy has lung cancer. When this episode first premiered on January 11, plenty of fans immediately took to social media to share how upset they were to learn of this diagnosis. Twitter user @Learnthingss, for example, shared a clip of the moment and urged the powers that be at "Chicago Fire" to leave Cindy alone. Meanwhile, user @Natalia_alixx worried that this development will ruin what she feels to be one of the show's most stable couples. User @SwantonBomb182 similarly wrote, "Chicago fire noooooooo!!!!! Leave Cindy alone!! Or show her getting through the battle. Please don't kill herrrrrrr."
On Reddit, in a discussion thread about the episode, the most-upvoted comment is one sympathetic to Cindy's plight. One reply, by user kmsan2012, argues that Cindy's diagnosis is especially cruel, being both the second cancer storyline in "Chicago Fire" history, and a sad development for a beloved character. User _wonder_girl_ likewise replied, "The writers are aiming to make everyone suffer this season, right? Protect Cindy Herrmann at all costs."
Fans at large, then, seem to be hoping for the best for Cindy, while fearing the worst. Based on this outsized reaction, Cindy's health could very well become one of viewers' foremost concerns as Season 11 continues.