Chicago Fire Showrunners Tease Returning Characters In The Latter Half Of Season 11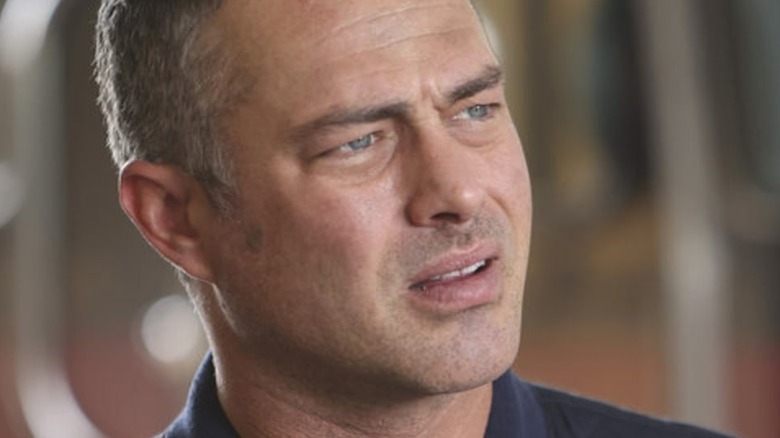 Adrian Burrows Sr/NBC
"Chicago Fire" is the show that started it all for the One Chicago franchise. The series was created by Dick Wolf of "Law & Order" fame, and according to the TV heavy hitter, both of his big franchises have something important in common. While speaking to The Los Angeles Times, Wolf said of "Chicago Fire," "But like 'Law & Order,' this is not a procedural. It's a character drama with action." 
Currently in its 11th season, the show follows the lives of those working at Firehouse 51 in the Chicago Fire Department. Some characters, like Kelly Severide (Taylor Kinney) and Christopher Herrmann (David Eigenberg), have been with the show for all 11 seasons. But change is natural in the world of "Chicago Fire" – showrunners have come and gone, and old characters leave while new ones are introduced. Some supporting characters also pop in and out to create new drama for the core cast.
And now, after Episode 9 dropped a major cliffhanger, the showrunners are teasing some possible returning characters for the second half of the season.
The Chicago Fire showrunners discuss the familiar faces that will make a comeback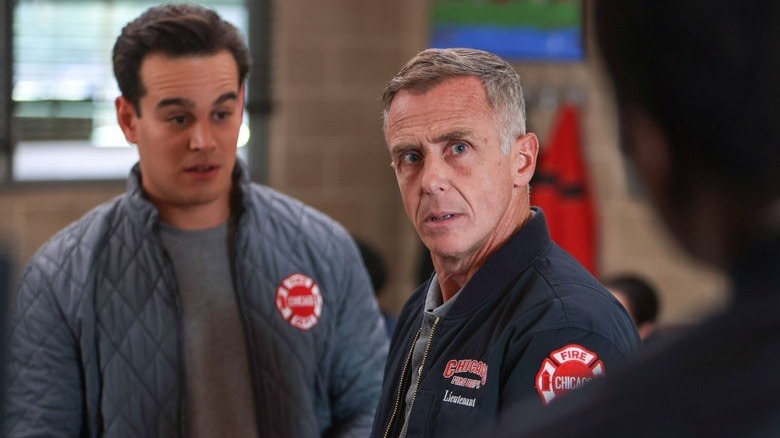 Adrian Burrows Sr/NBC
In an interview with TV Insider, "Chicago Fire" showrunners Derek Haas and Andrea Newman shared some thoughts about the fall finale and teased what's to come for the personnel at Firehouse 51. When asked about any familiar faces that might be returning, they remained cryptic, but gave some strong hints. "There will be some. We love bringing back people who have either been villains or family members and people who've been, been thorns in our side. We have a couple of those coming up," Newman said.
Being more specific, Haas said that we can expect to see Christopher Herrmann's wife, Cindy (Robyn Coffin), make a return. He also added that an intriguing crossover appearance is likely in the cards. "We actually have a surprising 'Med' character that you haven't seen on our show very often is coming," he said. Newman also added that Commander Pearce (John Sierros) would be coming back to make good on a favor that Kelly Severide owes him.
Haas also teased that the show became more cut-throat when Newman came on board. "This show's mean. It was always so sweet when it was just me showrunning, but then when Andrea came on the show got really mean," he said. Newman added, "And the characters start dropping like flies."