New All The Money In The World Posters Unveiled After Kevin Spacey's Recasting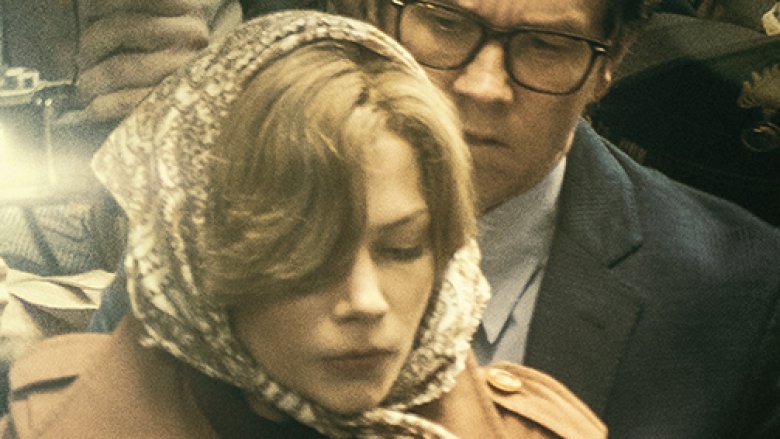 Sony TriStar Pictures
There's no sign of Kevin Spacey to be found in the new batch of promotional stills for Ridley Scott's All the Money in the World. 
In early November, following several allegations of sexual assault and harassment made against Spacey, director Scott announced that he had removed and recast the actor in the role of Getty Oil Company founder J. Paul Getty for the upcoming film, which tells the real-life tale of the 1973 kidnapping of 16-year-old John Paul Getty III. Canadian actor Christopher Plummer has replaced Spacey as the industrialist, and the cast and crew have joined forces for a round of reshoots that race against the deadline of December 22, the film's set debut date. 
With the embattled actor now literally out of the picture, Sony has released two new posters for All the Money in the World that feature Plummer's name–and absolutely no Spacey in sight. 
One shows a bloody ear made out of hundred-dollar bills, meant to represent the ear of John Paul Getty III (played here by Charlie Plummer) that his kidnappers severed off and sent to his family as a means to get them to pay the steep ransom. "Everyone wants a cut," the poster reads. The second centers on Mark Wahlberg and Michelle Williams' characters– J. Paul Getty's lawyer Fletcher Chase and his daughter Gail Harris, respectively–getting into a car as paparazzi flock around them. This one features a sharp tagline as well: "J. Paul Getty had a fortune. Everyone else paid the price."
Take a look at both posters, courtesy of Deadline, below. 
When Spacey was still on board for All the Money in the World, which was complete before the rainstorm of allegations began, Sony unveiled a teaser poster showing off a large bust of the actor as J. Paul Getty looming over Wahlberg's Chase and Williams' Harris. It featured the same "J. Paul Getty had a fortune..." tagline seen in the newly released poster. 
Spacey's removal from the forthcoming thriller flick came after it was ripped from AFI Festival's lineup. (It was slated to open on closing night, the most vied-for slot on the roster.) That decision followed after several individuals lodged allegations against Spacey claiming he committed sexual misconduct, both assault and harassment, against then-underage boys. His House of Cards employees also alleged that Spacey created a "toxic work environment" behind the scenes of the acclaimed Netflix series. 
The falling out has resulted in Spacey's publicist and agency dropping him, Netflix cutting all ties with him, production on House of Cards being halted indefinitely, and his planned Gore Vidal biopic Gore getting scrapped at Netflix. Additionally, the allegations led the streaming service to call it quits on House of Cards after its impending sixth season, as well as caused the series' creatives to reportedly come up with ways to kill off Spacey's character Frank Underwood before then. 
All the Money in the World also stars Romain Duris as Cinquanta, Timothy Hutton as Getty's attorney, Andrew Buchan as John Paul Getty II, Giuseppe Bonifati as Gail Harris' attorney Iacovoni, Kit Cranston as a young Mark Getty, and Maya Kelly as a young Aileen Getty. Here's the official synopsis for the film: "Rome, 1973. Masked men kidnap a teenage boy named John Paul Getty III (Charlie Plummer). His grandfather, Jean Paul Getty (Christopher Plummer), is the richest man in the world... [but] his favorite grandson's abduction is not reason enough for him to part with any of his fortune. All the Money in the World follows Gail, (Michelle Williams), Paul's devoted, strong-willed mother, who unlike Getty, has consistently chosen her children over his fortune... When Getty sends his enigmatic security man Fletcher Chase (Mark Wahlberg) to look after his interests, he and Gail become unlikely allies in this race against time that ultimately reveals the true and lasting value of love over money." 
Written by David Scarpa and John Pearson, All the Money in the World is expected to release on December 22.