Who Plays Hailie In Yellowstone Season 5?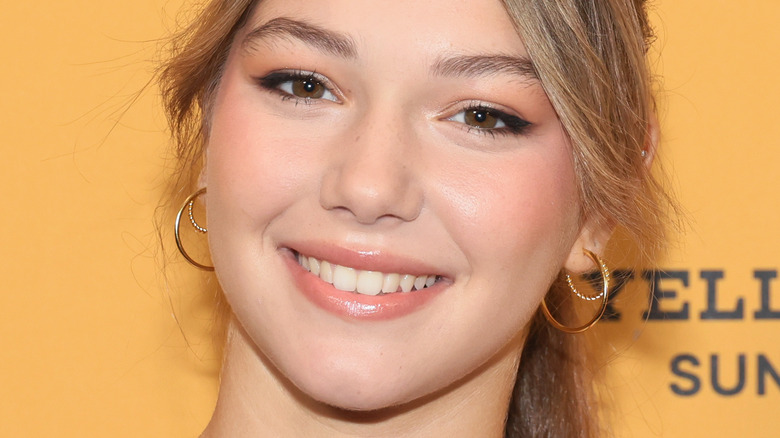 Dia Dipasupil/Getty Images
In "Yellowstone" Season 5, John Dutton (Kevin Costner) becomes governor of Montana, Jamie (Wes Bentley) is plotting against the family, and Beth (Kelly Reilly) continues being Beth, cracking bottles over people's heads and getting into fistfights at dinnertime. Among the political cowboy drama, Carter (Finn Little), the orphan Beth took in back in Season 4, has a love interest: Hailie, a young girl introduced in Episode 6, "Cigarettes, Whiskey, a Meadow and You."
Romance is in the air on "Yellowstone" this season. With Jamie fraternizing with Sarah Atwood (Dawn Olivieri), Beth and Rip's (Cole Hauser) horseback trek, ranchhand Ryan (Ian Bohen) falling for singer Abby (Lainey Wilson), and Carter's meet-cute with Hailie, it seems like everyone's getting bitten by the love bug on the Dutton Ranch. Hailie and Carter are the youngest of the bunch, with the teens brushing shoulders at John's political event, where Hailie teaches him how to dance. She later pops up in Episode 8, "A Knife and No Coin," helping Carter on the ranch. But who plays this young newcomer on Paramount's hottest show?
Orli Gottesman plays Hailie on Yellowstone
Hailie is played by Orli Gottesman, who has been acting since 2015. The high school student cut her teeth in commercials, with her first on-screen narrative roles coming in short films as early as 2016. Her big break came the following year when she was cast as Jessica Alba's daughter in the action comedy series "L.A.'s Finest." She went on to land roles in the films "Adeline" and "1-800-Hot-Nite." In the former, she works pretty extensively with horses, which no doubt proved to be good prep for her "Yellowstone" gig.
If you aren't familiar with Gottesman yet, don't worry — "Yellowstone" is her most significant production to date. The young actor was just 16 when her first "Yellowstone" episode premiered in 2022. "I was definitely freaking out," she told Taste of Country. Luckily, everything went smoothly. "The entire production team is so nice," she added. "I mean, great conversations with everyone. It kinda went seamlessly." She said that she was really happy to work with Little, a native Australian actor, whom she chatted with between takes. "I love the accent. It's just different."
Gottesman was also blown away by Kelly Reilly, the London-born actor who plays Beth. "She's amazing and super inspirational," she told Newsweek. The up-and-comer went on to reveal how she was constantly "pinching" herself while on set. "Seeing the ranch in person, and going to Montana in person, seeing that view, it was just totally incredible," the Florida native said of her time on Season 5. As for where Hailie and her relationship with Carter go, that remains to be seen, but it's one of many exciting developments to keep an eye on when "Yellowstone" Season 5 returns in summer 2023.