Yellowstone Fans Are Getting Sick Of Season 5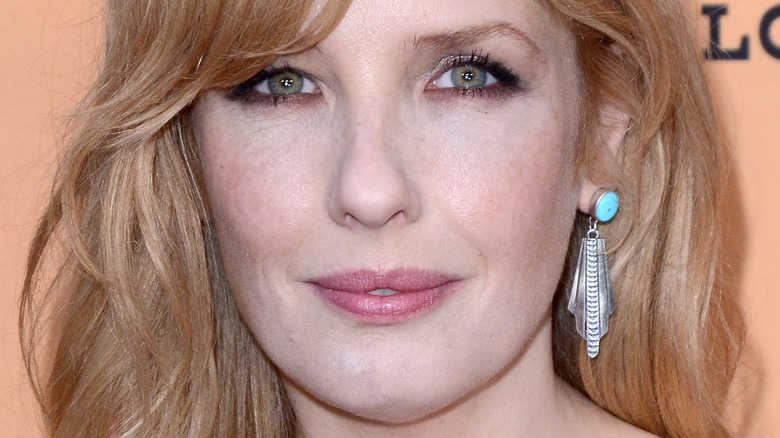 Kathy Hutchins/Shutterstock
The Dutton family in "Yellowstone" definitely has a very specific way of dealing with those that might threaten the sanctity of their ranch. From the very start of the immensely popular show, fans have become acquainted with John Dutton (Kevin Costner), Kayce Dutton (Luke Grimes), Jamie Dutton (Wes Bentley), Rip Wheeler (Cole Hauser), and Beth Dutton (Kelly Reilly). Although each one of these individuals have their own quirks and personalities, as well as personal drives and motivations, they all share the same thing in common — to protect their family and their homestead.
Now in Season 5, "Yellowstone" has seen some tremendous shakeups that have generally upset many of the dynamics of the show. John Dutton has become the governor, Kayce has suffered a tremendous loss, Jamie might be in bed with the enemy, and Beth cannot be stopped from swinging on ladies that dare make a pass at Rip, but then again, that's why some fans have some relatively strong feelings about Beth's behavior for better or worse. Considering how Season 5 has been going, it seems like some fans are starting to take umbrage with the direction of the Duttons and "Yellowstone," but what exactly are their thoughts, and what issues are becoming a problem?
Some Yellowstone fans think Season 5 is going nowhere fast
Even though Season 5 of "Yellowstone" has featured its fair share of beatings by Beth, Jamie being pulled towards the enemies of his family, and John wielding immense executive powers of his elected office, it seems as if there is a contingent of fans that aren't exactly keen with the current direction of the show, and have taken to social media to vent their current frustrations. Some statements over on Reddit highlight some of the complaints held by fans, with u/biguser96 saying that they felt like Season 5 has just been entire hodgepodge of absolute nothingness, and that the show appears to be simply treading water in some sense.
This statement caused u/BrianMeen to reply, "I was criticizing this sub the first few episodes for being so hard on the show but here we are at the mid point and I'm just waiting for something to happen... this "Jamie battles his father" storyline is beyond tired. Oh and the villains this season are so dull." u/GSV_Healthy_Fear also felt similarly, and said that they think that "Yellowstone" has become a caricature of itself. Echoing this sentiment, u/Canmore-Skate added, "You could say TS is down prioritizing Yellowstone to his overblown historical origin seasons 1883, 1923 and whatever so much that the show that they are prequels to has become a completely irrelevant. Pretty ironic. My hope is that he can close the whole thing with season six and then move on with 6666 and movie scripts again."
Some believe Yellowstone may need new writers
The above statements weren't the only ones that lamented the current status of Season 5 of "Yellowstone." u/goose7777 finds themselves just putting on the show as background noise as they do things around their house, and that they don't worry about missing anything because the show isn't exactly holding their attention. u/MavicFan also had some strong words for Season 5 of "Yellowstone," and said, "What a stupid show this has become. Instead of advancing the plot we had two shows of dialogue in the backdrop of some stupid country music that Sheridan probably just loves. Oh and even though we have no money let's go ahead and ship half the herd to Texas because there is nowhere else to go. But first let's go to the fair!"
u/Keating5 also wondered what was going on with Season 5, and rhetorically asked why the show is recycling the Jamie plot-line, referencing the previous contention between Jamie and John that seems to be becoming a reoccurring trend. Some opinions over on Twitter also weren't the biggest fans of Season 5, with @nudge78x writing, "Between the flashback scenes and all the fluff n music, it's obvious the writers for this show need to be replaced. This season is terrible!" In addition, @JimCumbee feels like "Yellowstone" has becoming increasingly stupid over the course of Season 5, and that the show is entirely void of a compelling story. @Ms_Anglenora offered a slightly less scathing critique, and wrote that Season 4 of "Yellowstone" was just okay, and that Season 5 isn't any better. These social media comments highlight a group of fans that aren't exactly happy with Season 5 of "Yellowstone," and they believe the show appears to be going nowhere or retreading familiar stories.