Giancarlo Esposito Is Still Fighting To Be Professor X In The MCU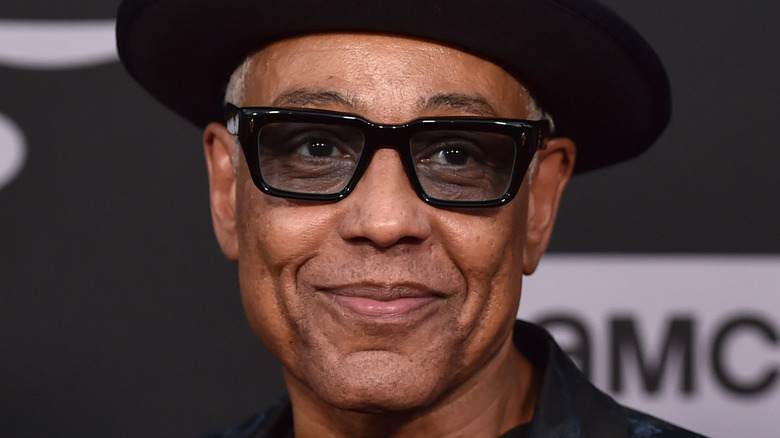 Alberto E. Rodriguez/Getty Images
"Better Call Saul" star Giancarlo Esposito wants to join the Marvel Cinematic Universe — and fans have already given him an idea for who he'd like to play.
As Marvel Studios looks to cast its own versions of key Marvel Comics characters, numerous high-profile actors are hoping — and in some cases actively campaigning — for their shot in the MCU. Newly minted Golden Globe winner Austin Butler ("Elvis") was rumored to be pushing for the role of Johnny Storm/The Human Torch in the upcoming "Fantastic Four" reboot (via MovieWeb), while Adam Driver ("White Noise") is reportedly a front runner for Reed Richards, aka Mr. Fantastic (via Dexerto). Ke Huy Quan also recently expressed his excitement when he finally got his own call to join the MCU — "RRR" breakout N.T. Rama Rao Jr., however, is still eagerly waiting for his. Indeed, the superhero game is a popular and lucrative one, so it's no wonder so many actors want to join in.
For his part, Esposito is no stranger to the comic book genre. He voiced iconic "Batman" villain Ra's al Ghul in the animated film "Son of Batman," as well as Black Spider in "Batman: Assault on Arkham." He recurs as the infamous Lex Luthor in HBO's critically lauded "Harley Quinn" series, and even plays the Luthor-esque businessman Stan Edgar on Amazon Prime Video's "The Boys." Even since his turn as Gus Fring in "Breaking Bad," it seems as though casting directors have no trouble imaging him as a terrifying, larger-than-life adversary. Esposito, however, seemingly wants his hypothetical Marvel character to be far less nefarious.
Esposito acknowledges fan casts and urges them to continue
Appearing on "The Tonight Show Starring Jimmy Fallon," Giancarlo Esposito put his cards on the table when it came to a possible appearance in the Marvel Cinematic Universe. While the interview seemingly confirms that he's in no official talks to join the franchise, it should certainly put the actor on the studio's radar — that is if he wasn't already.
"I love what Marvel does," he told Fallon. "I love that the fans can see me in this universe and are proposing not only one character ..." He went on to mention a few different superheroes proposed by fans online, including the complex "X-Men" antagonist Magneto (previously played by Sir Ian McKellen and Michael Fassbender) and the "Batman" rogue Mr. Freeze — a character whose best-known iteration is a laughably terrible turn from Arnold Schwarzenegger in Joel Schumacher's "Batman and Robin."
"And the biggest ask," Esposito continued, "is Charles Xavier." The role was famously played by Patrick Stewart, who recently brought his take on the character to the MCU in "Doctor Strange in the Multiverse of Madness." As the studio looks to build out the mutant side of their universe, most (if not all) of the "X-Men" roles will be recast, including Professor X — which leaves the role open for Esposito. "I want to play a good guy," he said. "Charles is smart. He's good. But I feel as if there may be some mileage with me and Marvel. I know I love what they do. I know I love creativity. So who knows what could happen? Keep putting it out there."