Astounding Fan Art Brings Giancarlo Esposito To Life As Mr. Freeze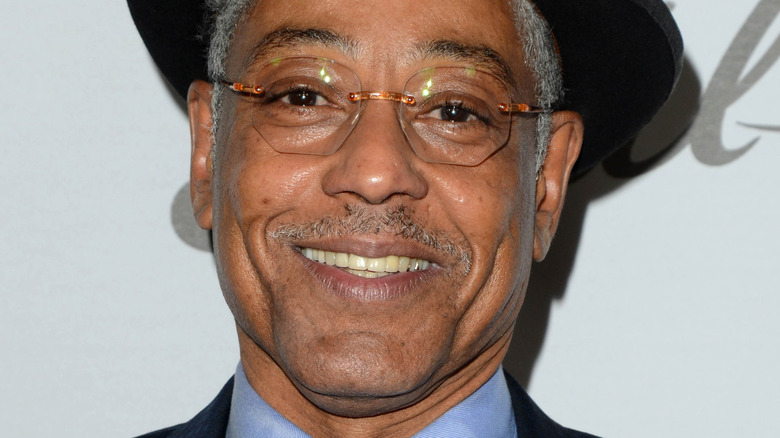 Kathy Hutchins/Shutterstock
Giancarlo Esposito has pretty much graduated to the status of nerd royalty. In addition to playing the drug kingpin Gus Fring in both "Breaking Bad" and its spin-off "Better Call Saul," he's also played Lex Luthor in the "Harley Quinn" animated series and the villainous Moff Gideon in the "Star Wars" series "The Mandalorian" on Disney+.
However, Esposito whipped the nerd world into a frenzy when, in a video uploaded to TikTok by countdowncitygeeks of him speaking at a convention, he talked about the possibility of appearing in either a Marvel or a DC movie. "So, there's been talk of Magneto, there's been talk of Dr. Freeze, there has been talk of, who else are they talking about over there?" he said to the crowd. "Oh, Doom! And there is Professor X. Pick one? I'm going to go for something that is a little bit different. I'm going to go and put it out in the universe that it is Professor X." Admittedly, there's no DC or Marvel character known as Dr. Freeze. Still, fans have assumed that he's obviously referring to the Batman villain Mr. Freeze, whose real name is Dr. Victor Fries (except in the 1966 "Batman" TV series where his real name is Dr. Art Schivel).
With multiple roles mentioned in Esposito's speech, fans have taken sides as to which one they want him to play. Some have been backing him as Mr. Freeze and have already given us an image of what that might look like.
Giancarlo Esposito as Mr. Freeze
In a piece of fan art posted to both Instagram and Imgur, Giancarlo Esposito is imagined as Mr. Freeze by user Craft of Designing. The version of Mr. Freeze depicted is the one from the '90s television show "Batman: The Animated Series," complete with the iconic glass dome over his head that he needs to survive.
However, imagining Esposito as Mr. Freeze is not exactly new. Two years before Esposito's speech about his potential DC and Marvel roles, u/FlyingString4 posted similar fan art and asked: "Would you all like Giancarlo Esposito to play Mr. Freeze in an upcoming Batman film?" Even before Esposito planted the idea in the collective nerd consciousness, fans were fairly excited about the suggestion of him as Mr. Freeze. "He would kill it as Mr. Freeze!" u/JiveTurkey722 wrote. "He can be so serious and professional and quick to be terrifying."
Another user, uExMeister00, wrote, "I never considered him before, but now I can't accept anything less. A fine actor and choice!" A few disagreed with the choice, but mostly to point out other roles Esposito would be perfectly suited for, such as Hugo Strange.
Thus, fans of both DC and Marvel seem to agree that Esposito should play someone in a superhero movie, but there seems to be a lot of disagreement over which one. However, Esposito himself seems to be leaning toward Professor Xavier. Whichever part he possibly ends up going with, he will likely be an excellent choice for any of these roles.