Nico Parker Discusses Details About Her Key Role As Pedro Pascal's Daughter In The Last Of Us - Exclusive Interview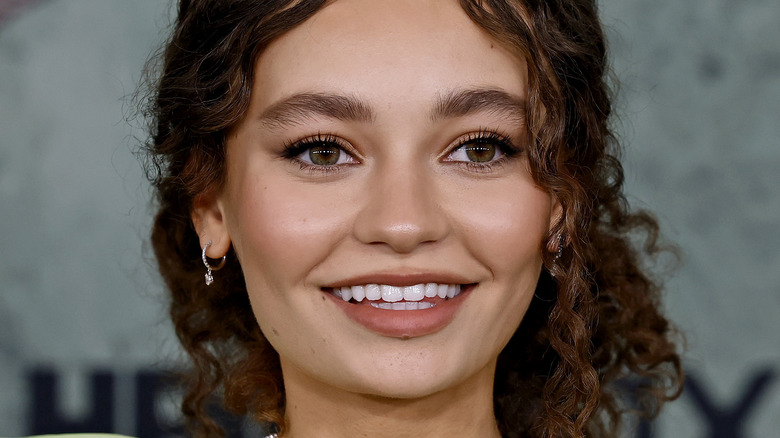 Frazer Harrison/Getty Images
After making her acting debut in director Tim Burton's 2019 live-action adaptation of Walt Disney's "Dumbo," actor Nico Parker is facing a much different kind of beast in "The Last of Us" — a virus that leads to a brain infection and, ultimately, animalistic behavior in humans worldwide.
In "The Last of Us" — an adaptation of the 2013 blockbuster video game, debuting on HBO and HBO Max on January 15 — Parker stars in the pivotal role of Sarah, the daughter of Joel Miller (Pedro Pascal). Once the brain infection — caused by the Cordyceps fungus — hits the masses, Joel, his brother Tommy (Gabriel Luna), and Sarah attempt to flee the chaos, which leads to a life-altering tragedy involving the young teen.
Twenty years later, Joel has become an expert smuggler, and he finds purpose in the dangerous task of smuggling a young teen, Ellie Williams (Bella Ramsey), out of a heavily guarded quarantine zone. It appears that Ellie is immune to the zombie-like Cordyceps virus, which could lead to the development of a vaccine to save the world.
Parker is no stranger to showbiz. In addition to having roles in the mystery series "The Third Day" and the sci-fi drama "Reminiscence," she's learned quite a bit about the entertainment industry through her mother, actor Thandiwe Newton, and father, writer-director Ol Parker. In an exclusive interview with Looper, Nico Parker details her work with Pascal and thoughts about the video game adaptation, shares the advice she got from her showbiz parents, and recalls her first big steps in the business under the direction of Burton.
Nico Parker says Pedro Pascal quickly became a pal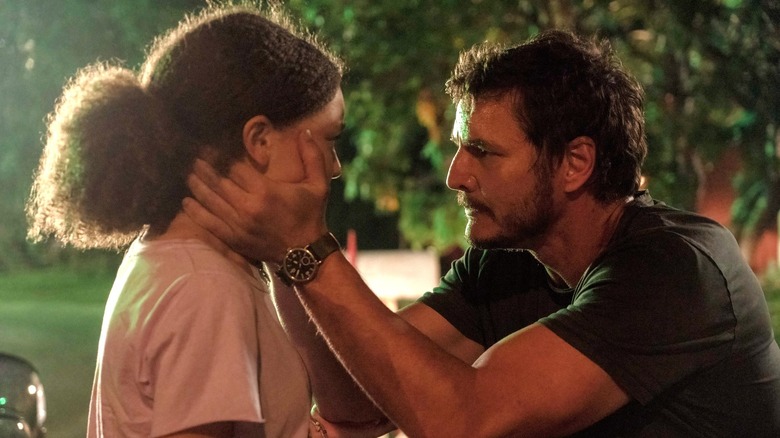 Shane Harvey/HBO
While you grew up around acting, with your mom, Thandiwe Newton, and her wonderful career, do you still get starstruck? Your dad in this series is Pedro Pascal, and he also happens to be playing this character known as the Mandalorian.
Yeah, he is wonderful. The first time we spoke was on Zoom, and I remember being [like], "Oh my god." Then I joined [the call], and within five minutes, I was like, "Oh, this is Pedro." Immediately, he's so good at making people feel comfortable, [so] that element of [being starstruck] wore off quite quickly. But I get starstruck all the time. I'm pinching myself constantly.
Did you try to trick him into dropping any spoilers for "The Mandalorian"?
I actually didn't because I think he probably would've if I really pushed for it! But no, I didn't try. But I feel like I should've. I mean, not really!
Parker is thrilled that The Last of Us has 'some real substance'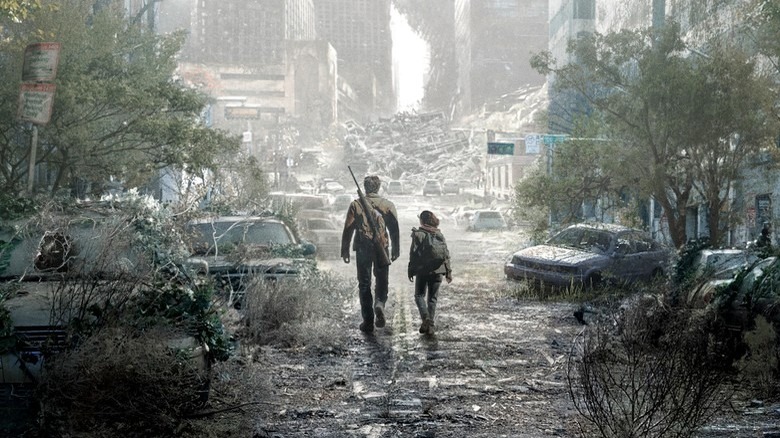 HBO
How familiar were you with the video game version of "The Last of Us"?
I [was familiar with] the video game before being in any way involved [in the show]. I [was familiar with] it a good few years ago. I've never played the game, but I used to watch other gamers play the game, so I was fully aware of it prior to being involved. If anything, I became less involved with [the game] the more involved in the show I became.
Whether you are a gamer or not, a series like "The Last of Us" is really interesting [because] it shows [the game is] not a mindless video game. There's some real substance to it. It really deserved to be turned into a major streaming event.
I feel what's drawing people in so much is the characters, and [also] the storyline is what keeps people hooked. Because I'm not particularly one — especially when I was younger — I'm not one for blood and gore, but it felt like the game was so much more than that in a way that now feels like it perfectly is reflected in television. There's such a strong story at the core of it that was wonderful to [see] turned into a show.
Nico Parker admits she has a hard time watching her own performances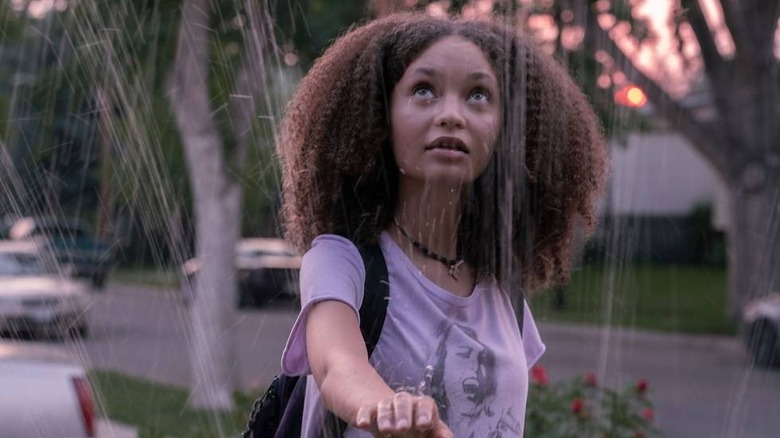 Shane Harvey/HBO
How are you able to detach yourself from the project when you want to watch it as a viewer and as a fan? Is it difficult? Were you able to separate yourself and get engaged like any other viewer would?
I'm awful at watching myself regardless of anything, but I can watch the rest of the show, and I can watch everyone doing a phenomenal job with ease and be as enthralled in it as anyone. Just because you know the people doing it doesn't make their performances any less compelling. So that makes it easier, but I feel like I'm not good at watching myself. 
My dad always says that you have to watch it three times. The first time you watch it is incredibly [tough because] you're honing in on yourself and having a terrible time because you're conscious of the way that your hair looks or the way that you said one line or whatever. The second time you watch it, you're watching how everyone's interacting with you. Then the third time you watch it, all of those selfish [feelings go away]. Whatever [you felt] staring at yourself and [at] everything around you gets thrown out the window, and you can watch it in its fullest form. 
So I need to watch it three times before I can fully appreciate it. [That] is when [I'm closest to] watching it in the way that a viewer would watch it. I remember [watching] the first interaction with an infected person, and even though [I know] there's hundreds of people behind the camera, I'm still horrified and thrilled.
Pedro Pascal was pivotal in developing their father-daughter dynamic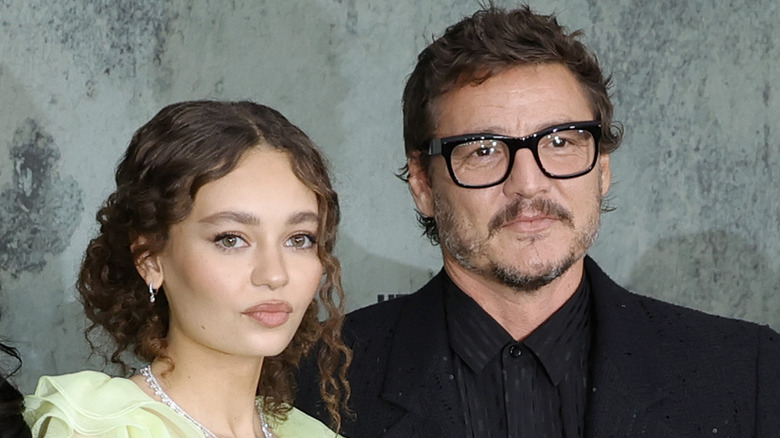 Frazer Harrison/Getty Images
I'm glad you brought up your father, Ol Parker, as well. He's a terrific filmmaker. Since your role with Pedro Pascal in "The Last of Us" is about a child-and-parent relationship, did you seek out your mom or your dad and get advice before filming since they're in show business?
The people that I would really seek out would be the people that I'm acting alongside. The easiest person to talk to in terms of wanting to create that dynamic and wanting it to translate well on screen was Pedro because we both have a common goal and we are the ones that have to [achieve it] eventually. He's wonderful to work with. He is the dream fake father, on-screen parent. It was incredible.
I'm a huge Tim Burton fan and loved "Dumbo," in which you had your first starring role. Is there anything that you learned from Tim during filming that enhanced your approach as an actor going forward?
It was such a long time ago, but I remember constantly being in awe of him. He's wonderful to work with. He was incredibly lovely and sweet and kind, and also incredibly dedicated.
The thing that I learned the most from him is how focused he is constantly and that we should all be acting in accordance with that. He's constantly listening, constantly watching, and he's very honed in on his work, and that was something that made you want to match the pitch and be doing the same thing. He was wonderful.
Also starring Anna Torv, Nick Offerman, Murray Bartlett, and Merle Dandridge, "The Last of Us" premieres Sunday, January 15 on HBO and HBO Max, with new episodes debuting every Sunday through March 12.
This interview has been edited for clarity.