The Last Of Us Star Gabriel Luna Describes His Character Tommy As A 'Kindred Spirit' (& With Good Reason)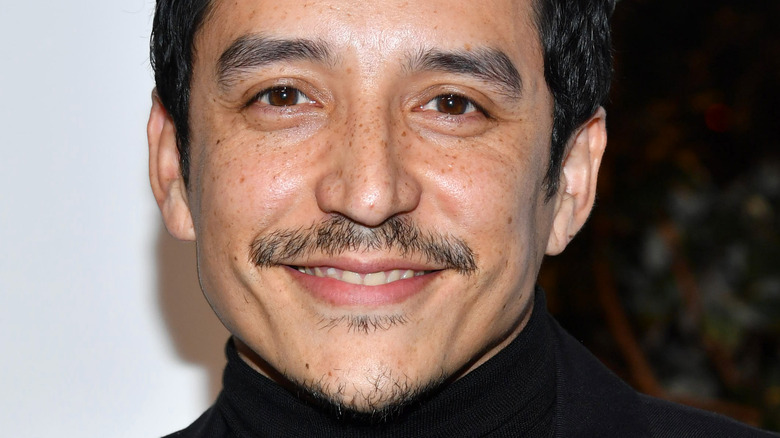 Amy Sussman/Getty Images
Of course, part of the fun of playing the global blockbuster video game "The Last of Us" stems from how gamers can step in the shoes of the characters during their thrilling adventures to defeat zombie-like humans known as "The Infected," or at the very least, identify with others as the game's story plays out. The latter scenario in the 2013 video game is what Gabriel Luna experienced filming the role of Tommy in the TV adaptation of "The Last of Us," and as it turns out, the similarities he has with his character took the actor by pleasant surprise.
Luna has amassed more than 25 roles in his screen career, which began in earnest in 2008 with a guest role in the Fox Television crime drama "Prison Break." Since then, Luna has starred in several high-profile projects, which include "Marvel's Agents of S.H.I.E.L.D.," where he played Ghost Rider; and the "Terminator" reboot "Terminator: Dark Fate," where he starred as Gabriel, aka Rev-9, a technologically advanced cyborg from the future. The projects proved to be valuable to Luna while preparing to play Tommy Miller in "The Last of Us," since the series came with the same sort of expectations that stem from a project with a massive, built-in fanbase.
"I was lucky that I had that previous experience with the 'Terminator' and with the Marvel stuff," said during a roundtable press event attended by Looper. "You have millions of fans that are relying on you to love the character the way they do. And I met that requirement as a fan myself and as someone who truly responded with love and excitement and satisfaction with my experience with the game."
As it turns out, Luna loved the game so much that the burden of fan expectations was all but completely lifted off his shoulders once he began his research.
Luna says he went from an actor researching a role to an actual fan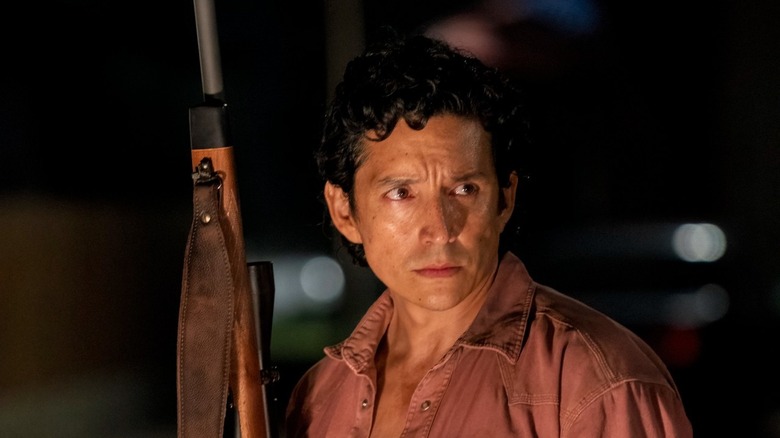 Shane Harvey/HBO
In "The Last of Us" series, Gabriel Luna's Tommy Miller is the younger brother of Joel Miller (Pedro Pascal). Along with Joel and his daughter, Sarah (Nico Parker), Tommy experiences the outbreak of the Cordyceps brain infection pandemic in horrifying detail as the brothers are readying themselves for a construction job in their home state of Texas. After a tragic event involving Sarah, the story of "The Last of Us" picks up 20 years later, where we find out Joel has become an expert smuggler. His skills are desperately needed, considering he has to transport Ellie Williams (Bella Ramsey) — a young teen who appears immune to the virus — across the post-apocalyptic U.S. in hopes of finding a cure.
During the roundtable event, Luna said he approached playing Tommy with great reverence, knowing how much the character means to fans. "I liken it to having to play a historical figure or somebody who has lived, because Tommy has been a real character, a real person to all of us who played the game for 10 years now," Luna said.
But something interesting occurred while Luna was playing the video game to familiarize himself with Tommy: He went from an actor studying to play a role to becoming a huge fan engaged in the video game. "You certainly want to do your research, and in this case, your research is playing one of the best video games of all time. So, that's not a bad gig," Luna said with a smile. "And so, I fully went into it trying to being ready to see Tommy and study Tommy, and then immediately that all evaporated. [I was] just a fan playing the game. So, [I had] to recalibrate. [I thought to myself], 'Okay, I actually need to pay attention to this particular element of the story.'"
Capturing the spirit of Tommy
Paul Archuleta/Getty Images
In "The Last of Us" series, Gabriel Luna takes over the role of Tommy from Jeffrey Pierce, who brought the character to life via motion capture for the video game. While studying Pierce's performance, Luna said he realized he could not only act like Tommy but become Tommy, since he and the character had many striking similarities.
"What I discovered about Tommy just in the game and in Jeffrey's performance ... I found that he was very much like me. We grew up in the same place, born and raised in the same town in Austin, [Texas]," Luna said during the roundtable event. "We carry ourselves in the same way. I was never a military man myself, but many of my family are military. I've trained many times to portray men in the service."
By realizing all of the similar qualities he and Tommy had, Luna said he "felt kindred" with the character. "I really did. I felt the kindred spirit in his character and what he's like. So, yeah, I did absolutely utilize the game and try to absorb as much as I could have," Luna said. He added that he discovered he can be himself while playing the part and that would still be enough to give the Tommy character the energy it needs.
"The Last of Us" premieres Sunday, January 15 on HBO and HBO Max, with new episodes debuting every Sunday through March 12.