13 Edgar Allan Poe-Inspired Projects To Check Out After Watching The Pale Blue Eye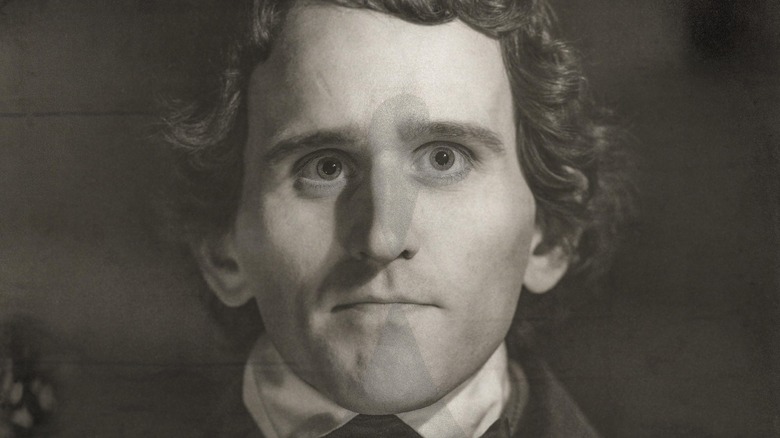 Netflix
"Once upon a midnight dreary," the world underestimated a young poet by the name of Edgar Allan Poe. The man whom society often regarded as morose and odd went through great pains to publish his poems and short stories, never knowing that only after his death would he become a household name. It's an ironically tragic sentence for someone who dealt so heavily within the confines of loss and the human psyche. Yet, nothing held Poe so firmly in its grip as love. 
Though Poe doesn't scream "soldier," circumstances led him to West Point in 1827 (via US Army Corps of Engineers). Naturally, Poe wasn't long for military life, and that's where the Netflix film "The Pale Blue Eye" takes us. Harry Melling brilliantly takes on the role of a young Poe with a lilting Southern drawl. And even though the pacing is fairly slow at times, his chemistry with Christian Bale's Augustus Landor keeps the mystery of discovering dead bodies on campus compelling. The film meshes the reality of Poe's alcoholism, his capacity to love, and his fondness for mystery into an authentic period piece that sometimes makes you forget that Melling isn't actually Poe. Between movies like 2012's "The Raven" and Vincent Price's many Poe masterpieces, here are 13 Poe-inspired projects to sink your talons into after "The Pale Blue Eye." 
The Raven (2012)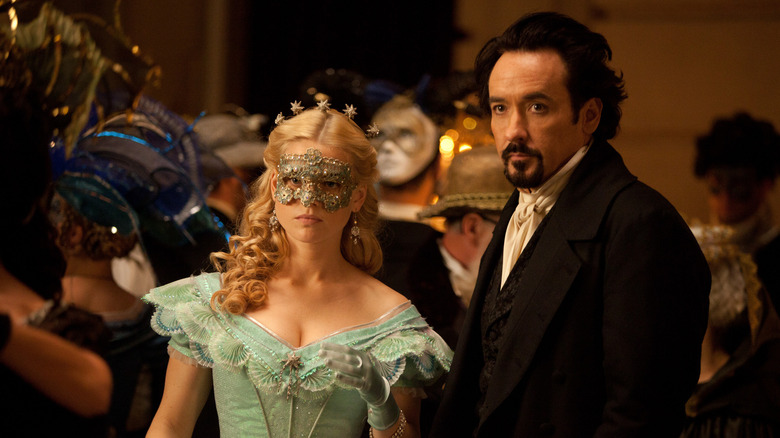 Relativity Media
Experts have long debated the circumstances of Poe's death. Everyone loves to dive into Detective Dupin's mysteries, but Poe's own death is nearly as compelling to his fans as his writing. Naturally, the mystery of Poe's demise has wound up in more than a few projects inspired by the macabre poet, including the 2012 film, "The Raven." 
There's no denying that Poe lived a tragic life and that this darkness crept into many of his most celebrated works. Sure, Poe loved gothic horror, but he wrote about all-consuming loss with a beauty that only someone who lives and breathes through love could ever manage. Like "The Pale Blue Eye," "The Raven" fictionalizes Poe and honors the passions of his life just as viscerally as his death. Poe's wonder, romance, and fierce loyalty are ever present in these modern takes on Poe's life. With a dream team comprised of John Cusack as Poe and Luke Evans as Detective Fields, the film succeeds — even if the trope of a writer investigating murders inspired by his works is a little played out. "The Raven" is a lovely poem of a film that shifts between fiction and slices of reality, giving fans fictional closure to Poe's death. The writer had so little autonomy over his life and losses that giving him control over his death in the name of love, even fictionally, is rather poetic. 
Wednesday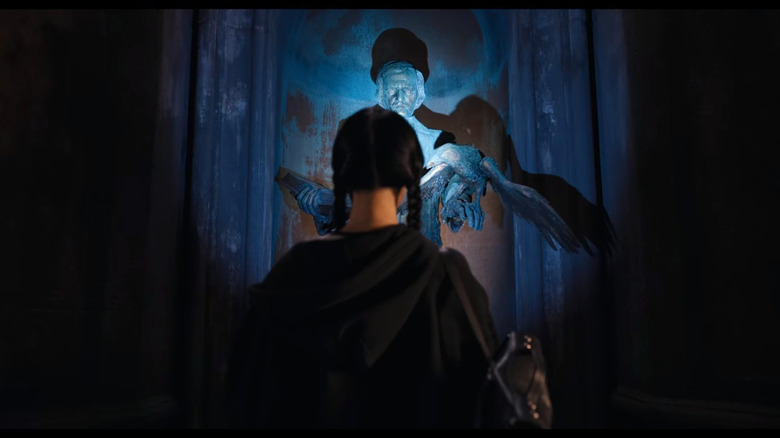 Netflix
It should come as no surprise to "The Addams Family" fans that the original cartoon's creator was inspired by Poe. In October of 1973, Charles Addams even published a Poe-centric cartoon in The New Yorker. Given Wednesday Addams' (Jenna Ortega) disposition, it's only natural that her school, Nevermore Academy, in the Netflix series "Wednesday," is named for the pivotal word in the haunted writer's most famous poem. Not only is Wednesday a mystery writer in the show, but she also wears a detective hat as she unravels her school's secrets. The callbacks to Poe and "The Raven" continue with Principal Weems' (Gwendoline Christie) stuffed raven that looks eerily similar to Charles Dickens' raven, Grip, said to be the inspiration for the poem. 
Additionally, a Poe statue marks the entrance to a secret library in the school that's only accessible to students in a secret society. Yet, the homages don't stop there. Wednesday reveals that Poe attended Nevermore Academy, which is a nice thought, all things considered. "The Pale Blue Eye" tackles the writer's tumultuous time as an outcast at West Point, but there's no telling what he could have accomplished in a setting that would allow Poe to embrace his oddness.
Roger Corman and Vincent Price's Poe films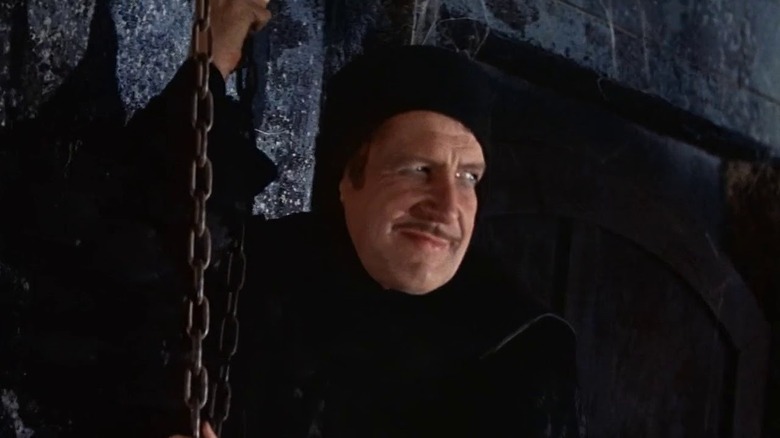 American International Pictures
There's a reason Edgar Allan Poe movies are synonymous with Vincent Price and Roger Corman. Like Bill Skarsgård, Price had an ambiguous, unpredictable quality. You're never quite sure if he's the villain, making him the perfect choice to take on many of Poe's most layered characters. With a slate of narrators and protagonists teetering on the edge of sanity and darkness, Poe's characters require an actor who can effortlessly turn on a charming, mysterious vibe. 
In roles like Dr. Erasmus Craven in "The Raven," the Medinas in "The Pit and the Pendulum," and Roderick Usher in "House of Usher," Price brought a terrifying consistency to the adaptations of Poe's most lauded works. Together, the duo of Price and Corman created seven beloved Poe films that honor the spirit, if not the letter, of their source material. For example, while the atmospheric "The Haunted Palace," released in 1963, takes its title from Poe's poem, it's actually an adaptation of H.P. Lovecraft's "The Case of Charles Dexter Ward."
Influenced by Corman's films, Tim Burton demonstrated his passion for Poe long before "Wednesday" was a blip on the radar. In 1982, Burton wrote and directed the short film "Vincent." Narrated by Price, it chronicles the woes of a young, misunderstood boy. "Vincent" is equal parts a love letter to Poe and a tribute to Vincent Price.
Extraordinary Tales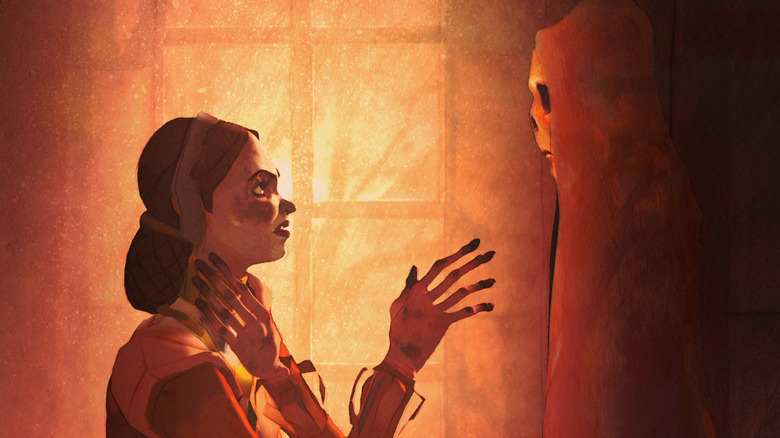 Mélusine Productions
Fans often paint Poe with one brush, but he had a depth beyond even the world's darkest pits (and pendulums). Raul Garcia's 2013 anthology, "Extraordinary Tales," doesn't get the love it deserves, despite being filled with heart (and pesky floorboards). Each of the five included stories takes on a life of its own with vastly different animation styles and narration.
Viewers walk through Poe's literal graveyard of fallen protagonists as the writer goes up against Death herself to avoid facing those he lost to the afterlife. The film weaves a tapestry of Poe's tales, including "The Fall of the House of Usher" and "The Facts in the Case of M. Valdemar." The stunning and contrasting animation in the film is one of the most tangible artistic representations of the haunting beauty of Poe's prose. The symbolism is on the nose, at times (like Poe's depiction as a raven). However, details like the ill-fated women from Poe's real and imagined worlds appearing as delicate paper figures are striking. Death almost therapizes Poe's works and what they mean to his loss and survivor's guilt. 
The narration includes heavy hitters like Christopher Lee, Bela Lugosi, and Guillermo del Toro. The end of the collection also honors Poe's death with a nod to his original "The Raven"-inspired headstone, accompanied by brandy and a rose — a reference to the anonymous Poe Toaster.
The Following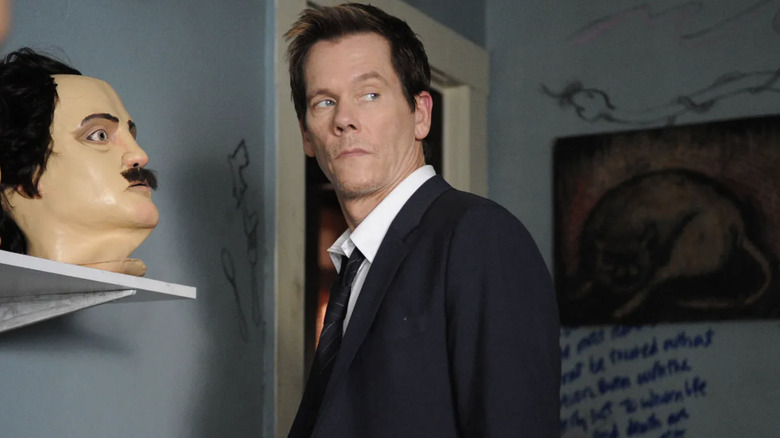 Warner Bros. Television Distribution
On some levels, Kevin Bacon's series "The Following" may seem like it fundamentally misunderstands Edgar Allan Poe. Yet, it's not the serial killer who idolizes Poe's brutal fiction that is most like the writer, but Bacon's character, Ryan Hardy. The show hinges on Poe enthusiast and serial killer Joe Carroll (James Purefoy) as he amasses a cult from inside prison. The mystery aspects of the show fire off much quicker than "The Pale Blue Eye," but then again, cars are faster than horses.
Of course, Joe projects his killer tendencies onto Poe's stories, claiming that the poet viewed death as art. In reality, Poe's death-centric pieces were a coping mechanism to deal with his loss and an attempt to understand death and madness. Tragic tales like "Annabel Lee" aren't romanticizing death but chronicling the sorrow of a beautiful life cut short.
Despite Carrol's literary focus, the former professor can never truly understand Poe, whose ability to feel and empathize was unparalleled. Like Poe, Agent Hardy is begrudgingly compassionate and uses alcohol to numb his grief-stricken psyche. Meanwhile, Carroll is a bloodthirsty sociopathic cult leader warping the writer's legacy for his own gain. Agent Ryan Hardy is the Poe parallel the series needs to balance out Carroll's twisted interpretation.
If you or anyone you know needs help with addiction issues, help is available. Visit the Substance Abuse and Mental Health Services Administration website or contact SAMHSA's National Helpline at 1-800-662-HELP (4357).
The Fall of the House of Usher (2023)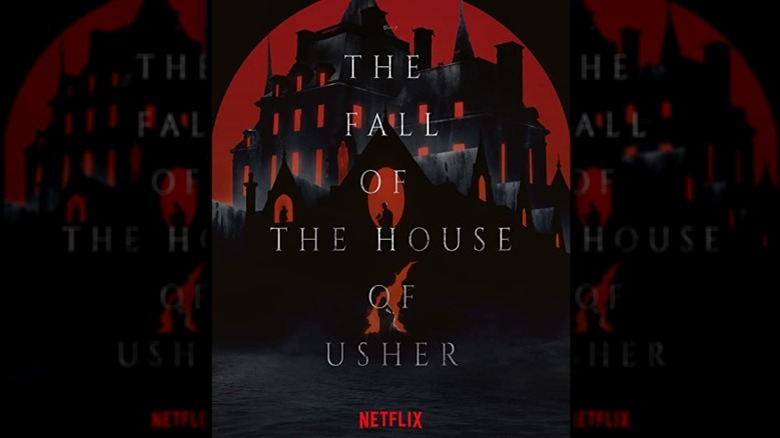 Netflix
It's about time Mike Flanagan adapted one of Poe's works, and there's no better option for the director than "The Fall of the House of Usher." Flanagan's terrifying work on Netflix shows like "The Haunting of Hill House" and "The Haunting of Bly Manor" display an enthralling aptitude for converting short family-driven stories into masterful miniseries. And with a cast that includes Mark Hamill, Willa Fitzgerald, Carla Gugino, and Mary McDonnell, the guy clearly knows what he's doing.
This upcoming show is a first for a strict, modern TV adaptation of Poe's work, allowing us an even deeper look at Roderick Usher's (Bruce Greenwood) dwindling sanity and the many secrets of the Usher family mansion. Like "The Haunting of Hill House," Flanagan adds his take on another dysfunctional sibling dynamic with implied paranormal aspects in a house that's a character in its own right. The director knows how to make goosebump-inducing horror without overdoing the special effects, instead focusing on the lead-up to a scare. That being said, his ghosts are still chilling and believable.
The Simpsons Treehouse of Horror — The Raven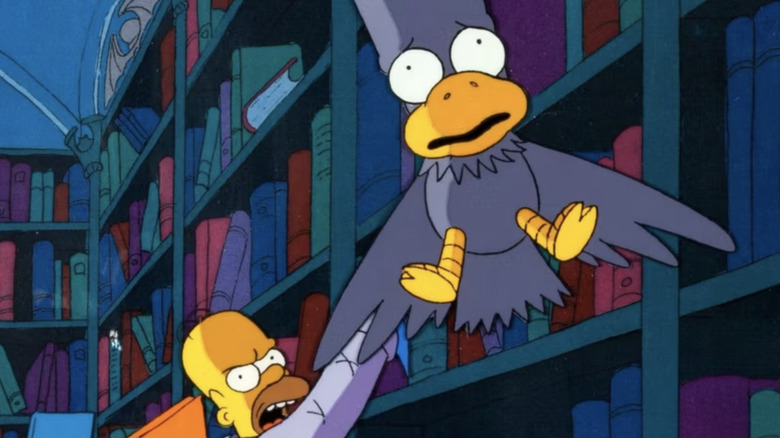 20th Television
Why so serious, Poe fans? After all, Poe was known to compose humorous works now and again. The first of the fan-favorite "The Simpsons Treehouse of Horror" Halloween specials depicts a satirical rendition of "The Raven." Surprisingly enough, it's also one of the most authentic. Sometimes, projects inspired by Poe try to match his vision so profoundly that they fail to capture the original magic. It's impossible to duplicate Poe, so the best adaptations of his works often come from bold choices.
Fans often conflate Poe's focus on death as a fascination and a macabre longing. Yet, the writer got no satisfaction or sick thrill from death. "The Raven" isn't a story of insanity at all, but one of a grief-stricken man inundated with reminders of the woman he loved and lost. The raven manifests that grief, taunting the narrator (James Earl Jones) with what he can't have. "The Simpsons" iteration may be silly and satirical at times, but it understands the assignment.
Nevertheless, "The Simpsons" creator Matt Groening was wary of including the bit. During the audio commentary for the Season 2 episode, he said, "I remember watching this in animatic, and I was so frightened that this was going to be the worst, most pretentious thing that we'd ever done ... It turned out great."
The Black Cat (1934)
As fun as it is to step into Poe's world via modern filmmaking, it's still interesting to watch his tales play out in older styles throughout the decades. In 1931, Bela Lugosi portrayed the most iconic iteration of Dracula that pop culture has yet seen. Later the same year, Boris Karloff also became an instant horror legend with his pathos-filled turn as the monster in James Whale's "Frankenstein." Only three years later, "The Black Cat" snagged Lugosi as Dr. Vitus Werdegast and Karloff as his nemesis, the satanic Hjalmar Poelzig. Like Vincent Price, Lugosi and Karloff had that mystifying energy that makes it seem like there's more than meets the eye — an essential trait for horror films. 
Much like "The Pale Blue Eye," this in-name-only version of "The Black Cat" (the opening titles state the film was "suggested by" Poe's story) creeps, drawing out the suspense with foreboding imagery. Though they take place in two very different periods with wildly divergent aesthetics, the movies feel similar in their understated way of honoring Poe's spirit, despite "The Black Cat," with its story of post-war betrayal and vengeance, being completely unrelated to the author's original story. Still, if you've ever been to the basement in Philadelphia that may have inspired Poe to write "The Black Cat," the movie perfectly captures that barren eeriness with its sets.
Fool's Fire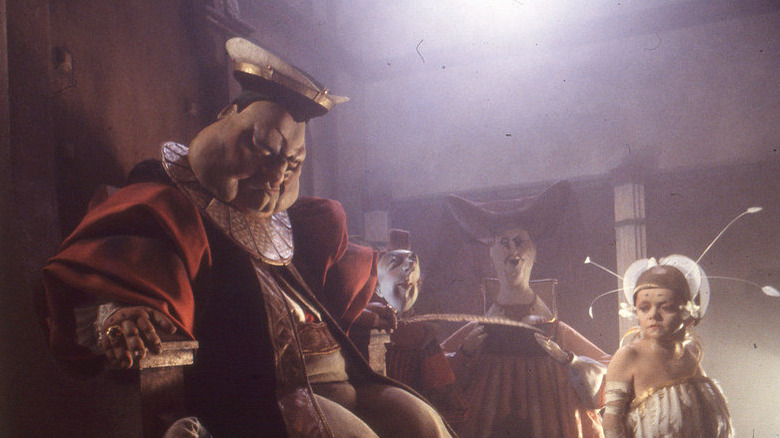 PBS
"Fool's Fire" just might be the weirdest Poe adaptation, but that makes it one of the most fascinating. The 1992 art film takes its inspiration from Poe's short story "Hop-Frog," which tackles the plight of an unfair class system and a power-hungry king. Classism isn't necessarily the first thing that comes to mind when you think of Poe, but the theme plays out in more than a few of his works, including "The Masque of the Red Death."
In "Fool's Fire" and "Hop-Frog," a mistreated jester plots his revenge on a king who takes pleasure in tormenting his subjects and servants. The art style incorporates live-action and animation, creating a captivatingly eerie aesthetic that feels like a fever dream. Although it's not the main focus of "The Pale Blue Eye," the film criticizes the entitlement of class — something Poe would no doubt respect. The Marquis family is more than familiar with using their wealth and status to have their maids sweep their dirt under the rug, but their misdeeds eventually come back to burn them.
The Crow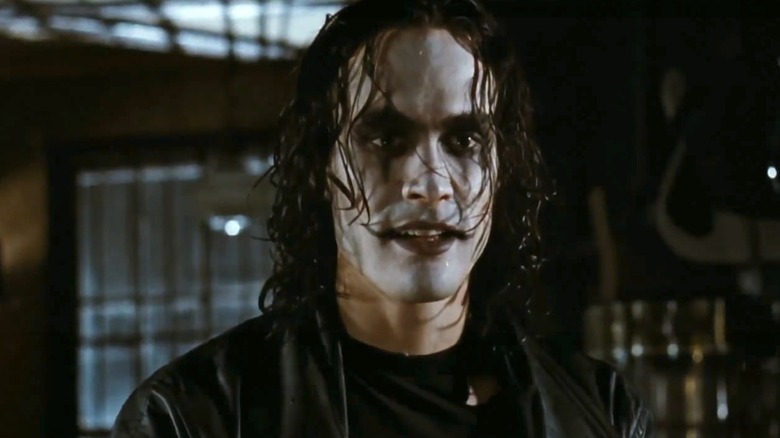 Miramax Films
There's no fictionalized version of Poe in "The Crow," nor is it a direct adaptation of his works, but the inspiration is tangible nonetheless. Mirroring many of Poe's protagonists, Brandon Lee's Eric Draven (who happens to have the word "raven" in his name), suffers the loss of the love of his life. The 1994 film leans into its inspiration even more when Eric taunts pawn shop owner Gideon (Jon Polito) by reciting a passage from "The Raven." He says, "Suddenly, I heard a tapping, as of someone gently rapping, rapping at my chamber door." Eric then asks, "You heard me rapping, right?" Sometimes subtle is overrated.
"The Crow" is far more action-packed and revenge-driven than "The Pale Blue Eye," but the motif of love and loss, something Poe fans are all too familiar with, is everpresent. Much like Poe, Brandon Lee met a tragic, early end. Due to a gun mishap on the set of "The Crow," the actor didn't live long enough to see the results of his hard work (via USA Today). Similarly, Poe didn't live to see the massive success of his writing, having made little money and achieving scant notoriety during his life.
The Tell-Tale Heart (1953)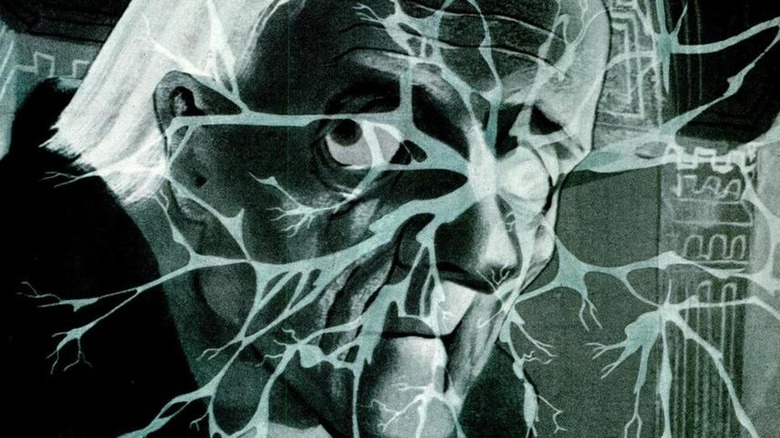 Columbia Pictures
Sometimes, less is more. Poe adaptations don't always need to be long. Clocking in at just under eight minutes, Ted Parmelee's 1953 adaptation of "The Tell-Tale Heart" understands that running time isn't everything. The events of the animated story begin with this chilling passage: "This story is told through the eyes of a madman ... who, like all of us, believed that he was sane." James Mason narrates the eerie tale, accompanied by minimalistic animation that lets the viewers' minds fill in the terrifying blanks.
However, be sure to read the original story first because plenty of moments are condensed, and the short film focuses more on the narrator claiming that he isn't mad than the paranoia and guilt of the original tale. With animation, though, there's less need for the narrator to explain the film's action. Nominated for an Academy Award for best short subject, cartoons, Parmelee's film is striking in its own right. Guillermo del Toro also praised the short on Twitter, giving it an "A+++" rating.
If you or someone you know needs help with mental health, please contact the Crisis Text Line by texting HOME to 741741, call the National Alliance on Mental Illness helpline at 1-800-950-NAMI (6264), or visit the National Institute of Mental Health website.
Stonehearst Asylum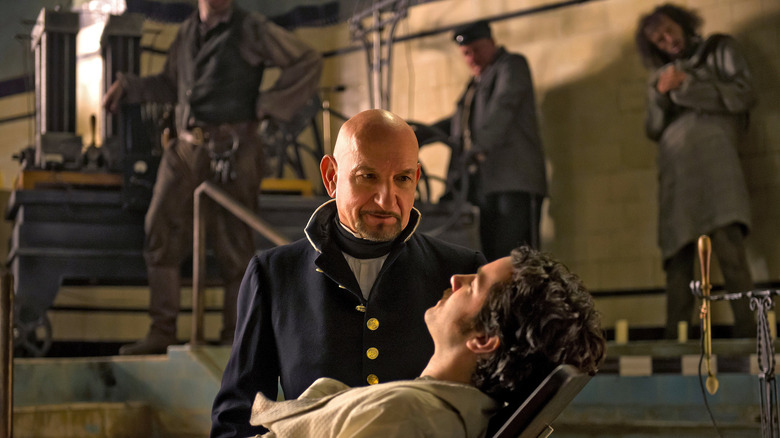 Millennium Media
It's no secret that Poe often used his writing to push the boundaries of science and our understanding of the human psyche. Most people are familiar with works like "The Tell-Tale Heart" and "The Raven" that broach the subject of insanity. Set in a sanitarium where the patients are in charge, his satirical short story "The System of Doctor Tarr and Professor Fether" takes the subject to new heights. As with "The Pale Blue Eye," the 2014 movie "Stonehearst Asylum" takes a modern approach while keeping the story set in the past. 
Critics and fans alike weren't too kind to this film starring Kate Beckinsale, Michael Caine, and Ben Kingsley (via Rotten Tomatoes). "Stonehearst Asylum" tackles the despicable treatment of women in mental health facilities — like locking a woman up for "hysteria" in the wake of domestic violence. The movie also puts a villainous spin on the cruel doctors while offering fans a narrator so unreliable that they'll question what's real. Additionally, Eliza Graves is a self-saving woman who won't fall to her grave, and Poe might have appreciated the romanticism of a woman choosing her own fate in the wake of death.
If you or someone you know is dealing with domestic abuse, you can call the National Domestic Violence Hotline at 1−800−799−7233. You can also find more information, resources, and support at their website.
Kelly Creagh's Nevermore trilogy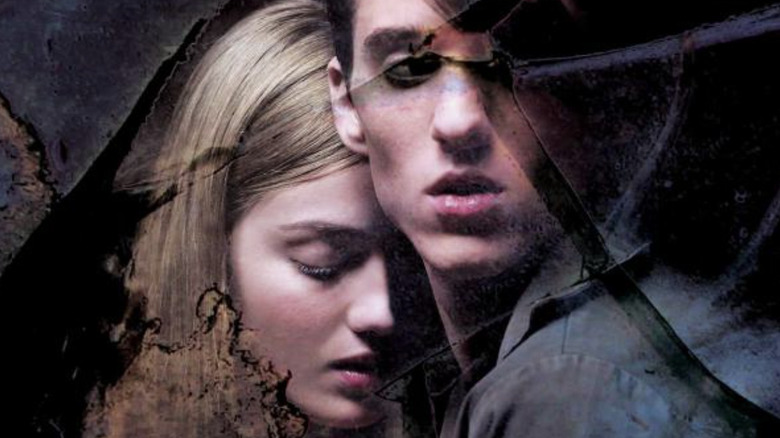 Atheneum Books
Sadly, we'll never experience the joy (and piercing sorrow) of an entirely new piece of writing from Poe. Nevertheless, his tales leave endless possibilities for the writers of our time. While adaptations of his most famous works are a dime a dozen, it's refreshing when authors breathe new life into Poe's many worlds.
In 2010, Kelly Creagh did just that with her "Nevermore" trilogy. Taking a page from Poe's book(s), Creagh crafts the "Annabel Lee"-adjacent love story of Isobel Lanley, a glitzy cheerleader with more layers than a tulle skirt, and the seemingly jaded and morose Varen Nethers. Poe is everpresent in this narrative of a lonely, abused teenager swept up in a demon's lies. Yet, instead of Varen saving Isobel, she has to save him — and in formalwear, no less.
Like "The Pale Blue Eye," a fictionalized version of Poe graces the pages of the trilogy, which offers its own explanation for the writer's mysterious death and the one word he allegedly spoke on his deathbed: "Reynolds." The series is packed with references to Poe's work, including lesser-known pieces like "Dream-Land," "Ullalume," and "Ligeia." Creagh expertly spins a web of prose and poetry, connecting Poe's landscape with her own. The metaphors, imagery, and original poetry make it seem like Poe is still alive within the pages. It's "sweet, soft demolition," indeed.