The Entire NCIS Timeline Explained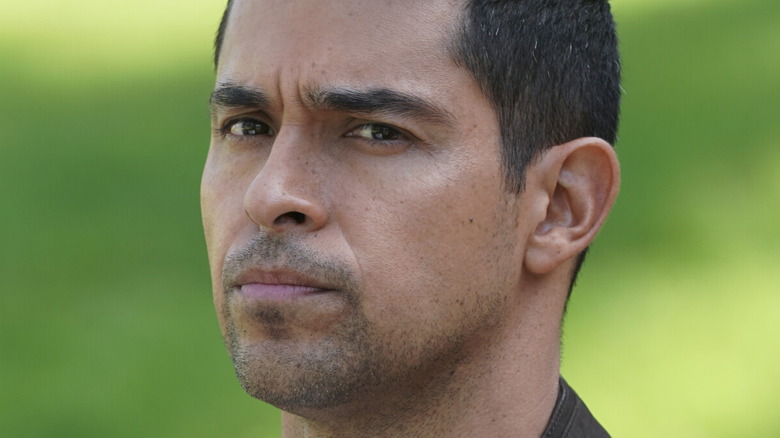 CBS
Though it began as a simple, inauspicious backdoor pilot during the eighth season of "JAG," CBS's "NCIS" has ballooned into one of the biggest TV franchises ever, long outlasting the series that spawned it and now featuring multiple spin-offs and crossovers of its own. Taking a group of special agents in the Naval Criminal Investigative Service as its focus, the procedural follows the group's investigations into criminal cases involving Marine and Navy personnel and their loved ones. But it's the cast of characters that have kept many fans tuning in since 2003. With the former Marine Sniper Leroy Jethro Gibbs (Mark Harmon) leading the main series, each new show has launched its own ensemble cast for viewers to look forward to seeing with each entry.
The timeline of "NCIS" specializes in catering to fans and newcomers alike, with endless guest spots and crossovers that seldom require full knowledge of the corresponding series to enjoy. Yet, with so many episodes in the can and several spin-offs having come and gone over the last two decades, it can still be a little difficult to know quite where to begin. Fortunately, you don't have to watch every episode of "NCIS" to understand the general timeline. As sprawling media franchises go, this one is actually surprisingly straightforward, as long as you've got a nudge in the right direction.
The JAG episodes that started it all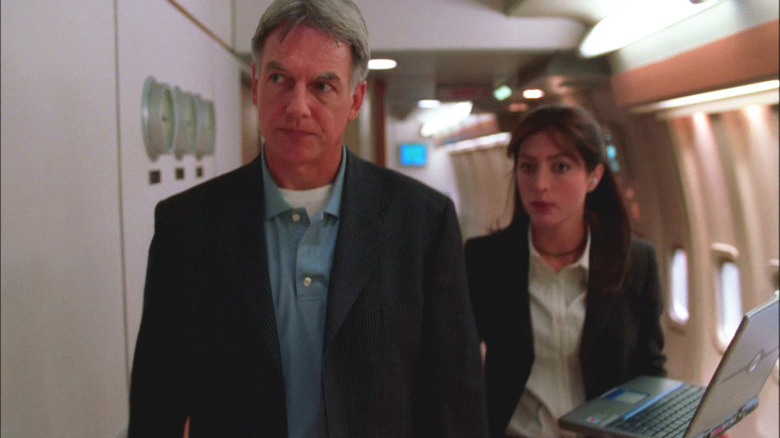 CBS
Late in the eighth season of "JAG," a two-parter dropped introducing some of the major recurring characters that would soon spin off into "NCIS." These episodes, "Ice Queen" and "Meltdown," kick off with a kid discovering the body of Lieutenant Singer in the woods. The investigation wastes no time in introducing us to Gibbs, DiNozzo (Michael Weatherly), and Dr. Mallard (David McCallum), and their detective work involves them with the main cast of "JAG" as they attempt to uncover who ended Singer's life. "JAG" regular Commander Rabb (David James Elliott) becomes a main suspect, but Gibbs believes that he's being framed and the real killer remains at large.
New evidence pops up in the second chapter that allows for Rabb to be freed while an apparent terrorist attack is narrowly avoided. The two-parter doesn't answer every question it poses, as the mystery of who the father of Singer's baby is goes unsolved and more or less forgotten by the episode's end. But Rabb is vindicated after all and many of the longest recurring "NCIS" cast members have been introduced by the time the credits roll. We would see these characters again shortly in the first episode of "NCIS," which debuted only about six months after these "JAG" episodes aired.
NCIS Seasons 1-6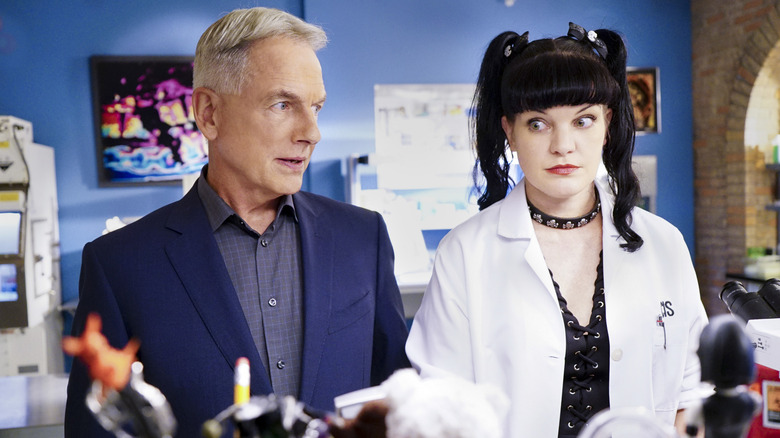 CBS
Though "JAG" drew to a close with the final episode of its 10th season in 2005, "NCIS" was just picking up steam. While the first season explored the setting and naval themes and served to establish the tone of the series, the second leaned into developing the central cast and adding depth and backstory. It also added the dramatic two-second black and white clips, called "phloofs," which helped to establish the ongoing aesthetic of the show. Agent Todd is killed in the finale, "Twilight," leaving Gibbs on the hunt for revenge right as his ex and the new NCIS director, Jenny Shepard (Lauren Holly), arrives on the scene. We learn more about Gibbs's past, as well as his relationship with his ex-wife and their daughter.
The fourth season saw Gibbs pull back for a bit due to a preventable tragedy as DiNozzo stepped into leadership, while the fifth and sixth seasons continued to explore Gibbs's character more thoroughly and introduced some new cast members along the way. Gibbs would stay with the series until late in the 18th season, making him perhaps the most popular among "NCIS" mainstays, but characters like forensics specialist Abby Sciuto (Pauley Perrette), special agent Timothy McGee (Sean Murray), and others also made an impact due to the series showing their unique responses to their work of investigating horrific crimes. At any rate, "NCIS" remains a ratings monster today (via The Hollywood Reporter), and these were the seasons that established it as such.
The introduction of NCIS: Los Angeles in Season 6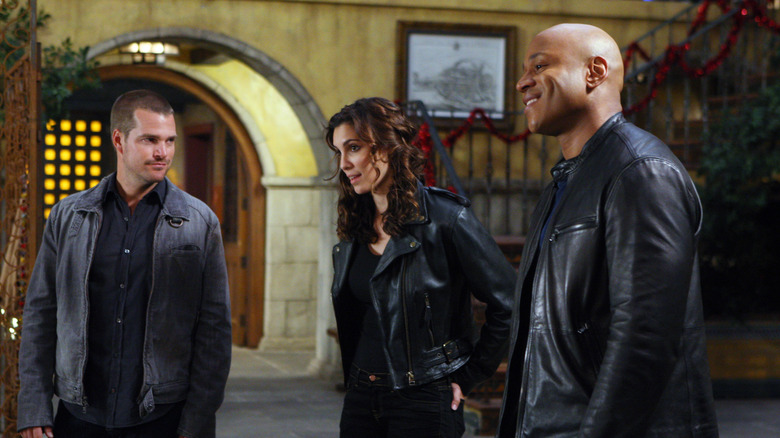 CBS
Near the end of the sixth season of "NCIS," our pals Gibbs and McGee make a little trip to Los Angeles to investigate the murder of a Marine, with all clues pointing toward an inactive terrorist cell. This two-parter would pave the path that would soon launch the first "NCIS" spin-off with "NCIS: Los Angeles." These two episodes, titled "Legend Pt. 1 and 2," introduce much of the central "LA" crew, first and foremost being Office of Special Projects (OSP) agent G. Callen (Chris O'Donnell), along with his fellow OSP agents Sam Hanna (LL Cool J), Kensi Blye (Daniela Ruah), Nate Getz (Peter Cambor), and Eric Beale (Barrett Foa).
Meanwhile, "NCIS" regular Agent Ziva David (Cote de Pablo) is put in the hot seat as it's discovered that her boyfriend Michael Rivkin is working at odds with the agents. This would have catastrophic effects through the last couple of episodes of the sixth season of "NCIS," while the "Los Angeles" crew would continue with their own show. With 14 seasons in the bag, this series is still running today, making it thus far both the first and longest-lasting among the "NCIS" spin-offs. Throughout its run, "NCIS: LA" has focused more on agents going undercover, with the action sequences to back it up, while the main series is mired in day-to-day operational activity, showing a distinctly different approach to its cases.
NCIS: LA Seasons 1-5 and NCIS Seasons 7-11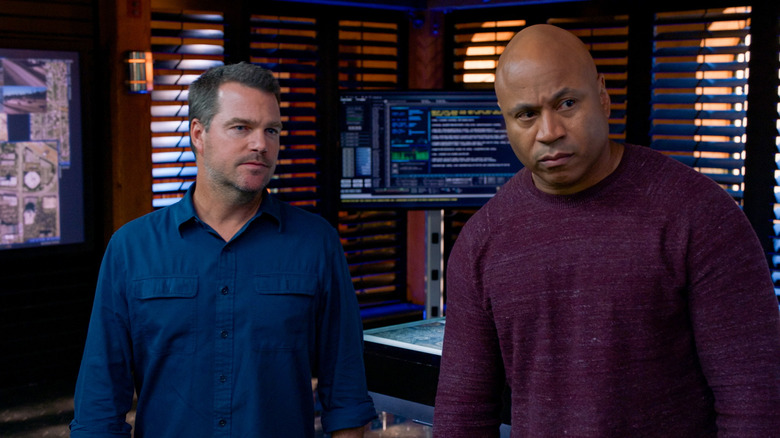 CBS
With its sister show creating different vibes for the franchise, "NCIS" wrapped up the Ziva storyline from its sixth season by introducing her as an NCIS agent once she resigned from Mossad entirely, though she would soon meet a fresh challenge with Ray, a CIA agent who regularly interfered with NCIS business. Meanwhile, major revelations around Gibbs and what became of his first wife and daughter are dropped in the eighth season, with their killer playing a larger role. The ninth season largely revolves around the crew attempting to stop a terrorist attack, while the 10th sees Gibbs's leadership called into question. With Ziva gone by the 10th season's conclusion, the 11th introduces us to her replacement, Eleanor Bishop (Emily Wickersham).
Meanwhile, the Los Angeles crew keeps busy. The "odd couple" friendship between Callen and Sam takes center stage in many episodes, and the two make an unbeatable duo through these seasons as their bond strengthens. Callen's complicated and mysterious back story as an orphan, with only a vague understanding of his origins, slowly unravels while he mitigates the responsibilities that come with leadership. The 21st episode of the third season, "Touch of Death," features a crossover of the crew with Danny Williams and Chin Ho Kelly of the "Hawaii Five-0" reboot, as they team up with Sam and Callen to stop a disgruntled scientist attempting to reintroduce smallpox to the world.
The NCIS and NCIS: LA crossovers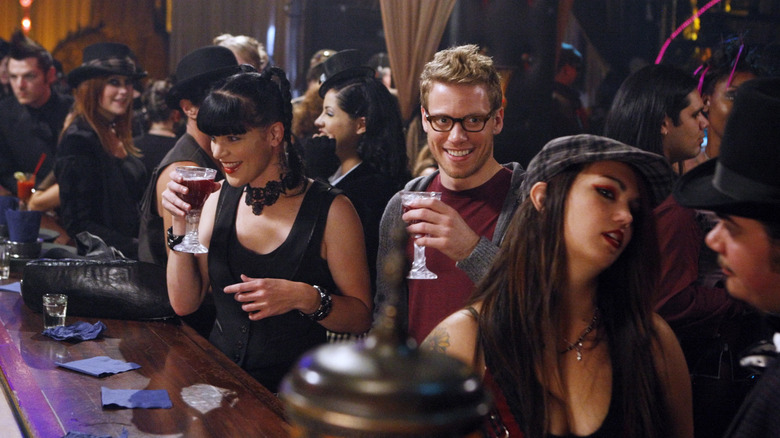 CBS
Though neither "NCIS" nor "NCIS: LA" leaned too heavily into each other's continuity, the shared areas of research and recurring business acquaintances meant that there were plenty of guest spots and crossovers between the two series over the first several seasons of "NCIS: LA." After the "Legend" two-parter introduced some of the central characters to one another, the pilot episode, "Identity," sees "NCIS" regular Director Leon Vance (Rocky Carroll) working with the OSP, as he would do again in "Pushback," among a handful of other appearances. Abby Sciuto drops in a few episodes later in the episode "Killshot," lending her forensic skills to a case, which she would do again in "Random On Purpose."
Episodes like "Random" and "Hunted" saw Vance and Hetty Lange (Linda Hunt) interacting due to their respective positions of authority, while "Callen, G," "Familia," and "Lange, H," all saw new information around Callen's mysterious past and Hetty's previously unknown connection to his family. Meanwhile, the seventh season "NCIS" episode "Endgame" saw the plot taking major cues from "Killshot." None of these particularly require jumping over and watching the other series if you weren't doing so anyway, but they make for a lot of fun references and Easter eggs for anyone viewing both series concurrently.
NCIS Season 11 introduces NCIS: New Orleans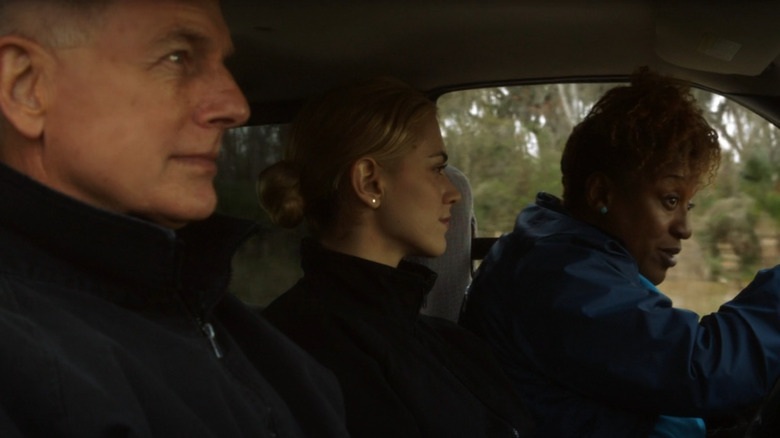 CBS
No doubt you're getting accustomed to the two-part backdoor pilot formula, and that's for the best because there is another one in store. In the 11th season of "NCIS," a two-parter titled "Crescent City, Part 1 and 2" introduced the franchise's third series, "NCIS: New Orleans." When a congressman is found murdered in New Orleans, Gibbs and company are immediately involved in the investigation, reuniting long-time friends Gibbs and NCIS Special Agent Dwayne Pride (Scott Bakula), soon to lead up this faction of the "NCIS" franchise. The "NCIS" crew splits up to tackle this high-pressure case, with Gibbs and Bishop onsite and DiNozzo and McGee staying in D.C.
As "NCIS" episodes go, this one has an extra layer of the ominous added on top as the mysterious killer stalks Gibbs and the others while they attempt to track him, taking photos of them. Though the case is pure "NCIS"-flavored forensics, the New Orleans backdrop immediately gives the episodes a unique feel, which would continue in earnest in the spin-off. Though "New Orleans" would wrap after seven seasons, it tackled plenty of unique subject matter while allowing its location to step up as a character in and of itself, making for a series that lived up to the "NCIS" name while going in its own distinct direction at every opportunity.
The NCIS: NOLA crossovers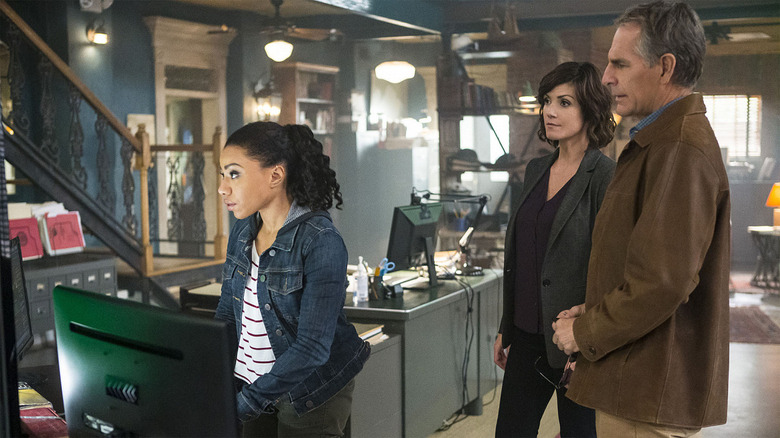 CBS
The early episodes of "NCIS: New Orleans" saw a number of guest appearances from the main series cast, including DiNozzo making an appearance in "Carrier" to show off his knowledge of rare diseases, while "Breaking Brig" sees Vance jumping in to help Pride, and "Praesidium" sees him attempting to protect "NCIS: LA" regular Hetty after an attempt on her life. Agent Borin pops in for "The Walking Dead," "Rock-A-Bye Baby," and ""The Abyss," all of which rate among the most tense cases the "NOLA" team tackled during its run, and there are a couple of other appearances along the way.
The series featured two full-out crossovers, however, with the first being "Sister City, Part 1 and 2." The first episode aired on "NCIS" while the second appeared via "New Orleans." When every person aboard a flight is poisoned to death, all signs point to Abby's brother, Luca, leading to a deeply emotional double feature as the team attempts to uncover what really happened aboard the flight. Meanwhile, "Pandora's Box, Part 1 and 2" followed the same format, with "NCIS" kicking the story off while "New Orleans" wrapped it up. Abby is again a pivotal character as she is detained with a bomb in her possession, which leads to Agents McGee and Torres taking a trip to NOLA to get to track down a missing "theoretical terror" playbook.
All three series going until NOLA concludes with Season 7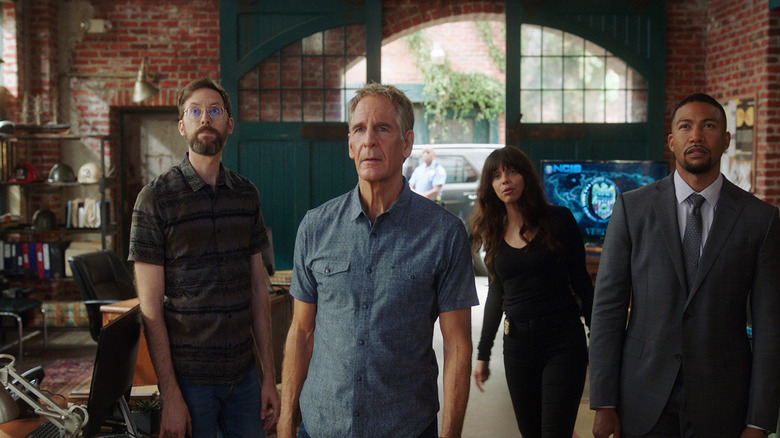 CBS
Kicking off with the pilot episode, "Musician Heal Thyself," the "NCIS: New Orleans" introductory cast is solidified as Pride and LaSalle's (Lucas Black) established dynamic is offset by the new addition of the recently transferred Meredith Brody (Zoe McLellan). Despite this familiar "NCIS"-style dynamic, "New Orleans" delves into slightly spookier subject matter than the other two shows, with organ thieves, drug cartels, and the occasional faked death from Pride spicing things up along the way. While Gibbs and Callen are both a bit more mysterious, Pride is friendly and warm, and openly prioritizes sentimentality and doing good in a world that doesn't always live up to his expectations, granting audiences a different leadership vibe while staying true to the franchise's overall values.
"New Orleans" concluded in May 2021, but both "Los Angeles" and the original series were still going strong. By the time "New Orleans" came to a close, "Los Angeles" was wrapping its 12th season, while "NCIS" was wrapping its 18th and saying goodbye to its longtime leader, Gibbs, in favor of its new lead, Parker (Gary Cole). Regardless of its relative brevity, the "New Orleans" conclusion feels organic, with Pride getting a happy ending via a marriage to his long-time love Rita, and the feelings of family formed among his crew at the forefront. Besides, the ending of this series opened the floor for another spin-off, but more on that in a moment.
NCIS: Hawai'i brings us back to three shows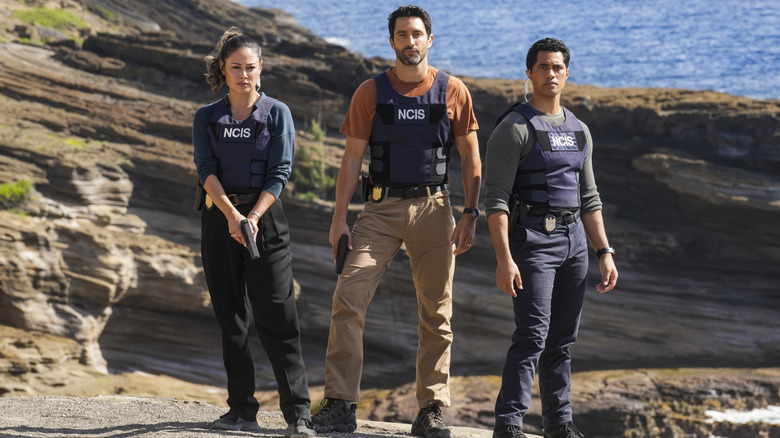 CBS
After the end of "NOLA" in May 2021, September of that year saw the launch of "NCIS: Hawai'i," a series featuring a brand new cast of characters. Jane Tennant (Vanessa Lachey) is the head of this spin-off, overseeing a team that includes Kai Holman (Alex Tarrant), Jesse Boone (Noah Mills), Lucy Tara (Yasmine Al-Bustami), and Ernie Malik (Jason Antoon), plus regular interactions with NCIS-FBI liaison Kate Whistler (Tori Anderson). Like the spin-offs before it, "Hawai'i" has a handful of things about it that make it unique, including Tennant's willingness to work with other organizations, federal or otherwise, as well as her general openness to hearing out the less experienced members of her crew, allowing relative newbie Lucy Tara to shine.
While "NCIS" reimagines itself without Gibbs — helped by the charismatic Parker — and the 14th season of "Los Angeles" is well underway, "Hawai'i" is only just establishing itself. Tennant makes for a compelling lead, and her trusting, dependable air of confidence makes her the perfect boss to the seemingly diametrically opposed (but friendly) Kai and Jesse. This crew has already seen a lot of challenges in a relatively short time, but the beautiful terrain, solid characterization, and willingness to have fun with itself makes it an enjoyable new addition to the wild world of "NCIS."
The NCIS: Hawai'i crossover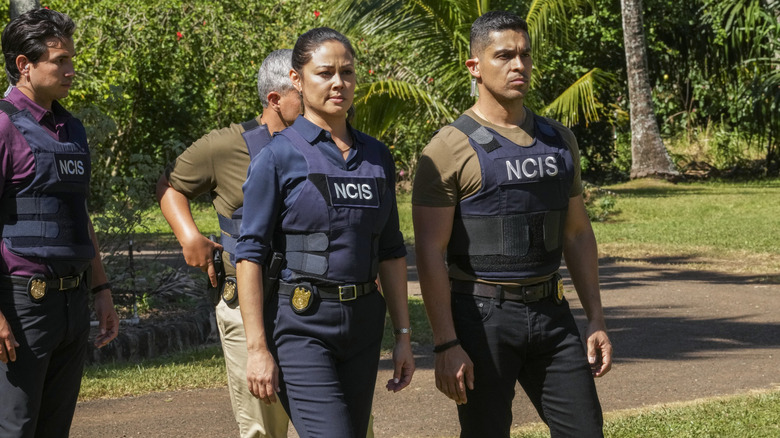 CBS
"NCIS: Hawai'i" is the only "NCIS" spin-off so far that wasn't introduced via a backdoor pilot in the main series, but there is a crossover in the first season with the "NCIS" episode "Starting Over" and "Hawai'i" episode "T'N'T." The first part of this story is fairly brief, with Torres heading to Hawai'i, but the second part features a spike in action. Torres takes a trip to Hawai'i to team up with Jane, only for them to be ambushed and the witness they're escorting killed in a shootout, with his body stolen from the scene. The episode then revolves around the agents attempting to get to the bottom of who masterminded the attack.
This all dates back to a case from Torres's past that intrigued him but at the time went unsolved, but as with all "NCIS" crossovers, the story is in the chemistry between series mainstays. Torres and Tennant make for an iconic duo, and indeed one of the running jokes of the episode is that her team is caught up trying to get to the bottom of their past together only for Torres to leave, noting that he "had fun," to which Tennant ultimately quips, "What happened in Orlando...stays in Orlando," after Torres departs. Likewise, Tennant's interactions with her team are a highlight here, showing how unique her people skills make her in the realm of the police procedural.
The three-show crossover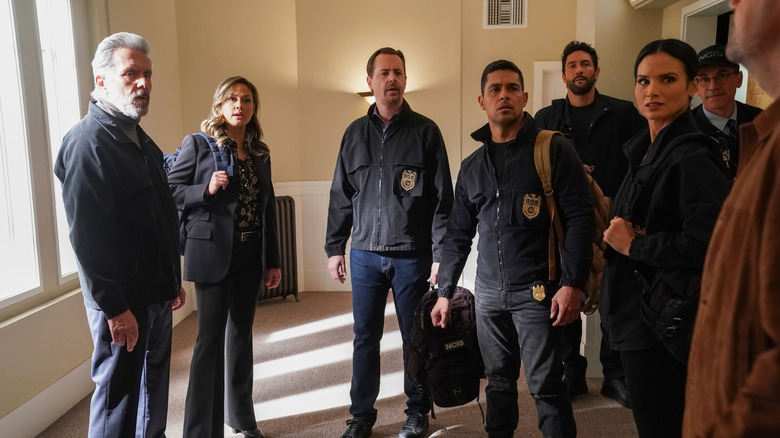 CBS
In January 2023, the franchise dropped its first three-part crossover with the episodes "Too Many Cooks," "Deep Fake," and "A Long Time Coming" from "NCIS," "Hawai'i," and "Los Angeles," respectively. The crossover kicks off when the DC and Hawai'i agents are gathered for a party celebrating a FLETC (Federal Law Enforcement Training Centers) professor, only for him to die by suicide before he makes it to the shindig. Naturally, this turns into a case that spans locations, and we get to see the crews hop around in new locales while attempting to understand what happened to the professor. In tried and true procedural fashion, a number of new hints and thrilling action sequences are dropped in along the way.
Though the story is classic "NCIS" crime drama, the best part for a lot of fans of the franchise is definitely the nerdy joy that comes from seeing all of these characters, some of which have met before and some of which have not, all together on the small screen. Though they first get together through their shared fondness for a former professor who influenced all of their lives, the camaraderie between these agents, even when they're squabbling about who is in charge and whose job it is to do what, just goes to show the characterization, quippy dialogue, and interpersonal connections that have made "NCIS" and its many spin-offs as successful as they are.
If you or anyone you know is having suicidal thoughts, please call the National Suicide Prevention Lifeline​ by dialing 988 or by calling 1-800-273-TALK (8255)​.