The NCIS Star You Likely Missed On Hawaii Five-0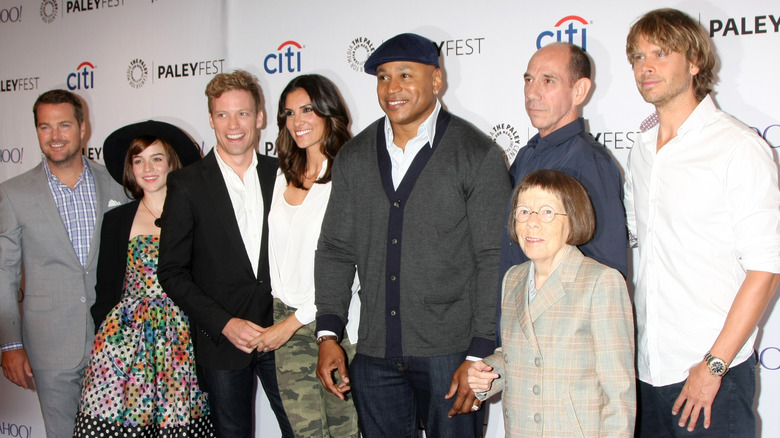 Kathy Hutchins/Shutterstock
Crime never sleeps in the Navy, which is why home audiences have an array of choices when it comes to which location of "NCIS" action to watch (via Us Weekly). Whether it's Washington D.C., Los Angeles, New Orleans, or Hawaii, there is never a dull moment from the long-running CBS franchise and the many talented stars that make up each iteration's roster.
Despite getting constantly snubbed by the Emmys, "NCIS" continues to be a hit with fans, which can probably be attributed to the talented lineup. While there are many unknown truths surrounding "NCIS" that fans may not know about, it's no secret that there is an ample amount of star-power solving Naval crimes in each series. Stars like LL Cool J, Chris O'Donnell, Mark Harmon, Scott Bakula, and Vanessa Lachey are just some of the notable names that have helped the franchise become the small-screen powerhouse that has been entertaining viewers for over a decade. While some may think the show has outstayed its welcome, plenty of people get excited when any of the well-crafted characters enter the frame.
It's not uncommon for characters from different shows to make an appearance on any of the many "NCIS" titles out there, and there have even been some cases where they have showcased their talents on other CBS series. One "NCIS" star, in particular, might have been missed by fans when appearing on an episode of "Hawaii Five-0."
Daniela Ruah played Kensi Blye on a crossover with Hawaii Five-0
CBS
In Season 2, Episode 6 ("Ka Hakaka Maika'i"), Daniela Ruah made a guest appearance on "Hawaii Five-0" as her "NCIS: Los Angeles" character Kensi Blye. In the entry, Blye was flown in to help analyze footage about a matter Lieutenant Commander Steven J. McGarrett (Alex O'Loughlin) and Lieutenant Commander Joe White (Terry O'Quinn) are investigating involving the former's father. The audio is gone, so Blye's expert lip reading skills are needed to decipher what's going on, and since she owed Joe White a favor, she was glad to help. The information she obtains leads to some intriguing revelations and pulse-pounding action.
Ruah has been part of the "NCIS" franchise for over a decade, starring in over 300 entries of "NCIS: Los Angeles" (via IMDb) as Blye. She has arguably done an amazing job bringing the character to life, and she told Collider what she relishes most. "The most fun thing is the action sequences, as well as destroying cars. I have to say that's quite fun, but that's more of a superficial thing. I absolutely love our banter scenes. When the whole cast is sitting in a room, and we're all picking on one of the characters, I absolutely love doing those scenes."
Fan most assuredly have a blast watching Daniela Ruah play Kensi Blye in "NCIS," "NCIS: Los Angeles," and "Hawaii Five-0," and it's nice to know that the actress is having a good time as well.