Fans Are Thrilled Over Lucy's Return In NCIS' 3-Way Crossover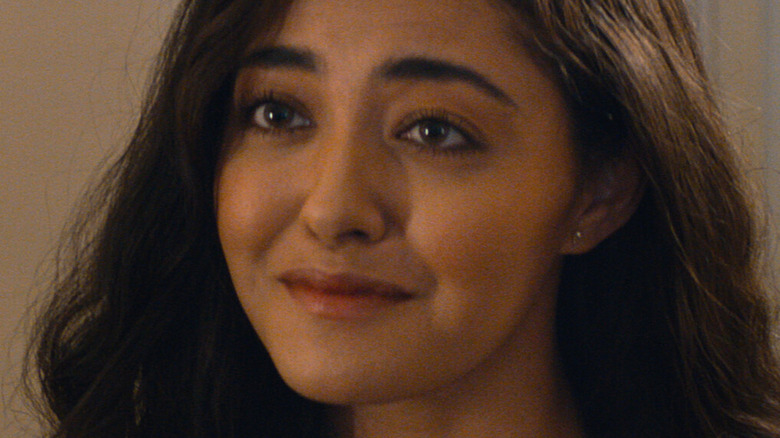 Sonja Flemming/CBS
Thus far, it's safe to say that one of the most heartbreaking moments of Season 2 of "NCIS: Hawai'i" is the tearful departure of Lucy Tara (Yasmine Al-Bustami) in the episode "Vanishing Act" — as she left the team to pursue a career in the NCIS's "agent afloat" program. Considering the immense amount of cast turnover that we have come to expect from the "NCIS" franchise, there's no question that Lucy's abrupt departure left plenty of fans reeling, as it placed the future of the fan-favorite junior agent in jeopardy. Making Lucy's departure all the more brutal was the tearful goodbye scene she shared with her girlfriend, FBI Agent Kate Whistler (Tori Anderson), as the two seemingly brought their relationship to a close while holding hands on the beach. 
Now, even though there was certainly a time where Lucy's future on "NCIS: Hawai'i" was completely uncertain, the recently released "NCIS" crossover event "Deep Fake" brought the plucky junior agent back on board to tackle the mysterious kidnapping of several high-profile NCIS agents, including Sam Hanna (LL Cool J) and Jimmy Palmer (Jimmy Dietzen). As expected, fans online were over the moon about seeing Lucy return — so much so that, via Twitter user @lilypad3_, Lucy Tara was trending on Twitter within five minutes of her first appearance in the episode. And the enthusiasm didn't stop there.
Fans loved seeing Lucy return, and can't wait to see her back in Hawaii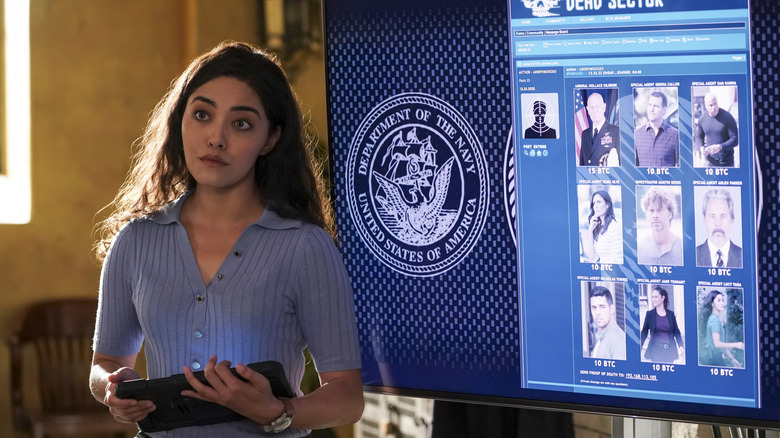 Sonja Flemming/CBS
There's no question that the three-way crossover event — which bought together iconic cast members from "NCIS," "NCIS: Los Angeles," and "NCIS: Hawai'i" for three distinct episodes — was one of the most exciting events in franchise history (even if it was a coordination nightmare). However, it's clear that for many fans online, the most important part of the "NCIS: Los Angeles" episode (titled "A Long time Coming") was the return of Lucy Tara.
"TONIGHT!! WE ARE GONNA SEE LUCY TARA AGAIN, TONIGHT! ," tweeted @MonsterCe. 
"The moment the world (me) has been waiting for... lucy tara back on our screens," echoed @someboldfeeling, accompanying their tweet with a lengthy montage of Lucy's scenes from "NCIS: Hawai'i." Indeed, the praise for Lucy Tara continued throughout the entire episode, with @hawaii001105 calling for Lucy to be featured in every possible scene, and @p_zippers begging for Lucy to come back to "NCIS: Hawai'i."
Indeed, it's worth mentioning that the ending of this episode still does not clarify where Lucy's story will go from here –- especially since neither she nor Kate Whistler ever reunited during the crossover. There's even one very confusing moment in which Whistler uncovers a list of assassination targets with Lucy's name on it, and she does not even bat an eye. Although fans were clearly excited to see Lucy return to the "NCIS" franchise, for now, we still have no further clarity about when or how she'll return to "NCIS: Hawai'i" in the future.